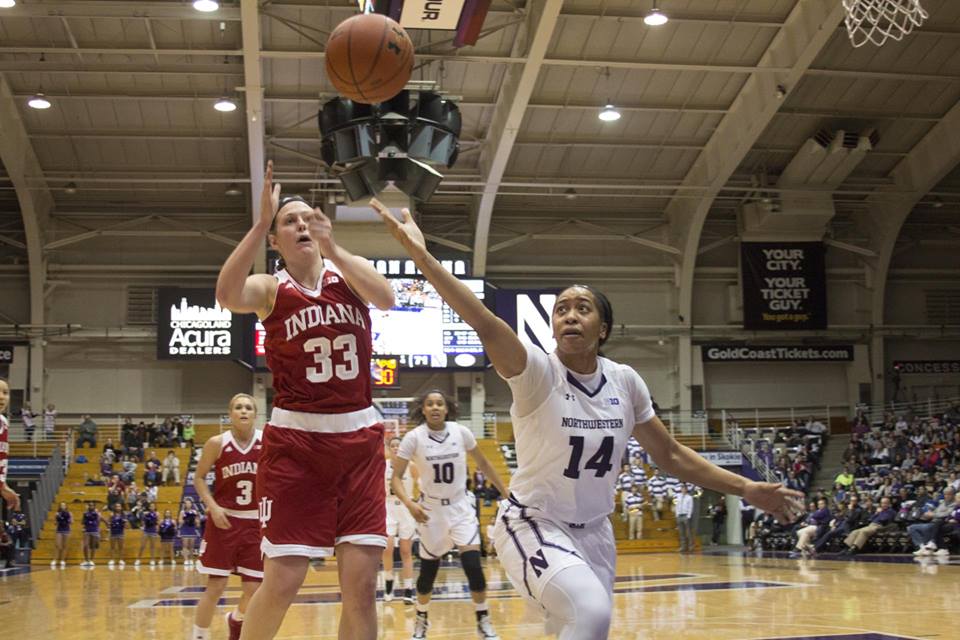 Another one. Northwestern's women's basketball team was outshot, outrebounded and outscored, and on a night when Northwestern's point guard came out of a slump to the tune of 30 points and 10 assists, the Wildcats (13-7, 2-6 B1G) still fell to Indiana (12-8, 4-4 B1G) 91-84 for their third consecutive loss.
"We've got to clean up our defense," coach Joe McKeown said, "It's that simple."
Another one. The loss marks Northwestern's fifth loss in six games, their worst stretch since the 2013-14 season, and drops them to the Big Ten cellar, tied for second to last with Wisconsin.
In a game in which the lead changed hands 17 times in the first three quarters, Northwestern held nothing in the end, The Hoosiers shot 50.7 percent from the floor and grabbed nine more defensive boards than Northwestern. They outscored the 'Cats by 19 points in the final quarter.
The first half was a tight matchup between a pair of the Big Ten's leading scorers. Junior forward Nia Coffey, fifth in the conference, and Indiana guard Tyra Buss, 8th overall, went toe to toe. Buss opened scoring with a layup and then leveraged multiple Northwestern turnovers for fast break scores, while Coffey landed 14 points and led the defense with 3 blocks.
With the pair firing, Northwestern led 35-34 with just over three minutes to play in the first half. But that's when Indiana started a 7-1 run to take a five-point lead as the clock wound down.
The lead wouldn't last another five minutes. Junior guard Ashley Deary, who hasn't broken double-digits in points since Northwestern defeated Nebraska on Jan. 3, shot into a tear after intermission. After dropping eight in the first half, the junior guard scored 14 points in the third quarter as Northwestern went ahead 65-58.
"The past three games have been a little rough ... with turnovers and just finding a rhythm," Deary said. "I guess today was all in for me and for the rest of the team."
The 5'4" guard shot 58 percent from the field. She grabbed 10 assists for a double-double, seven rebounds and four steals.
But that would be as far ahead as the 'Cats got. Northwestern's defense has floundered for most of the last two weeks, surrendering at least 80 points in four of the last five games, and Thursday was no exception.
Deary kept up the tempo heading into the final quarter, stealing an inbound pass for an easy layup and adding one more shot after a Hoosier score. Then Indiana started their run, outscoring NU 12-2 over the next three and a half minutes to take a 74-71 lead. After scoring 29 points in the third quarter, the 'Cats watched IU down 12 field goals of their own, including three from beyond the arc. In 10 minutes Northwestern allowed 33 points, more than they surrendered in any quarter of their 95-92 loss to Minnesota.
"They can score," McKeown said. "Everyone in the league can score, so if we aspire to make a run at the Big Ten in the second half we've got to defend."