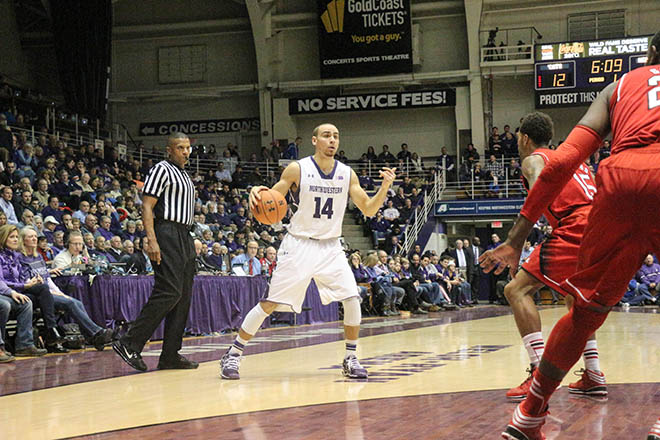 In Northwestern's first game of the Cancun Challenge on Thursday, the Wildcats of the tournament's "Riviera Division" faced off with the North Florida Ospreys of the "Mayan Division" at temperate Welsh-Ryan Arena and won 69-67 on junior guard Tre Demps' tropically thunderous game-winning bucket with 2.5 seconds left.
Demps' shot came on the heels of the Ospreys tying the game on a layup with 34 seconds to go. Rather than call a timeout and allow NFU coach Matthew Driscoll to set up a defensive alignment or make substitutions, coach Chris Collins said he was content to let his go-to shooter attempt to win the game.
"All I would've drawn up [in a timeout] was a play to give Tre the ball at the top of the key with time and space," Collins said. "I've seen Tre do it enough. Even if he missed, I could live with that, because I want the ball in his hands."
That was a responsibility Demps said he readily accepted. He made some fake drive attempts over 29 seconds of clock eating, and quickly stepped back following a jump stop to nail a jumper.
"I knew the shot I wanted to shoot," Demps said. "The defender did a great job of making me take a tough shot, but I was fortunate enough to make it and get a huge win for our program."
Demps put the game winner in, but freshman (sensation) guard Bryant McIntosh set him up to do so with a stretch of eight straight points, six coming on three pointers and all coming with under 2:55 to go. He led the team in minutes and points, with 34 and 16, respectively.
"This is what Bryant has done his whole life," he said. "There are just certain guys who are winners, that find a way. He reminds me a lot of [former Duke guard] Jon Scheyer. They [both] throw themselves into the game, and they're just consumed by winning. I'm glad he's on our team."
"I was just never panicked," McIntosh said. "I had confidence in my teammates and myself. If you're afraid you're going to lose, they already have you beat."
The game had that distinctive beach-y feel, in that at times it seemed like the 'Cats were playing in the cool Cancun sand while the athletic Ospreys ran circles around them on the hardwood. Junior center Alex Olah was all but shut down in the post, forcing the 'Cats to work around the perimeter throughout the game. At times, they found themselves in long scoring droughts prolonged by poor shooting. That and UNF's consistent ability to beat the 'Cats off the dribble made for a frustrating overall performance for Northwestern in the first 37 minutes or so. But a win is a win, and Collins gave UNF credit for giving NU all it could handle tonight.
"I thought North Florida played really well," Collins said. "A lot of the things that we didn't do as well or struggled with tonight were not because of us, it was because of them. They played a really good game, and there's a reason they're predicted to challenge [recent NCAA Cinderella] Florida Gulf Coast for their league."
NU was able to jump out to an early lead with up-tempo ball movement and quick baskets in transition off of Osprey turnovers. Both teams were shooting well from the beginning, but the 'Cats cooled off while the Ospreys continued to shoot at a 50 percent clip throughout the game.
A three from senior guard Dave Sobolewski put the 'Cats up six with 14:03 to go, but the Ospreys rolled off another big run, outscoring the Wildcats 16-4 to give them a 54-48 lead with 7:27 to go. Then Northwestern finished the game on a 21-13 run to steal a victory from UNF under the palm trees at Welsh-Ryan.
The 'Cats will come back on Saturday at 3 p.m. to take on another Mayan Division opponent in the Elon Phoenix before heading off to Cancun for two more spicy tournament games.
Coach Collins said he encourages every Wildcat fan to wear sunblock to the game and stick around for a postgame performance from Los Lonely Boys.*
*Coach Collins did not actually say this.