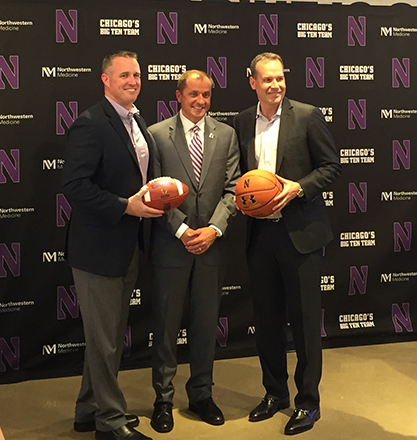 Tuesday's announcement that NU was extending the contracts of and reportedly giving significant raises to Chris Collins and Pat Fitzgerald is, for lack of a better term, a very big deal.
Barring a call from Duke coach Mike Krzyzewski offering him the keys to the kingdom and his finest steed in Durham, Collins will be here through the 2024-25 season, and barring a nuclear holocaust, Fitzgerald will be here until Death, Famine, War and Conquest ride across the Lakefill against the backdrop of the sun swallowing the Earth (or, at least through 2026).
But while both coaches are reaping the rewards of their success, in Tuesday's press conference, it was clear that the focus of many reporters was on Collins. That's logical: he's much newer to the university and just achieved what had once seemed impossible by taking NU to the Big Dance. His perceived "inevitable" exit has also been a topic of discussion practically since the day he stepped on campus.
And while it's not to minimize Fitzgerald's overwhelming contributions to Northwestern athletics, it was all but a given that the soon to be 12th-year head coach, who may actually bleed purple, would be here for the long haul. Back-to-back five-win seasons in '13 and '14 didn't warm his seat, nor did dropping a comically ugly game to FCS foe Illinois State last September. Basically, if you thought NU was ever seriously considering parting ways with its football patron saint, you're probably a frequent internet commenter. Yes, both extensions are big news, but in some ways, Collins's extension and subsequent pay raise sends a much louder message that Northwestern is here to stay.
With a new salary topping $3 million, (probably more than doubling his old paycheck, though NU does not release official salary figures), Chris Collins will become one of the top 10 highest paid coaches in the country. Despite his urgency to dispel any rumors that he's got plans to explore a future career move, it would be foolish to completely dismiss the possibility that he will leave at some point, should the right opportunity present itself.
Coach K is 70, and if he steps down in the next five years, Collins will at least be receiving a call. He might stay true to his word and turn down an offer from Duke should he get one, but what about the next big job that opens up? That's the beauty of this raise – not only is it competitive enough to incentivize Collins to stay, but it's also competitive enough to get NU's foot in the door with just about any highly touted candidate who could be his replacement, whenever or however that day arrives. And now, should Collins leave, Northwestern won't lose any of its luster.
On Tuesday, athletic director Jim Phillips was not shy about saying he feels that his program's reputation has been slighted, citing "a little hangover from Gary Barnett's departure" in reference to the former football coach's decision to bolt for Colorado just years after winning two B1G championships in the mid-'90s. Whether or not Northwestern is still considered a 'stepping stone job' is up for debate, but these extensions and raises are another step on the program's long journey to sustained competitiveness: transforming NU into a destination job.
Though it's unconfirmed that Fitzgerald's paycheck saw a similarly significant bump, years down the line, when humans have settled on Mars, Earth is a barren wasteland and Northwestern is looking for a new football coach, that likely more competitive salary range will come in handy in the same way. But the differing circumstances surrounding Fitzgerald's and Collins's personal history at Northwestern make this an infinitely more significant move for a now-skyrocketing men's basketball program, at least for the next decade.
As Northwestern enters the most rarified air of college sports spending, it's important to remember that these salary increases, along with the amounts headed towards wholesale facilities upgrades, are representative of Northwestern's complicity in a problematic system. NU considers itself a champion of doing things the "right way," and while this may be true in some respects, Johnnie Vassar is still suing the school (and the NCAA) for more or less attempting to run him off, forcing him into menial labor duties and allegedly falsifying his timesheets. Northwestern isn't going to fix the systemic power imbalance from within, but as the program pulls up a chair at the 'big boy table,' we can only hope it holds itself to a higher standard and doesn't fall into the trap of cutting corners to reach a desired outcome, like it may have with Vassar (or like all of these schools have).
Nevertheless, with two young, accomplished coaches locked down for most of the next decade and a sparkling lakeside facility and revamped arena on the way, all of the pieces are in place for Northwestern to reach new heights. By opening up the pocketbook one more time, Phillips has made his intentions patently clear: the days of Northwestern sports playing second fiddle to its academics are numbered.