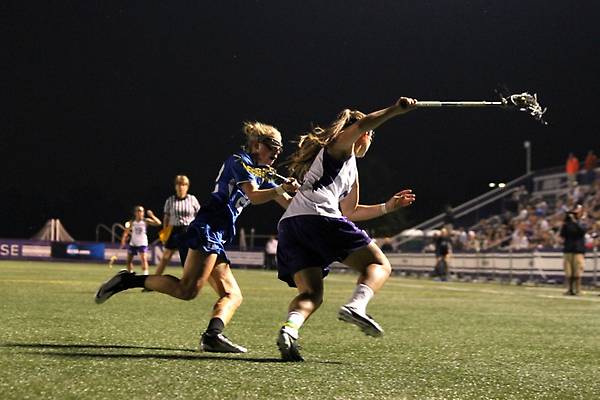 In what can only be described as a blowout, No. 4 Northwestern's lacrosse team beat No. 9 Duke 12-4 on a chilly, rainy Friday at Lakeside Field. Junior midfielder Alyssa Leonard broke a school record for career draw controls with 269.
"It kinda snuck up on me," Leonard said. "I really didn't know it was happening until a few days ago. I have to give a lot to my teammates though because I can't do what I do in there unless they're all on the same page as me."
Northwestern got off to an uncharacteristically quick start against Duke with senior midfielder Ali Cassera scoring NU's first goal at 26:11. She spun away from her defender, falling as she shot and knocking her stick from her hand as she hit the turf slick with rain.
Senior midfielder/attacker Erin Fitzgerald led the Northwestern attack, scoring four goals in the first 14 minutes of play. Fitzgerald scored one more goal in the second half, giving her five for the night.
"I just think she came out confident," head coach Kelly Amonte Hiller said of Fitzgerald. "She was really able to run by people. They gave her some different looks, they were trying to shut her off. Anything they did, she was able to combat it."
All of the 'Cats' first-half goals were unassisted, either from the arc or off of free possession shots, where Northwestern has scored 45 percent of the time this season.
A key to Northwestern's early lead was its draw control led by Leonard, winning five of eight. Even on the three draw controls Northwestern didn't win, the defenders kept Duke's offensive possessions short, either by forcing a turnover or on a save from sophomore goalie Bridget Bianco.
"Our defense played out of their minds today so I have to give props to them first," Leonard said.
Bianco didn't allow a goal in the first half, saving all four Duke attempts including a free possession shot. It was an impressive outing for the first-year starter, who replaced three-year goalie Brianne LoManto after she graduated last year, presenting a daunting pair of shoes to fill.
"It's scary," Bianco said. "I was scared in the beginning and nervous but as each game went on and my teammates' help, it definitely gave me a lot of confidence."
Bianco allowed Duke's first goal early in the second half, but the Blue Devils wouldn't score much after that. Northwestern started to get a little sloppy with its passes and ground ball pickups in the second half, committing six turnovers and allowing Duke to snag eight ground balls to its six.
Northwestern also only made 50 percent of its shots in the second half, compared to 64 percent in the first half.
But the 'Cats still came away with a convincing eight-goal victory, thanks to tough defense and another five goals scored by a mix of midfielders and attackers. Senior attacker Beatrice Conley scored back-to-back goals, the second of which was assisted by Lauren Murray, the team's first assist of the game. Junior midfielder/attacker Kelly Rich and midfielder Taylor Thorton each had a goal as well.
Since March 30, Northwestern has gone up against ranked opponents in Syracuse, Penn State, Virginia and now Duke, adding each of them to the list of Top 25 teams its defeated. Leading up to Friday's game against Duke, Northwestern had allowed just nine goals in its last two games. Although it may seem like playing a steady steam of talented teams would take a toll on the players, Amonte Hiller believes it strengthens them.
"I think it prepares us for these moments and hopefully if we get the chance to play in the playoffs, it'll help us prepare us prepare for that moment," she said. "It helps the girls focus, turn around quickly and be ready."
Northwestern will have to be ready quickly for the visiting Stanford Cardinals Sunday, who are ranked 19th in the nation.