You may have seen these students wearing bright orange and blue t-shirts around campus. You've probably stepped on a few fliers with the same people on them, and perhaps you've seen their advertisements in dining halls.
If you have, there's little doubt you've asked yourself this question: Who is Markwell and why do all of these people agree with him?
McCormick senior Matthew Markwell is a member of Campus Crusade for Christ — also known as Cru — and wants to share a gift he's received with Northwestern students. That gift, he said, is the grace of God and Jesus Christ.
"I believe with all my heart that I have a personal relationship with Jesus Christ," Markwell says, "and that's available to anybody."
The campaign's website, IAgreeWithMarkwell.com, states that "all people are sinful," and that they, "intentionally rebel against God." Markwell and those who agree with him believe that "only Jesus' sacrifice is powerful enough to restore our relationship with God."
That said, Markwell acknowledged he isn't advocating anything new and revolutionary.
"I'm certainly not coming up with anything novel here," he says. "It's a pretty old concept actually. My views are in line with those who believe the Bible is God's word and source of truth."
So then why not make the campaign "I Agree With Jesus"?
Markwell says that he was asked by the staff of Northwestern Cru to lend his name to the campaign in hopes that it would intrigue students and drum up interest in the organization.
"If you saw a flyer on the ground that said, 'I agree with the Bible,' would that pique your interest?" Markwell says. "It really isn't about me and that's something I want to make clear — that I'm just a dude, really. I don't even have… all the perfect beliefs or philosophies…but we just want to be able to tell people about this thing that we believe in."
McCormick freshman and Cru member Peter Kim agrees with Markwell over the choice to use his name for the campaign.
"The Christian faith is pretty well-known," he says. "So if people just see a bunch of people wearing shirts that say 'I Agree with Jesus' then we probably won't get as many conversations as 'I Agree with Markwell' and 'Who is Markwell and why do you agree with him?'"
Weinberg sophomore and Cru member Kayla Foulk agrees that using Markwell allows the message a way to escape the stigmas that many people associate with Jesus and Christianity. She hopes that this will enable Cru to reach out to "everyone who's willing to listen."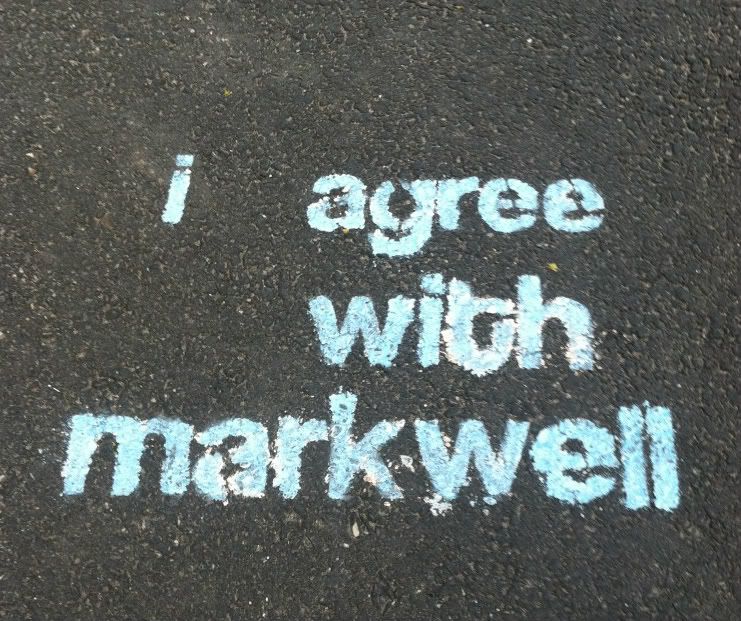 Joe McClelland (Bienen '11), a full-time Cru staff member, believes choosing Markwell also adds a personal dynamic to the campaign.
"We want to emphasize that it's about individual people having a personal relationship with God, regardless of who they are or what they've been through," McClelland says. "So in wearing the 'I Agree With Markwell' shirts, students aren't merely saying that they accept the intellectual tenets of Christianity but also that Jesus can radically change individual lives."
McClelland also says that Markwell's personality was a key reason why he was chosen as the campaign's namesake.
"The main reason we chose Matt is that we thought he could handle all of the scrutiny and attention coming his way with humility," he says. "Humility was important to us because the point of the campaign is not to elevate Matt, but rather to focus on what he believes and what the rest of us are agreeing with."
But some students, like Medill freshman Ben Breuner, have a problem with how prevalent the campaign is.
"I'm all for free speech and people being passionate about their beliefs," Breuner says, "But I sometimes take issue with the 'I Agree with Markwell campaign, especially when I see advertisements for it on the message screens in my dorm."
Breuner doesn't believe that advertisements should appear next to the basic announcements of the day.
"People can preach all they want — it's cool with me — but it shouldn't be disguised alongside other public service announcements," Breuner says.
Weinberg freshman Shyam Anand also finds Cru's tactics a little too overbearing. Anand, who says he isn't religious, says, "Religion is one of those things you just don't try to push on people."
Markwell maintains that his actions are out of love, "When I see people here at Northwestern who don't believe in God, I see them as lost, and that's not probably how they would identify themselves. But from this side looking out, the best thing I can do to care for people is to show them why I believe what I believe."
He continues, "If anybody were to step into our shoes — step into my shoes — and see the people at Northwestern the way that I see them, then I think that the most loving thing you could do in that scenario is tell them about this opportunity to know the God of the Universe."