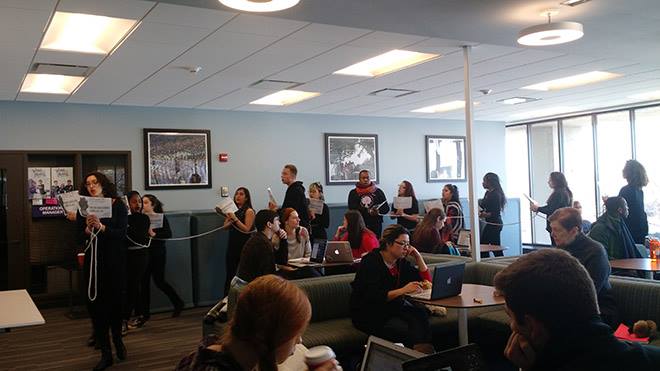 Almost exactly one year after students launched a campaign demanding the University divest from six corporations operating in the West Bank, a new coalition of activists is calling for Northwestern to once again assess the ethics of its investments.
Spearheaded by Black Lives Matter Northwestern and supported by a variety of social justice organizations, the group known as Unshackle NU started a campaign Wednesday night demanding that the University divest from private prisons it says contribute to the abuse, mass incarceration and disenfranchisement of people of color nationwide.
"This system does not require overt racial hostility or bigotry, though it exists," Weinberg junior Marcel Hanna said. "Indifference is sufficient to support this system, and that's why we're here to change things."
At a meeting titled Prison Industrial Complex 101, students wearing bright red t-shirts that read "Unshackle" and bear a chained hand holding a key outlined their plan for a campaign they hope will usher an age of socially conscious investing at Northwestern. They had already started spreading word of the campaign by making a video and posting it on the Black Lives Matter Northwestern Facebook page on Monday night. They then changed the page's name to Unshackle NU and held a brief demonstration at Norris Tuesday afternoon, in which protesters chained themselves to each other and marched around the first floor calling for divestment from private prisons.
The movements targets the three largest private detention companies in the United States: G4S, Corrections Corporations of America and GEO.
Northwestern Chief Investment Officer William H. McLean initially said he had not been informed of the campaign and did not know of any University funds invested in private prisons. He said there were no investments in CCA, but that they had "less than a million" in G4S.
"If I got some names, then I'd do a search and I'd let you know." McLean said.
The third divestment campaign at Northwestern in the last three years, Unshackle NU may have the greatest potential for success. Despite campaigns at hundreds of colleges and dozens of supportive student government resolutions, no American university has divested from fossil fuels or corporations operating in the West Bank or Israel. In the past year, however, student activists have successfully convinced Columbia University and the University of California-Davis to divest a combined 35 million dollars from the three private prison companies.
"I feel like it's easier to get a prison divestment campaign to pass than coal divestment or Israel divestment because it's harder to rationalize sending entire populations of people into the prison system," Weinberg sophomore Jade Mitchell said. "It's very hard to rationalize that or moralize that and say you're doing that for a just cause, because there is no just cause."
Through videos and a powerpoint presentations, students outlined the four pillars their campaign will focus on: disparate impact on people of color, detention of immigrants, the school-to-prison pipeline and even greater impact on LGBTQIA people of color.
A New Jim Crow
Activists emphasized that current system of private prisons and mass incarceration rests not only on the legacy of slavery and segregation, but is continually reinforced with modern legislation that exploits communities of color.
"We want to change the narrative nationally and on this campus about mass incarceration, from going to just prisons to actually tackling the real issue," Hanna said. "This is a racial caste system."
Private persons emerged in the mid 1980s and expanded in the 1990s to manage the United States expanding inmate population. As of 2014, The Bureau of Justice Statistics currently counts the incarcerated population 1.6 million people, more than any other country, and 60 percent of them are people of color, according to the Center for American Progress. Private prisons now hold 18.6 percent of federal prisoners and 7.8 percent of the state prison population, according to the same Bureau of Justice Statistics report.
A 2010 Justice Policy Institute report found the industry rakes in 3.3 billion dollars annually. That money comes from charging states and the federal government a fee for each prisoner. Private prisons therefore benefit financially from policies like mandatory minimum sentencing, and three strikes laws, both of which fall disproportionately on communities of color. According to Influence Tracker, which tracks corporate political contributions, private prisons have spent nearly $29 million on lobbying and $16 million on campaign contributions. Although the CCA states on their website that they do not push any specific legislation on length or basis of sentencing, their 2010 annual report stated that "the demand for our facilities and services could be adversely affected by ... leniency in conviction or parole standards and sentencing practices."
The students focused on how mass incarceration can destroy communities because states often deprive felons of rights. Employers and landlords for both public and private housing can discriminate on basis of criminal background, and 12 states bar convicted felons from voting. They cited a statistic that 13 percent of the entire black male population is now disenfranchised, which they said could lead to recidivism.
"If you don't have a job and you don't have a home, then you're not going to feel part of a community," Medill junior Emily Tross said. "If you're not part of a community, you don't feel like you don't share the values of a community and you're more likely to commit a crime."
Activists spoke of how zero tolerance policies and policeman feed minority students into juvenile detention agencies, nearly 40 percent of which they said were privately owned. Half of all immigration centers are also privately owned, they said, including some that house women and children. At all prisons, students said, LGBTQIA people of color face disproportionate rates of abuse and sexual violence.
After a series of speakers and events, Unshackle NU will link up with NU Divest and Fossil Free Northwestern to demand the University invest ethically and transparently.
"We're just trying to make sure that our voices are heard, and we're going to do what it takes," Medill senior Matthew Wright said.