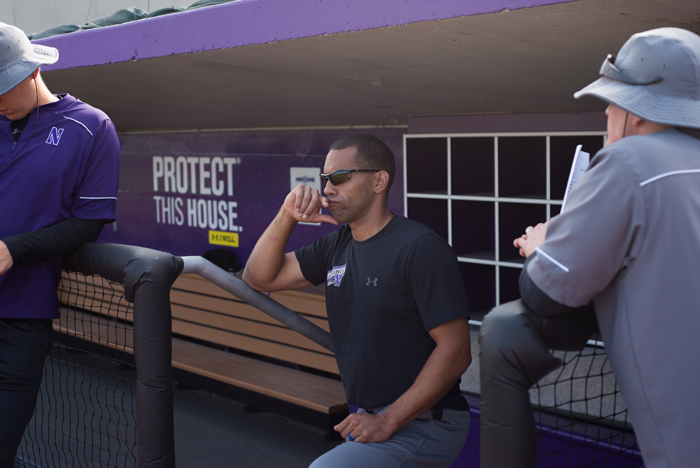 Northwestern's new head baseball coach Spencer Allen is ready to stop talking about his race.
With his hiring on June 14, he became the first black head coach in Big Ten baseball history and the third in major conference college baseball history. Allen says that race often seems to be the focus of articles written about him, but it couldn't be further from what he's focused on.
"If others see [my hiring] as a great thing and a motivator, that's great, you know," Allen says. "And it's cool in that sense so I don't want to downplay it, but is it on the forefront of my mind on a daily basis? Not really."
He'd much rather talk about the visions he has for the baseball program.
In an office decorated solely by a poster depicting what NU's home field, Rocky and Berenice Miller Park, will look like when full-scale renovations are completed this spring, he talks about the NCAA Tournament as a yearly goal for his new team.
That's beyond ambitious – the Wildcats haven't won the Big Ten since 1957 and haven't finished with a winning record since 2000. Allen, however, says he's in the business of defying the odds.
"Especially in the game of baseball, you can achieve above expectations when that trust [between the team and the coach] is there, so that's number one," he says. "You have to have passion in a program. At the end of the day we take it very seriously, but it's also still a game, so we need to remember that and make sure it's present in our program."
That daily development is the foundation of a mantra Allen introduced to the team: "Dominate the Day." It emphasizes exercising patience and focusing on the task at hand rather than the big picture.
"I think it makes a lot of sense," senior first baseman Zach Jones says. "Rather than going through the motions and saying, 'I just have to get this done,' it's, 'I'm going to do it. I'm going to do it well. I'm going to do the best I can and get the most out of it.'"
Allen's plan of action looks great on paper, and his optimism is overflowing. Nonetheless, even in the smoothest of coaching transitions, it's often not all roses underneath what some might call 'coach speak.' The fingerprints of Paul Stevens, Allen's predecessor who retired this spring after 31 years in Evanston, are still all over the program. Beyond the new coach's ongoing efforts to mold the program into his own identity, connecting with players is no small feat.
But Allen knows how to work a room.
"The first thing I told the team was 'You are my guys, okay? Whether I recruited you or I didn't, you're my guys,'" Allen says. "It's been fun getting to know the guys, their families and their stories, how they go to Northwestern. I think there's a lot of guys who feel like they're starting off on a clean slate."
Redshirt junior outfielder RJ Watters says he appreciates the nuanced positive energy and excitement Allen has brought to the early stages of preparation for 2016.
"He's really positive with all the guys," Watters says. "He's very clear in his message, what he wants and how he wants to execute things and get things done. And he's just really knowledgeable. He knows the game."
Josh Reynolds, the team's new assistant coach, says he knows better than anyone in the program that Allen is not one to "blow smoke" or make false promises, even without having worked with him before. They crossed paths often when they worked at other schools in the Midwest, and Reynolds says Allen went out of his way to make him feel comfortable at the beginning of his coaching career.
Reynolds says it's Allen's unbridled passion, initiative and ability to create a positive atmosphere that define him as a head coach and have been on display since day one.
"In that first meeting, you could just see in [the players'] faces, they believed what he was saying," Reynolds says. Watters can confirm that.
"He cares about all of us," Watters says. "He's gotten every single one of us to buy into what he's selling."