Northwestern (0-1, 0-0) dropped the opening match of its non-conference slate to North Carolina State (3-0, 0-0) after a hard-fought 3-4 loss on Thursday. The 'Cats, playing in their first game since the 2017 NCAA Round of 32, did well to rebound after losing the doubles set, but Dominik Stary gave up a 4-0 third-set lead in #2 singles to hand the Wolfpack the win.
The 'Cats got out to a weak start by dropping two doubles matches in a row after NC State's #1 doubles pair of Igor and Ivan Saveljic defeated Ben Vandixhorn and Dominik Stary 6-2, and NC State's Alexis Galarneau and Michael Ogden beat Nick Brookes and Antonioni Fasano 6-3. Northwestern quickly turned the momentum the other way after two quick wins by Nick Brookes and AJ Joshi over Ivan Saveljic and Robert Turzak by scores of 6-3, 6-4 and 6-4, 6-4 respectively. The Wolfpack responded in #5 singles, where Georgiy Malyshev of NC State won a nerve-wracking first set on a tiebreak, 7-6, before taking control against Chris Ephron to put the game away in the second by a score of 6-2.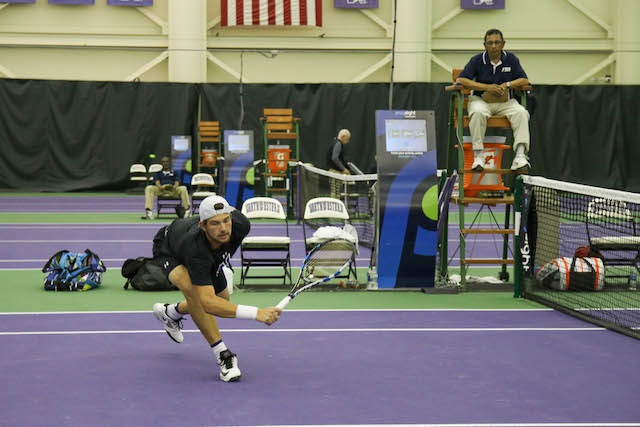 With the series tied at two games apiece, attention shifted to #3 singles, where Northwestern's Ben Vandixhorn overcame a tough 6-4 first-set loss against Igor Saveljic to push the third set to a tiebreak, where Saveljic pulled away 8-6. In #2 singles, Dominik Stary played an uneven match, having won the first set in a dominant 6-1 game, before dropping the second set by the same score to Tadas Babelis. Stary appeared to have the game won after taking a quick 4-0 lead, but watched as it evaporated as Babelis stormed back to take a 4-5 advantage. Stary tied the match during the next set, but Babelis responded once more to take a 5-6 lead. Just as Stary appeared to send the match to a tiebreak, Babelis won two points in a row to win the match and ensure a Wolfpack victory.
Fasano finished the match with a 3-6, 6-2, 6-2 victory over #16 Alexis Galarneau, who entered the match as the only ranked player on either side. Although the Wolfpack took the win, the 'Cats came out of the match with a few positives; for instance, Fasano defeated a top-20 national player in Galarneau as a freshman. Luckily, Northwestern improved on this heartbreaking performance when they defeated Boise State 5-0 on Sunday.