On Thursday night, four Northwestern University students discussed their personal experiences with mental illness at the Stigma Panel. Over 50 people attended the event, which was hosted by NU Active Minds. Dr. Andrews, a psychologist working at CAPS and an organizer for the Movember campaign, was also present.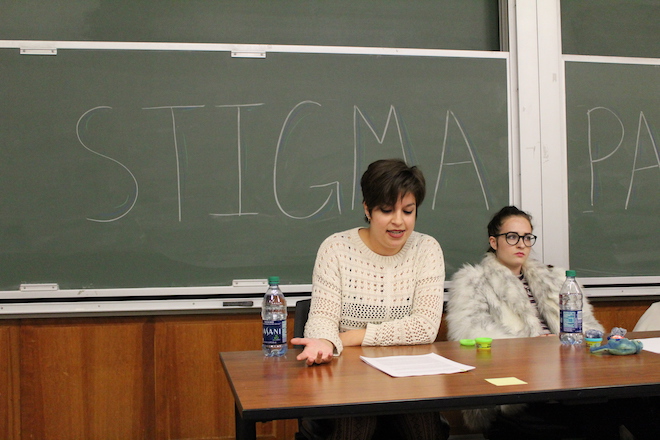 Eva Hernandez, one of the panelists and a senior studying neuroscience, spoke about her personal experience with depression and suicidality. She initially hid her depression, afraid that her family, friends and acquaintances would change their perceptions of her.
Hernandez discussed the two things she had learned through her experience, "The first is that it is not my fault that I'm bipolar. The second is that being bipolar doesn't make me inferior, it's just a part of me," she said. "I have to be strong and I have to take care of myself."
Hernandez emphasized the significance of talking openly about mental illness because people will get used to the idea of it and stop believing stereotypes.
"I have stared my most actively dangerous enemy in the face while looking in the mirror and I have since continued living my life and living it well. Your priority should always be you and your mental health – you don't need to care what other people think," Hernandez said.
Imogene Asa, a Weinberg junior, also shared her experiences with depression and bipolar disorder.
Asa had no guidance on how to address her mental health issues and was afraid that if she told others, they would think less of her. Having never learned how to communicate to others that she needed help, she tried to constantly act as if everything was OK.
Whenever she was on medication and feeling better, people would doubt whether she actually had bipolar disorder. Others thought she was "making a big deal."
"I'm learning to support myself without being co-dependent on another person," Asa said. "I'm functioning at least halfway decently in the world, and I'm excited about the future."
After the event, students reflected on a night of conversation.
"I actually really enjoyed this space because I've never been at a place where someone openly talks about such a personal issue. I feel like they really let their boundaries down, and it was very visible that it was a difficult topic, but they spoke about it with a lot of courage. As an audience member, the honesty was very refreshing," said Christie Sohn, a Weinberg junior.