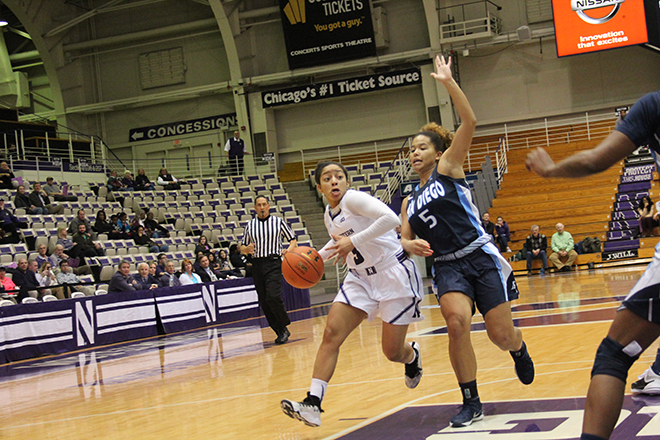 Northwestern women's basketball team gave itself a new lease on postseason life with an inspiring run through the Big Ten Tournament. But 12 days after that run came to an end, the 'Cats (18-17, 4-14 B1G) were unable to keep their momentum going, falling to the University of San Diego Toreros (24-7, 13-5 WCC) 69-65 at Welsh-Ryan Arena in the first round of the Women's National Invitation Tournament on Thursday night, ending their season.
After a dismal offensive performance in the first three quarters, including two single-digit quarter outputs, Northwestern came alive in the fourth quarter, scoring 35 points and trimming a deficit that was once as large as 21 to just two at one point, but merely running out of time before they could complete the dramatic comeback.
"It's great, even though it doesn't feel so great right now when I look back, for our team what we've accomplished," coach Joe McKeown said. "Sometimes the ball doesn't go in, and this was one of those nights the ball just wouldn't go in. We had a lot of opportunities, we made a great comeback, so you've got to be really pleased with how hard we played."
The 'Cats struggled to convert shots for most of the evening, digging themselves in a huge hole that they were almost able to climb out of. The struggles started from the get-go as Nia Coffey scored NU's first six points and started 3-for-4 from the field while rest of the team started a woeful 0-for-6. She missed her next nine attempts from the field, embodying what at one point looked like it would wind up being one of NU's worst offensive outputs of the season.
"We missed a lot of shots around the basket that we normally make," McKeown said. "It just makes it harder for Nia and for other people to get to the rim. Everything's congested because we're not making shots from the perimeter."
Playing without senior sharpshooter Maggie Lyon once again, NU shot just 4-for-15 as a team in the first quarter, turning it over six times, while the Toreros shot 8-for-16 on their way to a tone-setting 18-8 lead after one quarter of play.
USD's hot shooting continued in the second quarter, as the Toreros opened up a 13-point lead late in the first half. NU closed the half on a 4-0 run to make it 32-23 at halftime, but the 'Cats were still shooting just 10-for-31 from the field and 1-for-5 from deep, while USD shot a scalding 5-for-9 from beyond the arc.
The Toreros broke the game open early in the second half, starting the third quarter on an 8-0 run with two three-pointers from Cori Woodward (who scored eight of her 15 points in the third quarter) to take a 40-23 lead, their largest of the game at that point. USD closed out the quarter with a commanding 48-30 lead, as the 'Cats scored just seven points.
But typical of several Northwestern games this season, the 'Cats played with a marked sense of urgency in the fourth quarter. After falling behind 54-33, their biggest deficit of the night, NU reeled off a 13-0 run midway through the 4th quarter to cut USD's lead to just 54-46.
USD extended its lead again at the line, but NU made one more strong surge with a little under two minutes remaining, cutting the deficit to nine with an old-fashioned three-point play from Ashley Deary, and then seven with a steal and score from Coffey with 1:39 left on the game clock. NU inched closer and closer, coming within two points with a three-pointer from Deary, who scored 13 points in the quarter, with five seconds left. But the Toreros took care of business at the free throw line and withstood NU's torrid 14-for-19 field goal shooting (and 4-for-5 three-point shooting) in the quarter as part of a 32-15 extended run.
"We defended better and we were able to get some loose balls and get out in transition," McKeown said of his team's fourth quarter comeback. "We're a transition team when we're at our best. [In the first half], they made kind of rally killer type shots ... by the time we regrouped and played the way that I feel like we're capable, we just ran out of gas."
Deary led all scorers with 23 points, and Coffey chipped in a 20-point, 11-rebound double-double, scoring in double figures for the 50th consecutive games.
McKeown pointed to the fact that everybody who played tonight will return next season as a reason for optimisim, saying the future of his program, despite an overall disappointing year, is bright.
"Watch out for the 'Cats next year," McKeown said as he walked away from the lectern.