Northwestern senior lacrosse player Selena Lasota catches the ball at the wing and makes a quick cut to her right with her eyes fixed on the goal. She turns her shoulder away from the goalie as she runs across the offensive zone parallel to the goalline. Then, she pivots her whole body around her plant leg and fires an unsaveable shot past the goalie.
Lasota's shot would be a typical sight during a mens lacrosse game, where lacrosse stick pockets are much deeper and allow for a big windup and hard shot. But for women, sticks barely have pockets, making it more difficult to control the ball during longer shot releases – and making Lasota's play style very unique.
"She's an explosive athlete," Northwestern coach Kelly Amonte Hiller said. "I think in our games she brings a level of power that is just at another level than what a lot of people have seen."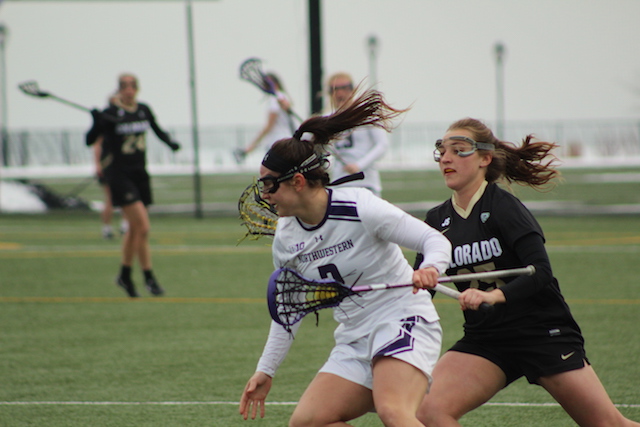 Lasota's style can be explained in part due to her unique background. Lasota is from British Columbia, where she grew up playing "box lacrosse," an indoor version of the game. She played with the boys under box lacrosse's very physical rules, and from there learned the precision that it takes to beat a goalie guarding a net that is much smaller than a field lacrosse net.
It was only in her junior year of high school that Lasota played her first womens lacrosse game, when she went to a recruiting tournament in Florida. Northwestern coaches noticed Lasota at the event, and there began the process that led her to Evanston.
Since arriving on campus in 2015, she has quickly demonstrated that she can be an elite player for the Wildcats. She scored 69 and 50 goals in her first and second year with the program respectively, and going into her junior year last year, expectations were just as high.
The season started well for Lasota and her team, but she injured her leg in a game against Colorado, and two games later was ruled out for the season with a stress fracture. However, Lasota continued to be a good teammate and supported the Wildcats however she could while also going through the difficult recovery process.
"I just had to perservere obviously, take it day by day," Lasota said. "I had to accept that it was an injury I had to deal with and just move forward from that."
Without their star, Northwestern struggled last season – at least to their high standards – finishing with a record of 11-10. The Wildcats barely made the NCAA tournament, and while they did win their first game, they lost to Stony Brook in the next round by a score of 13-9.
With last season over, Lasota could fully focus on recovery and returning to her previous level of play. Going into this season, she had full confidence in her ability to be back performing at a high level. Amonte Hiller was also optimistic about what she saw from Lasota in the preseason.
"It's just like riding a bike," Amonte Hiller said. "You don't forget what it takes to be great, and I think that she's going to be greater than she was even before."
Outside of recovery from the injury, Lasota committed herself to better understanding the game. Her attention was less on her individual play and more on how she could help the team.
"Focus on the team, play as a team, play our offense," Lasota said.
Amonte Hiller said she noticed some of the changes Lasota made in the offseason.
"I think she's really honing on the details of what it takes to be great in our offense," Amonte Hiller said. "I think she can really be a dynamic player that can not just score, but can feed and has great vision. … She's finding great connections with her teammates. She garners a lot of attention, so it's up to her to use that to our advantage."
With yet another hat trick today, Selena Lasota moved past former #B1GCats star and current @USCTrojansLax head coach @LMunday01 for 10th in program history in career goals. pic.twitter.com/94aVawToqr

— Northwestern Lax (@NULax) February 25, 2018
This improvement has come out very clearly during the first six games of the year for the Wildcats. Lasota has racked up an impressive 15 goals and also contributed six assists, a much higher rate than the 31 she tallied in her previous 46 games. Her increased efficiency is exactly what Northwestern needs if they want to maintain an elite level of play. They have been good the last three seasons, but "good" is not the expectation for a program that won seven out of eight national titles earlier in Amonte Hiller's tenure.
Lasota said she has one goal for this season: "Make it to the Final Four and win the National Championship."