Northwestern's basketball team was warming up for a practice before the 2018-19 basketball season and there was palpable energy in the gym. It was the culmination of anticipation that had been building all offseason. The team opened a new arena and welcomed the best freshman recruiting class the program has ever seen. The stars of the program — Vic Law, Dererk Pardon and Pete Nance — were talking to members of the media, answering questions about the hype while other members of the team were getting loose for practice. Meanwhile, senior graduate transfer Ryan Taylor was shooting threes with an assistant coach. He knocked one down from a couple yards left of the top of the key, ran around the arc about ten feet and made another one. He curled back to the original spot and nailed another one. He then hit a fourth. And then a fifth. And he continued this for nine straight shots. Taylor may not be the the most hyped new part of the Wildcats program going into the season with all the changes that have occurred, but the sharpshooting guard may be the most valuable.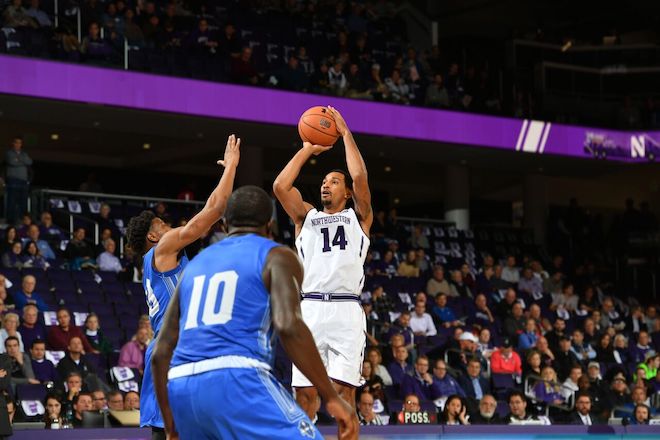 While Taylor is a new face for Northwestern, he has lots of experience playing college basketball. His career started in 2014 at Ohio University where he started 28 games for the Bobcats and averaged 8.1 points per contest. However, after that season he decided to transfer to the University of Evansville, a smaller school, but still a DI program in the Missouri Valley Conference. Taylor sat out a year to comply with NCAA rules then had a good season as a redshirt sophomore, finishing second on the team in scoring with 14.1 points. The following season Taylor had a breakout year where he led the conference in scoring (21.3 PPG) and three point percentage (42.4%).
Taylor's impressive season caught the attention of Power Five programs across the country. He graduated from Evansville but had one year of eligibility remaining which meant he could transfer to any program in the country without having to sit out a season. Big name programs like Indiana, Illinois, Oregon and Miami joined Northwestern in the chase to land the high-scoring guard. Despite the interest from traditional powers, Taylor chose Northwestern because of the relationships he made.
Those relationships have been an important part of Taylor's transition to life at Northwestern, which hasn't been the most natural adjustment. Joining a new team as a senior is a unique challenge because Taylor brings so much experience, but he emphasized that there is much to learn.
"It's definitely weird because I've played for so long but at the same time everything is new," Taylor explained. "Vic (Law) and Jordan (Ash) know what needs to be done so I see myself as a freshman listening to those guys, but there are things I've learned in my years of playing that I teach the younger guys."
Senior guard Jordan Ash in particular was a key part of Taylor's transition to life at Northwestern. The two spent a lot of time with each other over the summer working on small things to help improve each other's skills. Ash focused on learning where Taylor likes the ball and which spaces he feels most comfortable on the court while Taylor focused on learning Ash's knowledge of the offense.
Senior forward Vic Law also worked a lot with Taylor this offseason, and Law is excited about what Taylor can do to help the Wildcats.
"He definitely spreads the floor and is very confident in his shot," Law said. "I think he'll definitely add a different dimension to our offense the way he can shoot the ball and create plays. Having him as a floor spacer will be good to open up lanes for drivers like me and Anthony (Gaines)."
Taylor's ability to shoot threes will become a very important part of Northwestern's offense this season. With the departure of Scottie Lindsey and Bryant McIntosh, there is a big void in backcourt scoring that needs to be filled. However, Taylor and some of the other guards who will play lots of minutes this season have very different skill sets from Lindsey and McIntosh so coach Chris Collins has adjusted the offense to fit their skills.
"You saw a lot of pick and roll from us last year since we had arguably one of the premier pick and roll players in America in Bryant McIntosh," Collins said. "We're going try to do some different things that more fit the personel we have. We know what Taylor brings is something we haven't had with his scoring ability and his shooting ability."
Taylor's scoring is going to be an important part of the 'Cats offense this season, but Taylor wants to be more than just a scorer. While his scoring numbers were incredible last season, Taylor was not as good at getting his teammates involved. He averaged just over one assist a game while turning the ball over more than twice a game. Taylor noted this was the area of his game he placed the most emphasis on improving this offseason.
"I'm finding ways to get my teammates more involved," Taylor said. "Reading defenses not only to give myself an option to score but also to give my teammates chances is what I've really been working on."
This will be important as Taylor embraces a different role on a new team. At Evansville last season he had the highest usage rate in the conference. His team was always dependent on him to make plays compared to this season where he will be one of many weapons that coach Collins uses this season. Taylor is ready for his new role and excited for the chance to compete this season.
Meet your newest three-point weapon: Ryan Taylor.#B1GCats | #PoundTheRockpic.twitter.com/5bh8Zwt0m3

— NU Men's Basketball (@NUMensBball) November 10, 2018
Taylor is off to a solid start after three games and has established himself as an integral part of the offense. In the opener against New Orleans, he led the team in scoring with 20 points while not turning the ball over. Taylor will need to continue to play at a high level if the Wildcats want to live up to expectations set for them after their exciting offseason.