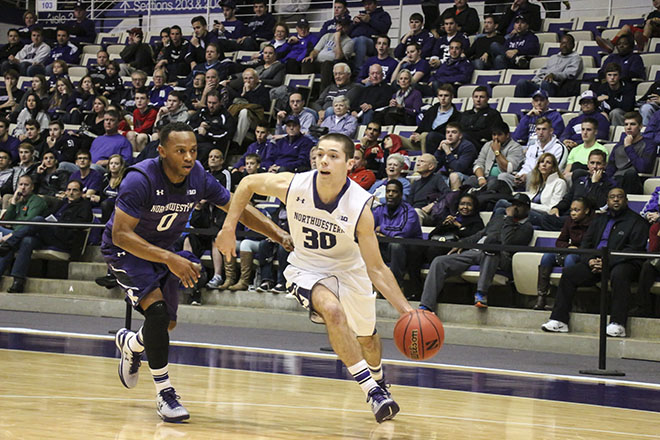 Northwestern's men's basketball team gave fans an early look at the 2014-15 roster with an open scrimmage on Saturday afternoon. The 'Cats split up into a Purple and White team for one half, which Purple won 34-30. But the outcome notwithstanding, several of the 'Cats put on a good show and left fans feeling optimistic that the team has a legitimate chance to turn the corner this season and improve upon last year's 14-19 mark.
Observations
• Sophomore forward Nathan Taphorn and redshirt sophomore guard/forward Sanjay Lumpkin got quite a few open looks from the 3-point line, and capitalized on most of them. That said, neither offense's first look appeared to be from distance, so perhaps the over-reliance on hot 3-point shooting that doomed the 'Cats so many times last year is a thing of the past.
• Freshman guard Johnnie Vassar has incredible quickness and showed great floor awareness when he drove. Also had some nice, crisp passes across the paint. Book it, folks: this is the starting guard of the future.
• Senior guard Dave Sobolewski appeared to be a little bit more involved on offense but continued to struggle overall, despite making a three in the corner. Some of his passes were sloppy, and he turned the ball over once. Let's hope he can shake off the rust soon and avoid falling into the funk he was in for seemingly all of last season.
• Freshman guard Bryant McIntosh looked solid at the point. He's young, but he made very few mistakes and made several great passes.
• Junior center Alex Olah is clearly the man down low. His short range jumper play was Tim Duncan-esque at times, and his 3-point shooting skill is also becoming less and less of a surprise, weirdly enough. Graduate student Jeremiah Kreisberg showed some promise, but he lacks Olah's physical presence, and the threat of stepping back and shooting over a defender. He'll be a serviceable replacement when Olah gets into foul trouble though, essentially filling Nikola Cerina's role from last year.
• Lumpkin completely posterized Vassar on a dunk. There wasn't much Vassar could've done (Lumpkin has six inches on him), but nonetheless, it was good to see aggressive offensive playmaking from somebody not named Drew Crawford, who might be sorely missed this season.
• Overall comments: free throws were a big struggle today. 'Cats fans can only hope that's another rust issue – if points are as hard to come by as they were last year, NU will need to take advantage of as many free opportunities to score as possible. That said, the score was 34-30 after a "half," which would have been considered very high scoring last year. So, perhaps offensive progress is on the horizon.
This is a very young team, and that inexperience will play a factor at some point this season. But the Collins recruits seem to be a breath of fresh air for the program. The raw talent is palpable. Who knows? After all, how many times has this been said in the last 50 years? Maybe this is the freshman class that will lead Northwestern to its first ever birth in the NCAA tournament.