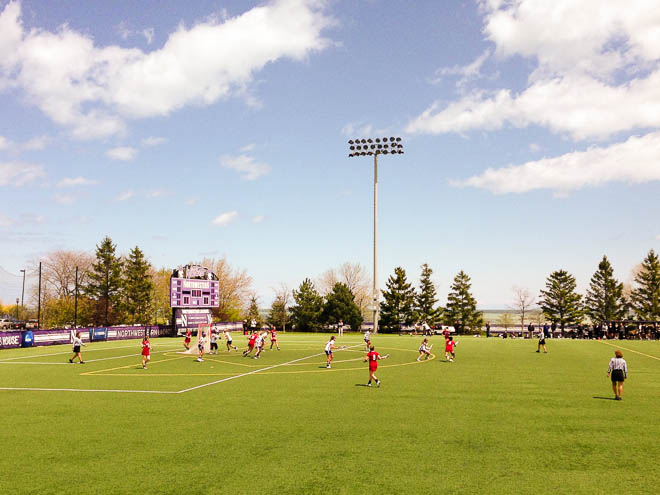 With Northwestern lacrosse's loss to North Carolina in Friday's NCAA semifinals, the athletic department officially closed its spring season. But that loss doesn't mark the end of Northwestern's legacy as we know it, despite missing a trip to the national championship for the first time in nine years.
For most teams, just making the postseason is enough. For others, the Final Four is more than enough. But for a team that now holds seven of the last nine national trophies, not adding an eighth is concerning.
Yet the future of Northwestern lacrosse isn't just bright, it's glowing.
Yes, the powerhouse senior class that has boasted stars like Taylor Thornton and Erin Fitzgerald will be gone next year. But there are plenty of underclassmen ready, willing and able to take their places while rising seniors have already started stepping up in their three previous seasons.
On defense, junior Kerri Harrington has become known as the team's somewhat official face guarder. She is considered one of the league's strongest one-on-one defenders and has garnered 25 ground balls and seven forced turnovers in her career. Even when she's not putting up numbers, head coach Kelly Amonte Hiller looks to Harrington as the backbone of the defense.
Junior Alyssa Leonard already strikes fear in the hearts of opposing coaches. Gearing up for the semifinals matchup against Leonard, North Carolina head coach Jenny Levy said they would have to plan specifically for the draw control specialist. And the Tar Heels had good reason to: Leonard holds the Northwestern record for most career and single season draw controls. She has also scored 51 goals in her three years so far and stands to score even more next season. Rounding out her triple threat package, Leonard recorded 12 assists this season, which is impressive for a team used to scoring off free positions.
Junior attacker/midfielder Kelly Rich, while not a central figure in Northwestern's offense this season, scored some great goals when the 'Cats needed it. She scored a career-best four goals against Massachusetts on Feb. 8, adding to a total of 21 on the season. Coincidentally, she hails from the same high school as Harrington, strengthening an already cohesive team dynamic.
Freshman midfielders Kaleigh Craig, Lauren Murray and Nancy Dunbar all saw significant playing time this season and even started a handful of games for the Wildcats. For as many Northwestern starters will graduate in just a few weeks, this trio can easily fill those positions.
Craig was one of Northwestern's go-to scorers during the season and played a big role in facilitating the team's slow but patient offense. She scored eight goals and one assist. Impressively, her goals were spread out over many opponents throughout the season, proving she's not just a one-hit wonder. In a show of trust from her coach, she also started a game and played in all 22 on this season.
Murray stepped up big when two yellow cards benched Leonard with over 15 minutes still remaining in the semifinals Friday. Although Northwestern was down 8-3 and its prospects weren't looking promising, Murray had big shoes to fill in a high-pressure situation. That's a tall order for a freshman and it's a compliment any time Amonte Hiller looks down the bench and calls your name to tackle a tough opponent. Murray only scored two goals and got an assist on another, but goals aren't everything in Northwestern's offensive scheme.
Dunbar was second on the team in assists this season with nine. In addition, she scored six goals and picked up eight ground balls. Dunbar has proven to be a versatile player and will be valuable in the next three years, as the graduating class will leave many holes to fill.
As the saying goes, offense wins games. Defense wins championships. And Northwestern knows a thing or two about winning championships.
Sophomore midfielder Jess Carroll spends most of her time on defense and is probably one of the few players who could give Thornton a run for her money in a 40-yard dash. Carroll shows amazing anticipation and speed on defense, disrupting passes and scooping up the ball for herself. She recorded 18 ground balls for the season, many of which came off of those types of plays. She can take the ball from coast to coast and dump the ball over to the attackers before heading back. Sometimes, though, she stays and helps out on offense. She scored three goals and two assists this season, playing in 20 games and starting in 13.
Sophomore goalie Bridget Bianco may have had the toughest job coming into the 2013 season. She would have to replace long-time goalie Brianne LoManto, a three-year starter and one of the nation's best goalkeepers. Despite that, Bianco stood in the goal circle with confidence, making 134 saves on the season, a 43 percent save rate. She only allowed a little over seven goals a game, even though she faced 393 opposing shots. With this season under her belt, her experience as a goalie is going to be a tremendous asset to the Wildcats.
When you're so accustomed to national titles, 2013 hurts. But next year doesn't look any less promising.