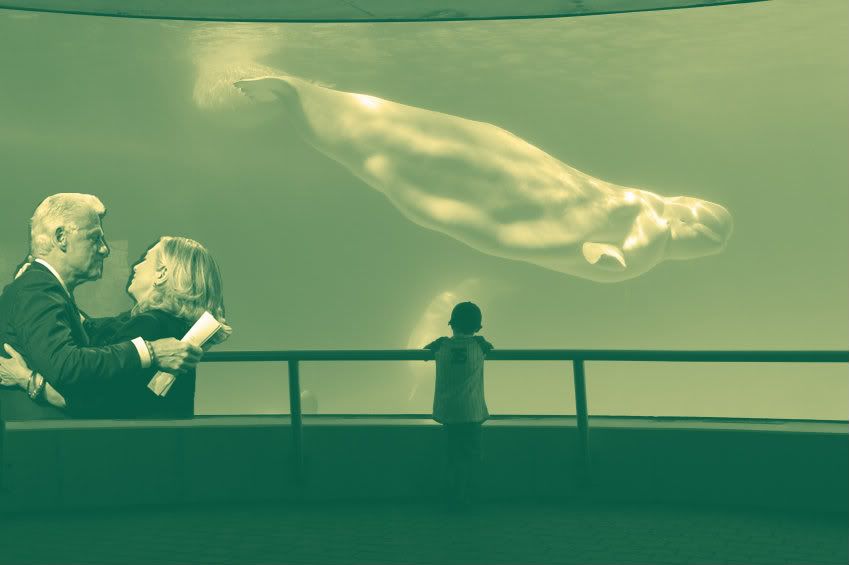 With vacation quickly (and finally) approaching, it's easy to get caught up daydreaming about how you'll spend those lazy summer days. Ever wondered how your favorite politicians would spend their breaks? We imagine how these eight famous figures would spend their summer vacations if they visited Chicago.

Rick Santorum
Looking to unwind after a stressful year of campaigning across the country, Rick would take his wife, Karen, and his seven kids on a trip to the Windy City. Because Ricky bleeds red, white and blue, the best place for him to go is Wrigley Field. However, the Santorum family would likely run into an unexpected snag: a computer glitch while Ricky was purchasing the tickets would end up putting the Santorum 9 in the Wrigley Field bleachers. Fueled by alcohol and disappointment, the Wrigley faithful would disgust the tightly wound former presidential candidate and his family with their conduct, forcing the Santorums to make an early exit from the ballpark. In a huff, the Santorums would run out of the ballpark and start looking for ways to salvage the day and their souls. They might decide to take a trip up to Evanston, home of the Garret Theological Seminary and the temperance movement. As they tour the grounds of a school that shares some land with Seabury Chapel, they would stumble upon Alice Millar Chapel and be subsequently be driven away by the crazy goose that has been posted up there since Spring Quarter started. Hungry from a long day of travel and repentance, the Santorums would decide to stop by The Wieners Circle for some good ol' fashioned grub and mistakenly order a round of chocolate milkshakes on the urging of a few regular customers.
Ahmadinejad
Iranian president Mahmoud Ahmadinejad wouldn't like Northwestern too much, but that's not to say he wouldn't like Evanston. Taken aback by the way Northwestern students refer to President Morton Schapiro as "Morty," and Mayor Elizabeth Tisdahl as every insulting name in the book, he would probably advise the two leaders to take a more authoritarian stance on public opinion and institute governmental policies to restrict freedom of speech. Next, he would call Northwestern's curriculum ridiculous, citing the private lab in Tech as a United States nuclear weapons development center, laughing at the very existence of SESP (because what mixes worse than a crazy authoritarian and organizational change and social policy) and finding it laughable that Medill encourages students not only to seek truth, but report it. Even if he finds the institution itself repulsive, Ahmadinejad may take a liking to Evanston. Considering that no one in their right mind would want to spend any time with him, Ahy would spend a lot of time at the Lakefill, a great place to reflect on how to take over the world and cope with a Napoleonic complex. He would also definitely enjoy some Chipotle, because let's be honest, who doesn't enjoy Chipotle?
Michele Bachmann
With a public gaffe regarding her application for dual citizenship in Switzerland, Michele Bachmann would probably spend summer in Chicago appeasing the rest of her family (who retained their dual citizenship status) with as much Swiss-ness as possible. After checking in for a long-term stay at Swissôtel Chicago, Bachmann would try to ingratiate her family by treating them to Fondue Stube and all the Teuscher Chocolates her three youngest children can handle. As a special treat, a trip to the Museum of Science and Industry would be on the Bachmann family's agenda as well – and not only because it houses one of the two Swiss Jolly Ball exhibits in the world. Since global warming is only a hoax, Bachmann would be glistening – not sweating – while consistently decked out in her congressional white/black/beige suits…but sans the "serious business" chignon.
Hillary and Bill Clinton
Hillary Clinton was born and raised in Chicago, and might bring Bill back to the Windy City to return to her roots on a lazy summer day. Since Hillary's seen it all before, she would let her hubby decide what to do (for once). Bill, who certainly knows that there are plenty of fish in the sea, would want to visit the Shedd Aquarium. Hillary might protest at first, but considering the aquarium offers advice on animal care at home, she'd go along with it. At first, they'd go their separate ways. Hillary, feeling tropical, might check out the Caribbean Reef exhibit, while Bill would probably scope out the more exotic Amazon Rising area. There's no doubt, however, that the two would come together for a once-in-a-lifetime experience – a beluga encounter for two. I can't imagine a more special moment than the former First Couple wading with whales. If Hill and Bill wanted to splurge, they could share a romantic spread of champagne and strawberries post-swim. Nothing says 36 years of semi-blissful marriage quite like touching a beluga together.
Prince William and Kate Middleton
The Duke and Duchess of Cambridge are already slated to visit Canada and California, but the proposed calendar leaves space for the not-so-newlyweds to hit Lollapalooza on August 3-5. If Avicii isn't really the royals' style, Will can indulge in his love of choppers with the Rocker Box Run, an annual motorcycle event from Chicago to Milwaukee. Meanwhile, Kate can mix business with personal satisfaction by volunteering at the Starlight Foundation's Midwest chapter. Then again, the couple could just enjoy the sun together with daily walks along Millennium or Grant Park and take in the sights at the Adler Planetarium, Shedd Aquarium or the Art Institute. They'd probably be one of those couples making faces at the Bean. Except, you know, they'd be…more proper faces. Since they're royal. But really, the royal couple at Lolla? Kate on Will's shoulders rocking out to Florence + the Machine? That would be epic.
Vladimir Putin
Russian President Vladimir Putin has never been to Chicago before, and he would be excited to finally visit the Midwestern metropolis. After all, where else in America has vote-rigging and political coercion more readily embraced? Upon stepping unto the tarmac, Putin would be welcomed by a delegation led by Mayor Rahm Emanuel. On the way back to the Loop, the two leaders would discuss policing strategies to respond to unruly protestors (as well as the occasional nosey journalist), and become fast friends. After returning to the office, Putin and Emanuel would break out the good vodka and take turns calling up cronies and making them do tricks for political favors, a pastime for both executives. After getting bored of this, they would tour the city, calling in a police helicopter to see the sights. Putin would quickly tire of the pilot's thick Chicago accent, however, as it would remind him too much of the Poles. Throwing him into Lake Michigan, Vlad would instead fly the vehicle himself, with an encouraging Rahm-bo whooping in the back. They would circle around the city, making sure to buzz the Lawyers Guild of Chicago, neither men being fans of pretentious activists. If this grew old, they would land on Navy Pier, eat some cotton candy and ride the Ferris Wheel. With a sweeping view of the city, the potentates would reminisce about when powerful leaders got statues, and then watch the sun set over the city, arm in arm.