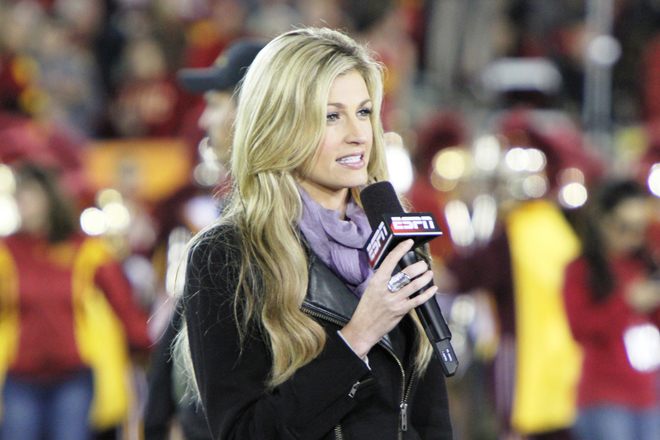 This weekend, College GameDay came to Evanston, and I don't know if I've ever been more proud to be a Wildcat. Hundreds of students lined up in the grass outside Lakeside Field before the clock even struck midnight. USA TODAY said Northwestern's signs might be the best of the 2013 season so far. Fans withstood off-and-on rain for two hours before the gates to Ryan Field opened.
At the same time, there were moments when I've never been so disappointed, disheartened and disenchanted by the way we view sports and those who work with them.
I stood to the left of Section Zero, Coca-Cola's VIP area. As I struggled to keep my eyes open and my energy high, I heard chanting emanating from the students in that section.
"Sammy Sweetheart!" Clap. Clap. Clap. "Sammy Sweetheart!" Clap. Clap. Clap.
ESPN reporter Sam Ponder stood just a few feet away, separated from the crowd by orange Home Depot barriers. She was getting ready to go on air live in front of the very audience that was shouting at her. The screaming didn't stop and got much more personal.
"Aw, come on! Turn around and give us the look!"
"Forget about the game later – I'll take you out!"
"Just give me your number!"
I looked up at the students in Section Zero as they laughed and nudged each other in celebration of their stunning example of the warped view we have of women in sports media.
Female sports journalists are often relegated to the sidelines, to short feature segments before games or non-revenue sports. And being on the field means being subjected to the jeers and jabs of fans and athletes alike.
Back when Rey Maualuga was an All-American linebacker at the University of Southern California, he ran out-of-bounds after a play and stumbled upon reporter Erin Andrews. He then proceeded to dance behind her without her knowing, much to the laughter and happiness of those fans who were watching.
You can judge whether or not Maualuga's behavior was sexual in nature – feel free to peruse the YouTube comments if you want some peer input – but the fact remains that Maualuga is now in the NFL playing for the Cincinnati Bengals, while Andrews has to defend her role in college sports to a fellow sports reporter, one that visited our campus no less.
Interviewing high-profile athletes and coaches is difficult for anyone, regardless of gender. However, female sports journalists face the unique challenge of entering a historically male-dominated profession.
They spend hours every week getting their makeup done to get TV-ready, they're told they look great and they're sent out onto the field. There they endure the constant presence of cheers, chants and comments from those around them. Then, after all that, they'll get kicked off the air and replaced once their age catches up with their looks. And those are just the ones you see on TV.
Kirk Herbstreit will never hear the same comments that Sam Ponder heard this weekend. Lee Corso won't either (the head of the Buckeye mascot may be too thick anyway). Sure, they might get some insults flung at them, but no one is going to suggest that they skip covering a game, part of their job, to go on a date with a college kid.
Female journalists hear and see their professions, reputations and careers reduced down to their appearance and their sex.
Of course, access and treatment afforded to female sports reporters have come a long way. Before 1975, it was believed that no women had ever been allowed inside a men's locker room for post-game interviews, until Robin Herman and a colleague were allowed into the locker room following the NHL All-Star Game. Then, in 1978, Melissa Ludtke and Sports Illustrated went to court to fight for her right to interview players in the locker room. Today, Andrews, ESPN Baseball Tonight reporter and host Wendi Nix and commentator and SportsCenter anchor Sara Walsh are all visible members of the sports media community. Walsh has even won four Regional Sports Emmy Awards.
Still, we as a society should be able to move even further.
As a female college student who hopes to one day join the ranks of sports journalists, I cannot accept this treatment of women in sports. I cannot accept "Sammy Sweetheart" chants, and I cannot accept this future for myself and for those women like me who love sports and want to report on them.
We can say "boys will be boys" (I'm looking at you, YouTube commenter Tra Rob) all we want. But when are we going to start holding "boys" accountable for their words and actions instead of focusing so wholeheartedly on those whom the boys are insulting? Especially in a world already so dominated by men? Because "compliments" and other comments shouted at female sports journalists are just that – insulting.
Boys watching sports eventually become men watching sports, who will teach the next generation to watch sports the way they did: gendered and discriminatory.
This system needs to change, and we need to be the ones who change it. We're college students at a university that "plays school" and needs to know better.
Respect the work that journalists do, and let them do that work.