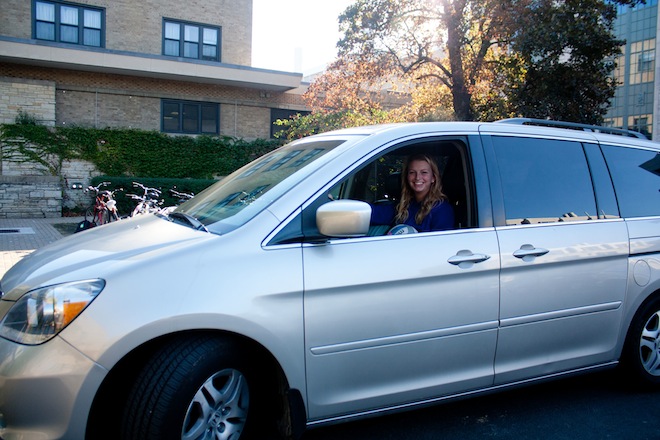 As many students have learned on game days, the walk to and from the athletic facilities—Ryan Field, Welsh-Ryan Arena and other venues—can feel long, cold and hopeless. Now imagine having to get there for an 8:50 a.m. practice. You can't be late, or you'll risk being on the receiving end of the coach's wrath. Somehow, these student-athletes have found ways to master the trek.
Sam Hatfield
Women's Soccer, Goalkeeper
Senior
How she commutes: Motor scooter
How often: Six days per week
Her secret to transportation success: While Hatfield doesn't have to go quite as far as Ryan Field most days, she does have to maneuver through SPAC's construction and consider the unreliability of campus shuttles. Plus, there are very few parking spots. The solution? A motor scooter, which she rides to Lakeside Field.
"I usually just park it by the bikes and it's fairly small so it can fit into gaps," she says. "I don't think you're supposed to, but I haven't been towed or anything."
Austin Carr
Football, Wide Receiver
Redshirt freshman
How he commutes: Carpooling with the wide receiving corps (Rashad Lawrence, Tony Jones and Mike McHugh to name a few) or linebacker Joseph Jones; occasionally bikes
How often: Six or seven days per week
Advice for future athletes: Carr has tried several methods of travel up to the football facilities, including taking the Ryan Field or Intercampus Northbound shuttles (though they're often late) or walking when the shuttles don't show. But being late in exchange for a free shuttle ride isn't worth getting in trouble with his position coach, Dennis Springer. Plus, he's found that nothing really beats a good old-fashioned carpool.
"Coming from someone who doesn't have a car here, it's better to have your own and drive yourself... or carpool with a timely and reliable person," Carr says.
Even now, Carr says he's seen the occasional unfortunate freshman sprinting up Sheridan Road, hoping a shuttle will magically appear but knowing deep down he better hustle.
Maggie Burnham
Volleyball, Middle Blocker
Redshirt sophomore
How she commutes: Her mom's minivan with the team's six freshmen
How often: Six days per week
Why she now has a car: One weekend during Burnham's first year, the team went on its first road trip of the season. Coincidentally, the football team played a home game, too. Those with Ryan Field parking passes know parking spaces are reserved for season ticket holders and tailgaters on game days. The team's freshmen knew no such thing. Instead, an upperclassman mistakenly told one of the freshmen that her Jeep Wrangler could stay at Ryan Field for the night. "She told us the wrong lot and we came back at like three in the morn- ing, went to go hop in the Jeep and the car was not where it was parked before," Burnham says. Turns out an unknown Good Samaritan towed the car over to the correct lot without the players even knowing. Today, Burnham drives the new batch of freshmen, hopefully to save them from the same panic.