It's a well known fact that Northwestern's offense has been downright dreadful at times this year. From relying on hero-ball to a lack of perimeter ball handlers with playmaking ability, Chris Collins has not been able to dredge up any semblance of last year's potent attack; never was that more apparent down the stretch against Penn State (20-12, 9-9 Big Ten) during Thursday's Big Ten Tournament clash.
Northwestern (15-17, 6-12 Big Ten) ended the year in all-too-familiar fashion: by giving up 13 unanswered points with five minutes left, this time to All-Big Ten performer Tony Carr (25 pts, 6 reb) and the Nittany Lions. The final at Madison Square Garden was 65-57.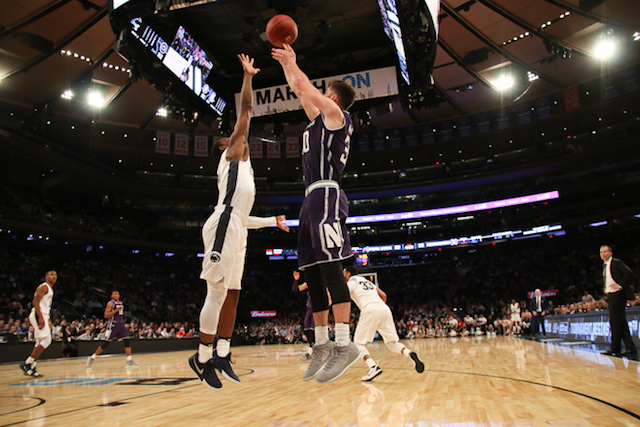 Without Vic Law, out for his third straight game with a foot injury, Collins began the game with his two traditional bigs, Barret Benson (9 pts, 9 reb, 3 blk) and Derek Pardon (14 pts, 8 reb). Initially, the pairing worked well against a Nittany Lion frontcourt without leading rebounder and All-Big Ten defensive team standout Mike Watkins. Benson made smart cuts, played hard defense, and had two big blocks while chipping in seven points and six rebounds in the first half, and Pardon had six from the low post.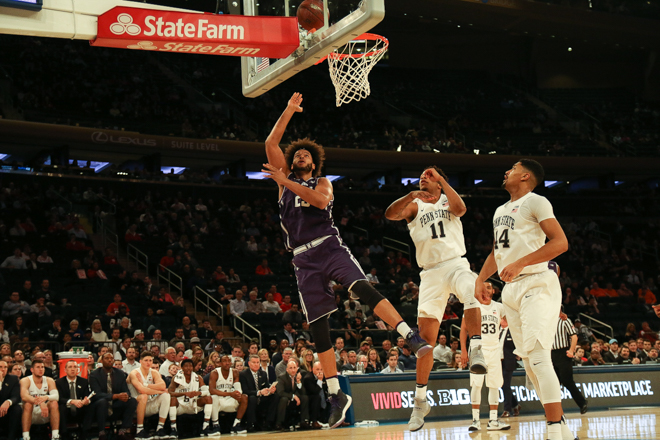 Point guard Bryant McIntosh (7 pts, 5 ast), back from the shoulder injury that has hobbled him all season, only scored five points during the first half, but had two excellent feeds to Benson for easy layups. Northwestern opened up an early 25-19 lead on the Nittany Lions, who couldn't score in the paint against the Benson-Pardon tandem; Penn State scored only six points inside all first half. They relied almost exclusively on their outside shooting to stay in the game, but were in a four minute scoreless drought when Scottie Lindsey (12 pts, 8 reb) made what turned out to be arguably the most crucial moment in the contest; with the 'Cats up 27-19, Lindsey took a flagrant foul by elbowing forward Lamar Stevens, which came back to haunt him as he was plagued by foul trouble in the second half and eventually fouled out.
Just like that, Penn State caught fire again. Carr in particular was deadly from deep, finishing 6-10 from downtown with a game-high 25 points on the night. Throughout the game the Wildcats' frontcourt struggled to generate much offense. McIntosh, who finished his final game just 3-12 from the field, found himself almost powerless against a pesky Penn State press. Meanwhile, Scottie Lindsey wasted possessions with contested threes with time left on the shot clock and tough runners when a better look was available. At half, the 30-30 score belied a game of runs from both teams, who had stretches of extremely cold and hot shooting, especially Penn State. The Nittany Lions lacked a strong interior presence, and made up for it by turning every possession into a three-point contest.
The second half began with a 9-2 Penn State run, but Northwestern caught up with tough shots from Pardon and Anthony Gaines. The teams spent the next couple of minutes trading baskets. Gaines in particular looked more assertive in the second half, but failed to produce results as he finished 2-7 from the field. Penn State's defense began to catch up with Lindsey and McIntosh, who were limited from the outside.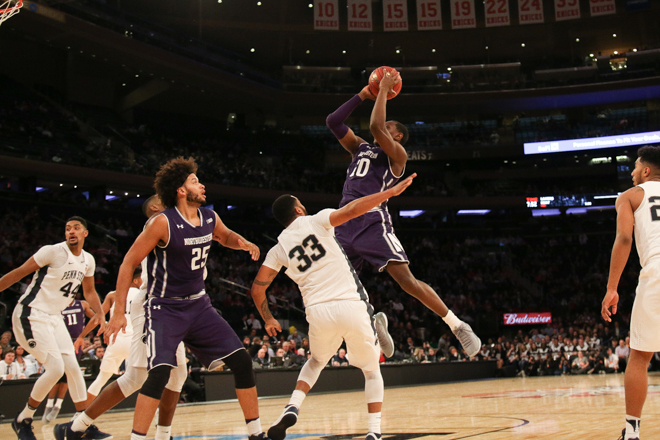 With neither team pushing a lead beyond a couple of baskets, the contest became a game of which team would collapse first. Northwestern, as per usual this season, happily obliged. With 3:15 remaining, Lindsey was called for a charging foul on a soft floater from five feet, fouling out and spending the last game of his storied career on the bench. Without the leading 'Cats scorer, Carr and the Nittany Lions, up 55-54 at this point, immediately took advantage by nailing two threes for a seven-point advantage. McIntosh and the 'Cats tried to respond, but were unable to counter PSU's suddenly deadly snipers.
As BTN panned over the sullen faces of McIntosh and Lindsay on the bench, watching their college careers end in a seven-game losing streak and first round Big Ten Tournament exit, one had to feel for two of Northwestern's greatest players and legends – two of the men whose names will never be forgotten at Welsh-Ryan. An era of basketball is over, but with Northwestern's best recruiting class to date coming this fall, and with the emergence of Anthony Gaines, Derek Pardon and Barrett Benson, the best days are still ahead for the 'Cats.
Thank you, @Bryant_30_Mac. #B1GCats | #PoundTheRockpic.twitter.com/7bWii2nscp

— NU Men's Basketball (@NUMensBball) March 2, 2018