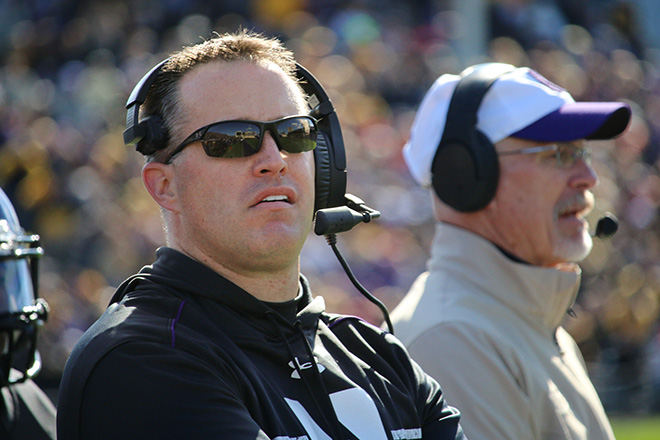 Scroll down to listen to Episode 8 of "Get Home Safe." Andy flies solo this week, breaks down Northwestern's latest saddening defeat and gets a prediction from a Nebraskan Medill faculty member on the outcome of NU's upcoming game at ... NU.
Here's a hot take for you: events that happen in pairs are coincidences, but events that happen in threes are patterns.
Yes, that's kind of a blanket statement, but it's hard not to argue that Northwestern's October struggles for the third straight season are beginning to look less and less coincidental.
Everybody around the program is sick of talking about it, but until something changes, or until something happens to prove that this isn't the same brand of collapse that we saw in 2013 and 2014, they're going to have to.
"My guys go to class. You have midterms right now? Yeah, so do my guys," Fitzgerald said at his weekly press conference on Monday. He was quick to backpedal and emphasize that he wasn't making excuses, but to an extent, he really didn't have to do that. The results have spoken for themselves, and he was just finding another way to answer a question he's faced all too often recently.
Since 2013, Northwestern is 4-13 after its fifth week of play each season. That's 1-6 in 2013, 2-5 in 2014 and 0-2 thus far this season. Each year, the momentum from a rousing, historic 10-win 2012 has seemed to reveal itself at certain points early on, and fade fast as 'reality' has set in.
But what is this program's reality? You could argue that the second half of NU's 2013 season was one of the flukiest collections of college football games ever, and that 2014, while less so, echoed the previous season's heartbreak on occasion.
This season's rough patch, however, might be the most heartbreaking yet just based on how far NU had come in its first five games.
NU was ranked at No. 13 headed into a road battle in Ann Arbor that had national (no, seriously) implications, and the 'Cats got spanked 38-0. The very next week, No. 17 Iowa rolled into Evanston and followed suit against the No. 20 ranked 'Cats, pushing them out of the polls, possibly for good this year.
What gives? Michigan and Iowa's players go to class and take midterms too, right?
"I think [the midseason struggles] get brought up a little too much. I mean obviously the stats show that we're not very good in October, but that's also when Big Ten play is starting, that's the hard part of the season," Dan Vitale said on Monday.
Ay, there's the rub. Like it or not, Northwestern simply has not put up much of a fight in the Big Ten over the last three years, with a combined conference record of 5-14 since 2013. So maybe it's not just those old October woes after all.
But still, does it make any sense that a team that not only dispatched, but also simply looked like the superior squad against Stanford and Duke (both of which are still ranked) would be unable to put up a fight against two of its conference foes? No, but that's Northwestern's reality.
There are still five conference games left, but if this team follows the path laid out for it by the last two NU teams, perhaps it's time to question whether the program, as it stands now, is well-suited to compete in its conference.
Whether that means Fitzgerald needs to change his recruiting philosophy or if it means there needs to be an assistant coaching overhaul is of little matter. The bottom line for Northwestern is that something needs to change, because whatever they've been doing – in Big Ten play anyway – is clearly not working.