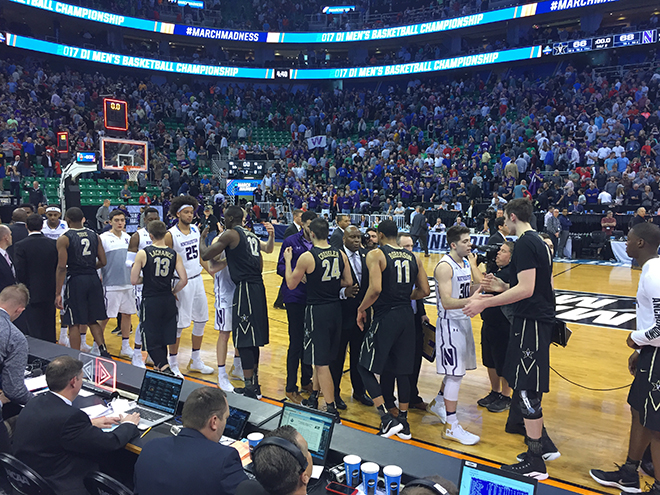 For the first time ever, Northwestern men's basketball played in an NCAA Tournament game. And for the first time ever, Northwestern (24-11, 10-8 B1G) won an NCAA Tournament game, in predictably Cardiac 'Cat fashion, 68-66 in the last seconds over ninth-seeded Vanderbilt (19-16, 10-8 SEC) in Salt Lake City.
Also the first time ever, probably, Northwestern basketball fans far outnumbered opposing fans at a neutral site – a neutral site far, far away from Evanston, for that matter. For one afternoon, Vivint Smart Home Arena was "Welsh-Ryan West." In a 20,000-seat arena, "Let's Go 'Cats!" chants rang out throughout the game. Every NU bucket was met with a roar. Fans stuck around long after the final buzzer, too, cheering as each coach and player left the court.
BMac's exit was louder, but the crowd stuck around to see Collins to the locker room pic.twitter.com/2eVEd4jSaO

— NBN Sports (@nbn_sports) March 16, 2017
"When I saw that purple in that arena, that was awesome just to see all the people who came across the country, from all over the place that had never seen this before," coach Chris Collins said. "They willed us through. There were times when we were really tired, and they kept us in it."
The crowd was treated to an amazing game. Early on, NU pulled off an electric 10-0 run to give NU a 14-5 lead with 12 and a half left in the first half. But Vanderbilt responded, aided by Bryant McIntosh, who had 10 of NU's first 17 points, picking up his second foul with nine minutes left in the half. Isiah Brown held his own for a few minutes, and McIntosh re-entered the game with NU holding a 22-17 lead.
"The atmosphere was amazing," McIntosh said. "To see all the purple and the pride they had, and the strength and courage they could give us, was a tremendous help."
In the final few minutes of the half, NU clung to a 27-24 lead, a margin which could have been wider had the 'Cats not committed ten fouls and seven turnovers in the first 17 minutes. But a quick 5-0 NU run got the crowd right back into it, and NU took a 34-27 lead to the locker room. McIntosh led the way for NU with 13 (and finished with a game-high 25), while Lindsey had 12 of his 14 in the first half.
NU raced out to a 10-point lead, its largest of the game to that point, early in the second half, and McIntosh and Lindsey continued to be the main contributors. But Gavin Skelly chipped in with a couple of tough buckets, and Nathan Taphorn buried a three to make it 49-34 and temporarily blow the roof off the building.
McIntosh picked up his third foul and had to sit, and suddenly Vanderbilt was on a 12-0 run to make it 49-46 NU with a little under 12 to go. Pardon and Lindsey responded with buckets near the rim and NU held onto its lead at the midway point of the second half.
The teams went back and forth over the next few minutes, with NU stretching its lead to seven but seeing Vanderbilt cut it right back to two with four minutes remaining. NU went ahead by four, 59-55, on two Dererk Pardon free throws, but Matthew Fisher-Davis, who scored 22 in a losing effort, sunk a three to cut it to one, 59-58, with a little over two remaining.
Vanderbilt's Riley LaChance brought Commodores fans to their feet with a three over Pardon to give VU a 62-61 lead, their first since the first half. But as usual, McIntosh answered the call, responding with a floater to give NU back a lead, 63-62, with 1:11 remaining.
The last minute of the game was, at risk of cliché, the definition of March Madness. Vic Law missed two free throws, the Vanderbilt grabbed back the lead with a layup. Then Pardon was fouled, again, and made both free throws to take back the lead again, 65-64. One of NU's worst free throw shooters, Pardon made six of six down the stretch. He finished with 14 points and 11 rebounds.
"The last timeout before a free throw, coach said, 'it's about toughness,'" Pardon said. "That was in my head the whole time. And of course Vic Law, before I took my free throws, says 'I believe in you.' That gives me confidence."
But despite Pardon's heroics, Vanderbilt grabbed the lead with a layup with 17 seconds left. And then the unthinkable happened: despite his team leading, Fisher-Davis fouled one of NU's best free throw shooters, McIntosh. NU was in the bonus, and McIntosh gave NU a lead it would not lose, 67-66. McIntosh said he was surprised that he was fouled, but chalked it up to a miscommunication on Vanderbilt's part.
"You don't really imagine being down one and getting fouled very often," McIntosh said. "Very often you envision yourself hitting a game winner, and to do that at the free throw line was very relaxing."
Vanderbilt still had a chance to win at the buzzer, but LaChance missed a three-pointer, and the rebound drifted out of bounds, last touched by a Commodore, with a little over a second left. Sanjay Lumpkin was fouled shortly afterward, and made one free throw to make it 68-66. A Vanderbilt prayer at the buzzer sailed wide, and NU had made history, again.
Though NU was undoubtedly the beneficiary of a Vanderbilt mental error, Collins will take it. The 'Cats will have all of tomorrow to prepare to take on No.1-seeded Gonzaga on Saturday, right back at Welsh-Ryan West.
"We're just excited to see another day," Collins said. "It doesn't matter how you did it, you've just got to try to win to see another day, and we were lucky to be able to do that tonight."