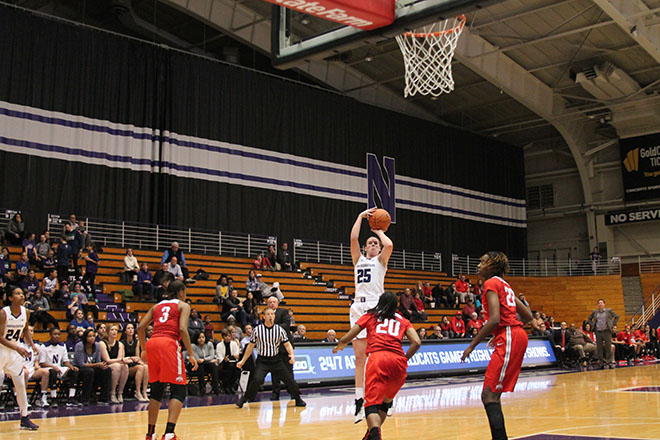 Put a Wildcat, or any animal, through enough adversity and eventually it gives up – or fights back.
After three ugly losses in four games briefly knocked Northwestern out of the AP Top 25 poll, the Wildcats (13-4, 2-3 B1G) came storming back to upset No. 5 Ohio State (12-3, 4-1 B1G) on Thursday night, winning 86-82.
"Northwestern was a team that needed a win, we were a team that wanted to win," Ohio State head coach Kevin McGuff said. "They played much harder than we did."
Ohio State pushed a full-court press from the opening tip, forcing point guard Ashley Deary to dance and dive past mid-court. But she did almost every time, setting up one of Northwestern's best shooting nights of the season.
Maggie Lyon led the aerial assault early, starting a perfect 3-for-3 from beyond the arc. Nia Coffey shot 8 of 14 in the first half and Northwestern led 48-30 at the intermission. Lyon finished with 24 points on the night, Coffey had 23 and Northwestern finished shooting 47.1 percent from the field.
But with less than eight minutes left, Coffey exited with an injury, setting up a tense finish. Looking tired and hoping to burn the clock, Northwestern slowed down their offense up 80-68 with less than three minutes to play. Ohio State pulled the game to within four, but it ended there.
The win snaps a five-game Northwestern losing streak against Ohio State dating back to 2011. Thursday marked Northwestern's third victory in their last 27 matchups with the Buckeyes. The 'Cats last win against a top-10 team came on January 12, 1996 against Penn State.
If Northwestern rode past frustrations to victory against the Buckeyes, Pallas Kunaiyi-Akpanah was the angriest. The Nigerian-born forward scored landed 14 boards - including seven offensive ones - and scored 14 points in her second career start.
"I just felt like our past two games have been real difficult to overcome, just losing two straight games," Kunaiyi-Akpanah said, "And I felt like my teammates were really looking to me to perform better."
Northwestern's ball-handling, a big problem in their losses to Purdue and Michigan State last week, was more controlled against Ohio state. Despite the Buckeye's full court press, the 'Cats won the turnover battle 16 to 15.
In fact the press often backfired for the Buckeyes, producing defensive fouls and allowing Coffey to get open for outlet passes underneath the basket.
"I thought we handled Ohio State's pressure well," McKeown said. "They comes at you in so many different ways and I thought we handled that well and that gave us shots, some open looks, that we knocked down."
Deary was the only Wildcat starter to shoot under 45 percent from the field or finish with fewer than 10 points. but she led the offense with 11 assists, along with 7 rebounds and 3 steals.
"She kind of sets the tone for them," McGuff said. "She's also a good defender, she really harassed us."
Northwestern will need to be on top of their game again Sunday, as they go up against No. 8 Maryland on the road.