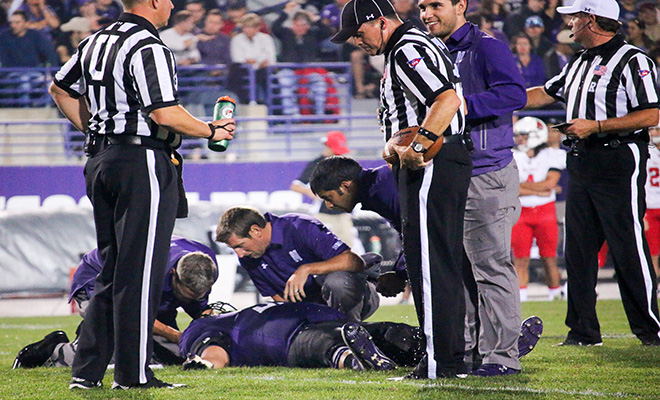 Plutarch, the Greek historian and essayist, is often credited with coining the term "Pyrrhic victory" with his account of King Pyrrhus of Epirus' battle victory over the Romans in 280 B.C.E.:
"The armies separated; and, it is said, Pyrrhus replied to one that gave him joy of his victory that one other such victory would utterly undo him. For he had lost a great part of the forces he brought with him, and almost all his particular friends and principal commanders."
Northwestern (4-0) won 24-19 over Ball State (2-2) under the lights at Ryan Field on Saturday, but lost several "particular friends and principal commanders" in the process – Geoff Mogus and Godwin Igwebuike left the game with unspecified upper body injuries, and Ifeadi Odenigbo and Garrett Dickerson left with unspecified lower body injuries. Head coach Pat Fitzgerald said after the game that Kyle Queiro was out for the season with a broken arm, as well. NU found itself thin at several positions, and the 'Cats were forced to play some of their second- and third-string players to fill those gaps.
"We really instill the idea that the next man up had to ready to go when it's their time to shine," safety Traveon Henry said. "It is kind of tough personally because you never want to see a guy go out ... but in the heat of the game you kind of just have to move on and hope that next guy's ready to play."
In a sloppy performance exacerbated by said injuries, the game was disappointing for Northwestern in all aspects other than the final score. Fitzgerald said even though his team was prepared heading into the game, Ball State being a MAC team may have snuck up on the 'Cats.
"We knew exactly what we were getting into tonight," Fitzgerald said. "But you also have that ability as Ball State to come into Big Ten arenas like you have and have an advantage from a standpoint of our guys being sky high for games like Stanford and Duke [and not so against BSU]. I thought we came out of the tunnel ready to go, but we obviously didn't execute that way, so that's my responsibility."
It was a first half to forget (to say the least) for the Wildcats. An early turnover by Clayton Thorson put the Wildcats' vaunted defenders on their heels just like the Duke game, but this time, the defense held the Cardinals to just a field goal.
After an ugly back-and-forth punt and turnover fest took up most of the first half, Thorson awoke a drowsy Ryan Field crowd with a 66-yard strike to Dan Vitale over the middle to give the 'Cats a 7-3 lead with 6:20 left in the half. But the elation didn't last long, as Thorson lost a second fumble at his own 22-yard line with 1:03 remaining in the half and the Cardinals capitalized immediately, scoring on one play to regain the 10-7 lead, which they would take to the locker room.
Thorson again struggled early, completing just five of nine passes for 88 yards in the first half and throwing an interception along with his two fumbles. But Fitzgerald said he never considered substituting him out, and that faith would later pay off.
Just like last week, the 'Cats looked like a completely different team out of the break. Thorson led NU down the field like a man possessed on the opening drive of the 3rd quarter, connecting with Vitale again on a 21-yard touchdown pass to cap off a scarily smooth eight play, 80 yard drive that gave NU a 14-10 lead. Vitale's two touchdown receptions gave him the first multi-score game of his career.
"In the first half I was just guessing a little bit, and I just wasn't doing what I'm coached to do," Thorson said. "I think in the second half, I started doing that, and it started to work. It's funny how that works out."
Second half Thorson wasn't finished, cutting through the Cardinals like butter once again, orchestrating another 80-yard drive and finding Austin Carr streaking along the sideline for a 25-yard touchdown pass to make it 21-10 with 8:01 left in the third quarter.
Then Justin Jackson decided he wanted in on the action, breaking off a 62-yard run to set up a Jack Mitchell chip shot field goal, making it 24-10 with five minutes left in the third quarter. With that long run, Jackson eclipsed 100 yards on the ground for an impressive ninth time in just 16 college games. He finished with 184 yards, which, by any metric, is absurdly good.
It appeared that the game was well in hand for the 17th-ranked Wildcats, but the Cardinals refused to go down without a chirp. Ball State quarterback Riley Neal demonstrated why he is considered a dual-threat quarterback, burning the 'Cats for 33 on the ground on one play and then through the air for 29 on the next to pull his team within 24-16 in the waning minutes of the third quarter (the PAT was blocked by Dean Lowry).
The No. 1 rated defense in the country looked to be characteristically up to the task, but a poor punt by Hunter Niswander gave the Cardinals the ball at the Northwestern 40 late in the fourth quarter, and Morgan Hagee was money from 36 yards out to make it 24-19 'Cats with 4:34 remaining. However, NU utilized its strong running game, forcing Ball State to burn its timeouts and running out the clock on its fourth victory of the season. Vitale said that despite a lackluster effort, the team's resolve was on full display.
"Our maturity is definitely showing," Vitale said. "Last year we might not have won a game like this, but we're finding ways to win, which is what you need to do in Big Ten play. Obviously we need to execute more consistently on offense, because we've seen how good we can be when we do that, and we've seen the struggles when we don't."
That wraps up non-conference play for Northwestern, which will begin its quest for the Big Ten West division title next Saturday against Minnesota at home. Kickoff is scheduled for 11 a.m.