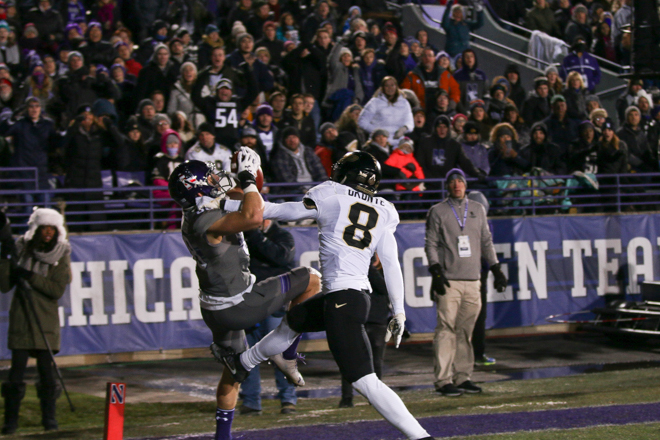 For the first time in four weeks, four quarters was enough.
Clayton Thorson threw for 296 yards and combined for two touchdowns, Bennett Skowronek found the endzone and had 117 yards, and after three straight overtime victories, No. 25 Northwestern (7-3, 5-2 B1G) cruised to a 23-13 victory over Purdue (4-6, 2-5 B1G) in their second home night game of the season.
Northwestern's offense prevailed despite little contribution from star running back Justin Jackson. Purdue, which ranks seventh in the Big Ten in rush defense, bottled up the ball carrier from the Wildcats' first snap. Jackson had zero yards through his first seven carries and finished with a YPC of 1.8, his lowest career total.
Jackson's struggles cost NU early. On a 4th-and-three at Purdue's 49th, Jackson was smothered for -7 yards on a speed option. Northwestern, which entered Saturday tied for the national lead with 17 fourth down conversions this season, went 2-4 from fourth down.
"They basically did what we thought they were going to do, and that was load the box ... to stop Justin, and it at times it looked like we were a block away." Coach Pat Fitzgerald said. "So credit to Purdue, they were able to get off blocks and/or skate off things that we weren't able to finish."
Thorson, though, filled in the gap. After a 2nd quarter 78-yard punt return touchdown was called back on a Joe Gaziano unsportsmanlike conduct penalty, NU gave the ball to the quarterback, and Northwestern's passing offense quickly woke up.
A 19-yard throw to Skowronek and a defensive pass interference call had the 'Cats at the goal line. Purdue's defensive line stuffed Jackson there, but the pass rush worked too well on Thorson, who scrambled to the right and ran in for a four-yard touchdown.
After a punt return TD was called back, Clayton Thorson makes up for it by finding the pylon for a @NUFBFamily score.

Cats lead 7-0: pic.twitter.com/WGvNh9VuoW

— Big Ten Network (@BigTenNetwork) November 12, 2017
Even when given good field position, Purdue couldn't move the ball early. Northwestern line's matched the Boilermakers, holding Purdue to 49 yards on the ground and getting three stops on fourth-and-short.
"The mentality is just get it done, no matter where the down and distance is, no matter where the ball is," defensive lineman Jordan Thompson said. "You've gotta make those stops, because if we don't, they score and we lose."
Purdue QB Elijah Sindelar, filling in after starter David Blough had season-ending ankle surgery following last week's game against Illinois, started 1-of-5. He struggled against the 'Cats pass rush for much of the game, repeatedly getting hit as he threw or having his passes tipped in the first half.
As Purdue abandoned the run game in the second half, Northwestern sacked Sindelar three times, with two coming from Trent Goens.
The Boilermakers moved down the field on trick plays (including a fake punt) and occasional deep passes, but they struggled to turn yards into point.
In the 2nd quarter, Purdue missed a 42-yard field goal. On the next drive, they converted on 4th-and-seven at their own 49 thanks to a 22-yard pass from the punter to the long-snapper (yes, that actually happened). But facing 4th-and-one Northwestern's four yard line with 1:49 left in the first half, Nate Hall and Blake Gallagher stuffed Richie Worship.
Big Ten long snappers are out here livin' lately.@benmakowski_LS snaps it, hustles and hauls in a first down for @BoilerFootball: pic.twitter.com/FvejZxz1N6

— Big Ten Network (@BigTenNetwork) November 12, 2017
"That was the right call by Jeff [Brohm]," coach Pat Fitzgerald said of Purdue's coach. "When you're in a game like that, you've got to go for it. You're going for a win and I think our guys just stepped up. We controlled the lines of scrimmage"
Northwestern moved swiftly. Throwing repeatedly on the run, Thorson went five for six for 89 yards and, with 0:16 seconds left, lofted a fade that Skowronek caught falling out of the back of the corner of the endzone to make the game 14-0.
Hands ✅

Footwork ✅@BSkowronek10 helps give @NUFBFamily a 14-0 lead heading into half: pic.twitter.com/DS6vomJTeI

— Big Ten Network (@BigTenNetwork) November 12, 2017
"It's something Clayton and I actually worked on Wednesday after practice," Skowronek said. "It's something we do every day almost."
It was Skowronek's best game of conference play. He finished with seven completions, two for over 25 yards, and his most yardage since the season opener against Nevada.
After Purdue's hail mary failed, Northwestern went into the half up 14-0.
Thorson drove to the goal line again twice to open the second half, and when Jackson failed to punch it in, Charlie Kuhbander chipped a pair of field goals to spread Northwestern's lead to 20-0.
Purdue swept down field and converted their first touchdown on a 21-yard touchdown pass from Sindelar. But after they failed to convert on another mid-field 4th-and-one, Kuhbander kicked a 36-yard field goal to put the game out of reach.
Riding a five-game win streak, Northwestern plays Minnesota at home next Saturday with a chance to reach eight wins for the first time since 2015.