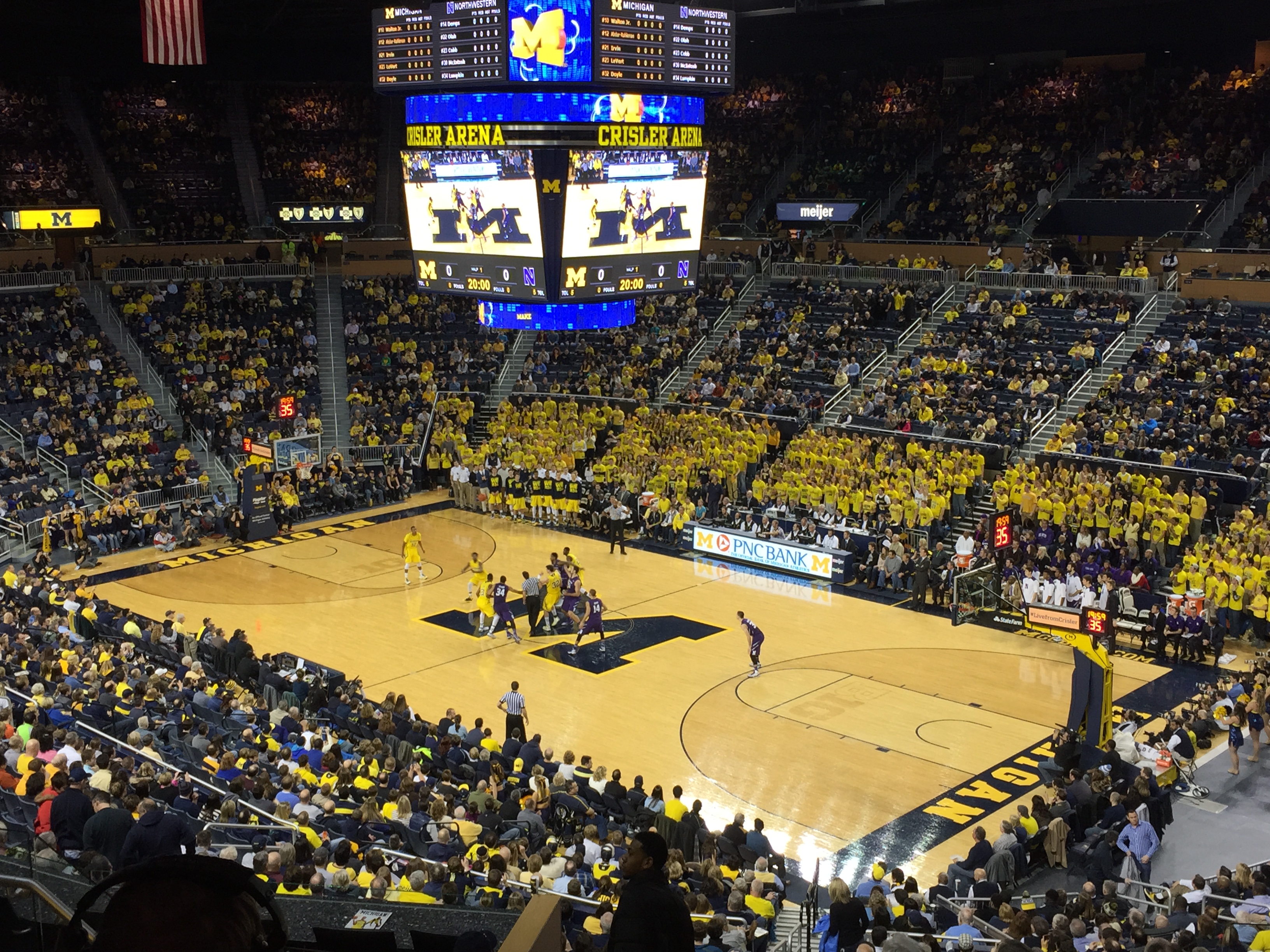 There may come a day when Michigan sports teams face karmic retribution for the nature of their wins over Northwestern during this academic year, but today was not that day. On the heels of Michigan's November victory (if we must call it that) on the gridiron that was decided on Trevor Siemian's tragic slip, a missed Bryant McIntosh layup with time expiring sent the 'Cats limping home from the Crisler Center, having lost to the pesky, yet fortunate Michigan Wolverines, 56-54.
McIntosh had a clear lane to the basket as time wound down, but went up too strong with a left-handed layup that would've sent the game to overtime. It clanked off the iron and was tipped out into the open court as time expired.
It was another agonizingly close defeat in conference play for the 'Cats, who have now lost four in a row to fall to 10-8 overall (1-4 in Big Ten play) while sending Michigan to 11-7 overall (4-2 in the Big Ten).
"My guys are playing their tails off," head coach Chris Collins said. "It hurts, but it's part of our process. I feel like they're getting tested. They keep getting their hearts ripped out, and we've got to keep fighting."
Collins was despondent after the game, but expressed confidence in his young point guard despite his unfortunately timed miscue.
"That's who I want to have the ball, you know," Collins said. "That kid's going to have the ball in that situation a lot of times in his career, and he's going to deliver a lot more than he doesn't. There's no one who cares more than that kid. He made a great move, he just missed the shot. That's just part of basketball sometimes."
The gut-wrenching defeat overshadowed a highlight reel performance from Alex Olah, who finished with 22 points and 7 rebounds and thoroughly dominated anybody wearing maize who tried to match up with him down low. Northwestern outrebounded Michigan 30-20 on Saturday night mostly as a result of this mismatch.
Michigan responded to an early 11-7 deficit with an 18-0 extended run over six minutes to grab a 25-11 lead. But the 'Cats, mostly on the back of their 7-foot player, went on an extended run of their own, 21-6, over the last 10 minutes of the half to secure a shocking 32-31 lead headed to the locker room.
The Olah feeding frenzy continued in the second half, as he scored NU's first five points out of the break before taking a seat. Collins put him back in after a five-point spurt tied things at 39, and, like clockwork, the 'Cats led 45-41 with 10 minutes remaining.
But when the shots stopped falling for NU for a little while, Michigan heated up. With 1:02 remaining, Muhammad-Ali Abdur-Rahkman nailed a three to put the Wolverines up four, but Olah responded down low to make it 56-54 with 43 seconds left.
Michigan worked the clock on their final offensive possession, but missed a would-be dagger to give the 'Cats one more chance with 13 seconds left, which McIntosh was only a friendly roll away from capitalizing on.
As demoralizing as a loss such as this can be, Olah expressed his optimism moving forward.
"We look at the positive things," he said. "We've played really good teams to the end. Of course we want to win, but this gives us confidence, too. We know we can play against anybody, so nobody's going to be safe against us."
The 'Cats will try to snap their skid at home against Ohio State on Thursday.