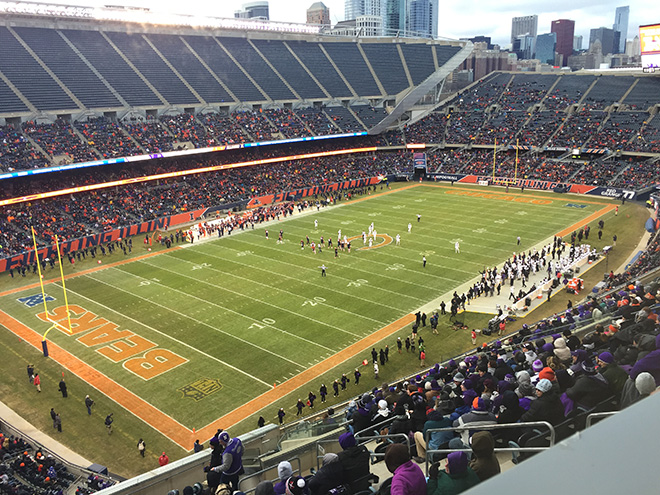 On November 29, 2014, Illinois came into Ryan Field and knocked Northwestern out of bowl eligibility. Almost exactly a year later, the No. 16 Wildcats (10-2, 6-2 B1G) reconvened with the Fighting Illini (5-7, 2-6 B1G) down the road at Soldier Field and returned the favor, beating Illinois and clinching NU's fourth ever 10-win season in a dominant defensive effort.
In a microcosm of Northwestern's strangely successful season, the perpetually solid Wildcat defense held the Illini to just 78 yards on the ground and stifled them when it mattered, bailing out the offense which started hot but went ice cold in the second half. Anthony Walker spearheaded this effort, making 14 tackles and 2.5 for loss, moving into third in NU single-season history in tackles for loss with 18.5.
Head coach Pat Fitzgerald said that while the margin of victory on Saturday may not have been impressive, his team's effort, especially on defense, stood out.
"We're kind of old school, four yards and a cloud of dust," Fitzgerald said. "To a lot of people I think that's boring, I could care less what they think, I call it winning. That's who we are right now. I'd love to put up the Baylor numbers, I'd love to put up the numbers that some of these other teams are offensively, but they can't shake a stick at our defense."
Unlike last week's 13-7 win over Wisconsin when the 'Cats and offensive coordinator Mick McCall were content to play things conservatively, McCall dialed up a couple of deep play-action passes that worked to perfection in the first half. The first of which, a Clayton Thorson bomb to Austin Carr behind the defense for 48 yds to the Illinois 23, set up a 19-yard juggling catch by Dan Vitale for the game tying score. Just two minutes afer Illinois had opened the game with a 47-yard scoring drive, it was 7-7.
"Clayton put it exactly where it needed to be, far enough outside to where their guy couldn't undercut me," Vitale said. "Luckily I kept my concentration and got in."
On NU's next possession, a 15-yard "leaping over the punt shield" penalty on Illinois gave the 'Cats life after what appeared to be a failed drive, and three straight ensuing handoffs to Justin Jackson for a total of 20 yards put NU on the Illinois three-yard line. Then Warren Long, naturally, poached Jackson's well-earned TD to make it 14-7 NU with 1:21 left in the first quarter.
At the beginning of the second quarter, McCall (literally) threw caution to the wind once again, and Thorson completed a 39-yard play-action pass to Miles Shuler that put NU on the Illinois 24. This time it was Jackson on a three-yard burst that gave NU a 21-7 lead that the 'Cats would take to the half.
The lead looked insurmountable at the time, but the put-away ability Northwestern fans have pleaded for this team to show throughout the season once again failed to materialize as Illinois almost flipped the script in the second half.
The near-collapse began with a fumble from Solomon Vault with four minutes left in the third that gave Illinois the ball at the NU 45. The defense bailed Thorson out that time, but a 54-yard pick six with 45 seconds left in the third quarter by Mason Monheim on a tipped ball cut a once-comfortable lead to 21-14.
A 39-yard field goal by Jack Mitchell with 11:27 left in the fourth quarter gave NU some breathing room, but Illinois wasn't done fighting. Led by streaky quarterback Wes Lunt, the Illini drove it down to the NU 25 before Matthew Harris intercepted Lunt to force the first turnover of the afternoon. The Illini drove it down there again, this time to the nine-yard line, but Taylor Zalewski missed a 26-yard field goal attempt with 4:10 left, his second miss of the day, and that was all she wrote.
Thorson handed the ball to Jackson to ice it over the final minutes and the 'Cats watched the clock run down to zero on Illinois' last posession to cap off a historic regular season finish and a reclamation of the Land of Lincoln Trophy.
After the game, Fitzgerald made one final case for his team's potential placement in a New Year's Six Bowl game, expressing his frustration that Stanford (who NU beat on September 5), was ranked seven spots higher than the 'Cats were in the College Football Playoff rankings last week.
"The eyeball test is wins," Fitzgerald said. "The rest of it is great for SportsCenter and [Big Ten Network], but we won the games that put us in position to be in the conversation. I would ask the committee to take a look at the film, watch the tape."
Northwestern has a chance to make history in its bowl game (to be determined) as the first team in program history to win 11 games and the first senior class to win two bowl games, should the 'Cats emerge victorious in that game.
"It's incredible," Vitale said. "I think it says a lot about the guys and the maturity and leadership that the [senior] group had. We've been through it all, we've been through great seasons, we've been through not so good seasons. The leadership and qualities we developed our last couple years here really came to the forefront. We were able to do something incredible this season."
Injury note:
Late in the second quarter, cornerback Nick VanHoose collided with another NU player while breaking up an Illinois pass, and was laid out on his back for a while in a scary moment on the field. He was later able to sit and stand, and returned to the sideline for the second half.
This story was updated at 7 a.m. to include quotes from the postgame press conference and a photo.