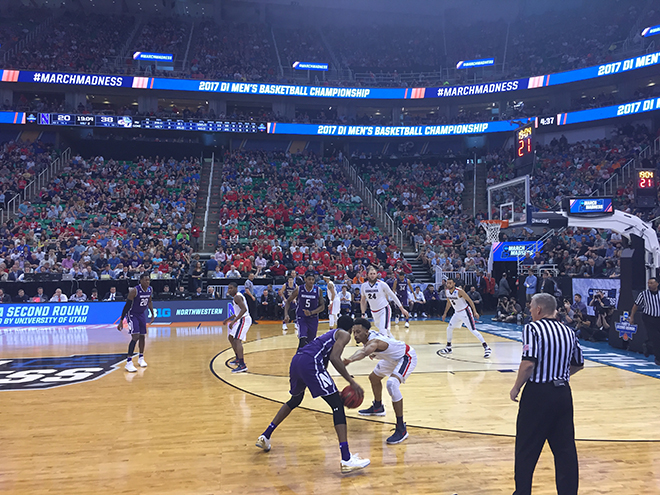 Northwestern learned a lot in its first trip to the NCAA Tournament. On Thursday, the 'Cats learned what it really means to "survive and advance" when they squeaked by Vanderbilt. And on Saturday, with a trip to the Sweet 16 on the line, they learned just how hard it is to knock off a No. 1–seed. Gonzaga (34-1, 17-1 WCC) controlled the game throughout the first half, and then held on to the lead to win 79-73, despite a nearly-overwhelming comeback attempt by the 'Cats (24-12, 10-8 B1G), ending their historic season in the Round of 32.
Gonzaga dominated the first half 38-20, but NU played inspired basketball over the final 20 minutes, outscoring Gonzaga 53-41 and nearly getting within striking distance of the lead before faltering late.
"I'm really proud of my guys," coach Chris Collins said. "I thought we were a little shellshocked in the first half for whatever reason. That led to the big deficit. We re-grouped at the half, rallied together and the performance that our guys put [on] in the second half was some of the best basketball I've seen us play all season long."
Gonzaga and NU traded blows to start, locked in a 6-6 tie early. But the Bulldogs didn't wait to grab control of the game, opening up a 10-0 run aided by NU's five early turnovers, a whole lot of missed shots and some favorable calls. More than anything, though, Gonzaga buried shots in transition and stuffed the 'Cats in the lane time and time again.
NU broke out of a six minute scoring drought with a bucket from Dererk Pardon aroud the midway point of the first half, but failed to break double digits until a driving layup from Scottie Lindsey made it 22-10 Gonzaga with six minutes left in the half.
But Gonzaga would not budge. NU missed its first ten three-point attempts before a late first half triple from Vic Law, and ran its turnover total up to eight. With help from 14 first half points from star guard Nigel Williams-Goss, Gonzaga stretched its lead to 32-12, and never really looked back during that half. They took a 38-20 lead to the locker room. Northwestern shot just 30 percent in the first half. Bryant McIntosh led the 'Cats with seven points at intermission, and finished with 20 to lead the 'Cats. Things seemed bleak, but in the NU locker room, something clicked.
"A lot of teams would've rolled over at halftime," Collins said. "It wasn't going well, we weren't playing well, they were clicking on all cylinders, we're down by 20. Our guys refused to go down like that. To me, the second half tonight is who that group was, all year long. They took me on an amazing ride this year."
NU showed more fight right off the bat in the second half, cutting the lead to as close as 12 with some period of hot shooting and opportunistic defense. Gonzaga super-freshman seven-footer Zach Collins responded, quieting a raucous NU crowd with back-to-back old-fashioned three-point plays to give Gonzaga a seemingly comfortable 54-34 lead with 13 minutes remaining. It ended up not being that comfortable.
"We picked up a little bit on our pressure, and pushed them out on the floor a little bit, and we played desperate in the second half," McIntosh said. "Because of that, our activity caused them to turn it over and gave us some life."
The 'Cats were not dead yet. Two Nathan Taphorn three-pointers re-energized the crowd, and NU got within nine on three different occasions. Then two McIntosh free throws cut the deficit to just seven with six minutes to play. Just 30 seconds later, a Law putback dunk cut that lead to five, 63-58, and blew the roof off the arena. NU had outscored the Bulldogs 24-10 over eight minutes to turn a blowout into a ballgame.
NU was unable to cut it any closer than that for a while, partially thanks to a blatant missed goaltending call (one of two on the day), which coach Chris Collins was so irate about that he was assessed with a technical; Williams-Goss made both free throws, dealing a great blow to NU's momentum. Had the basket counted, NU would've been down just three. Instead it was down seven. After the game, the NCAA released a statement acknowledging that the referee had blown the call in spite of an incident of basket interference by Zach Collins.
"The guy puts his hand through the rim, it's a very easy call in my opinion," Chris Collins, who acted sarcastically pleased by the NCAA's statement when he was made aware of it, said. "Do me and my heart think if Dererk gets that call and we cut it to three we have a great chance to win? Yes I believe we have a great chance to win if the correct call was made."
After a McIntosh three made it 72-66 with 1:21 remaining, NU got a big stop, but was unable to convert on the other end. From that point on, NU played the "foul and hope they miss" game, but some clutch free-throw shooting by the Zags kept NU at arm's length until the buzzer.
In the end, Northwestern fell just short, but that should take nothing away from what was a season that will be remembered in Evanston forever. Both McIntosh and Law spoke about how even though they were disappointed, they were proud of what their team accomplished this season.
"What I'll remember most is the love that I share with my teammates," Law said. "It's such a special moment, and I don't think I'll ever forget this for the rest of my life.
... We know we're a good team, we had all the pieces to be special. This is just a building block, just the beginning. I can't wait to see what the future holds."