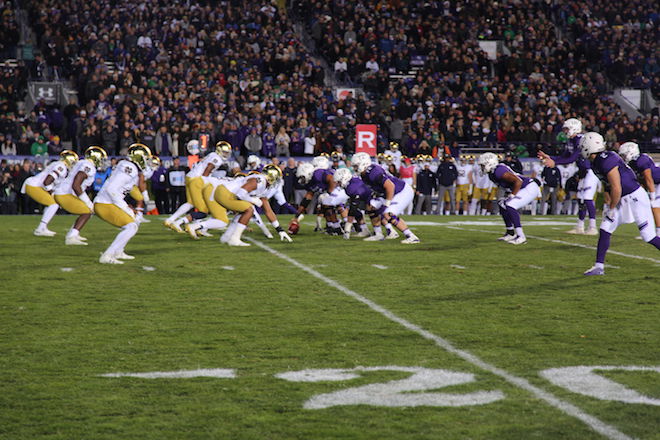 Even though a mere 100 miles separates South Bend from Evanston, Notre Dame and Northwestern had met just once since 1995: in that game, a 3-6 Northwestern team completed an overtime upset bid in a wild 43-40 victory. Four years later, the 'Cats (5-4, 5-1 B1G) weren't able to repeat that same magic as the #3 Irish (9-0) overcame a 4th quarter Northwestern comeback to hang on for a 31-21 victory. Luckily for the Wildcats, they're haven't ceded ground in their division and still control their own destiny in the race for a B1G West title.
It was Northwestern, not Notre Dame, that started the game with the with the luck of the Irish. Notre Dame QB Ian Book fumbled a handoff deep in their own half that linebacker Blake Gallagher immediately pounced on. Unfortunately, the 'Cats couldn't take advantage of their excellent field position, as kicker Charlie Kuhbander missed a 39-yard field goal. Notre Dame responded with a 79-yard drive led by the dynamism of Book and running back Dexter Williams. A key 3rd down completion to leading receiver Miles Boykin led to a Williams 1-yard touchdown run up the middle of the 'Cats defense.
Notre Dame's defense imposed its will on the 'Cats from the beginning of the game. The Irish pass rush, led by Jerry Tillery and Julian Okwara, pressured Thorson all game to the tune of five sacks. Thorson could not find a consistent rhythm as the Irish secondary prevented Wildcat receivers from gaining any separation. Notre Dame ended the first quarter dominating the yardage matchup, with 144 yards to Northwestern's 36. The Wildcat secondary played as porously as any game they've had all season, and handed 98 yards of offense to Book. Luckily for the 'Cats, Notre Dame only managed one touchdown despite their offensive dominance.
The 'Cats played up to the competition in the second quarter, as running back Isaiah Bowser combined elusivity with physicality to bring Northwestern into Irish territory. On a critical 4th and 5, Thorson lobbed a throw to Bennett Skowronek, whose made a one-handed, bobbling catch to pick up the 1st down. Notre Dame gifted the 'Cats a first down on their next set of downs, as safety Jalen Elliott committed pass interference on a 3rd down throw; a 1-yard Thorson QB sneak tied the game.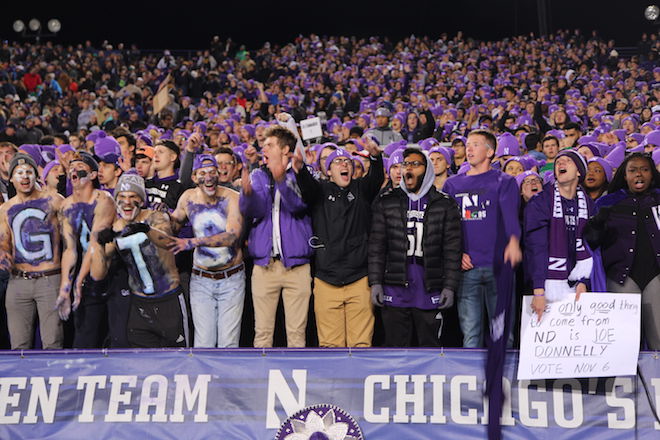 Neither team was able to break the deadlock for the rest of the half. The Northwestern defense bent but did not break, as the Irish has 162 yards of offense but managed only one first down in the second quarter compared to Northwestern's 7, and went a measly 1-6 on third downs. Northwestern found a balanced attack, led by Bowser's 51 rushing yards. Thorson (8-16, 53 yards) was efficient in hitting eight different targets, but made a few risky throws that he was fortunate the Irish could not capitalize on. Although Notre Dame's defensive line kept him running for most of the half, Thorson let the pocket collapse and made enough critical plays to keep the 'Cats in it.
Brian Kelly's second half adjustments blew the game open for the Irish in the second half. Book threw for 195 yards in the second half as Northwestern's secondary left Notre Dame's receivers cushions of space. Book found Boykin for a 20-yard score, and on their next drive found Michael Young, who beat J.R. Pace on on a 47-yard hestiation route to put the game seemingly out of reach at 21-7.
Miles Boykin brings one down in a crowd, and Notre Dame has regained the lead, 14-7. pic.twitter.com/HbaUkzybt7

— SI College Football (@si_ncaafb) November 4, 2018
Notre Dame began to key on Isaiah Bowser as Northwestern's attack began to utterly fail them. A Justin Yoon field goal made the score 24-7 at the beginning of the 4th quarter, but just when it seemed as if all hope was lost, Northwestern began to close the gap. Riley Lees scored on a 27-yard bomb from Thorson on 3rd and 1 to put the 'Cats within 10.
WATCH: Clayton Thorson delivers perfect strike to Riley Lees for TD https://t.co/udnIB8EZ07

— Saturday Tradition (@Tradition) November 4, 2018
Cameron Ruiz blocked Notre Dame's ensuing punt on their next possession, giving Thorson the ball at the Irish 17 yard line.
Things remain very interesting in Evanston. This blocked punt led to the TD.

ND 24, @NUFBFamily 21 pic.twitter.com/PVg2xoRixQ

— Big Ten Network (@BigTenNetwork) November 4, 2018
The 'Cats scored a few plays later on a 1-yard Thorson and suddenly were only down by a field goal.
Northwestern had all the momentum in the world, but Book would not be stopped. The junior led the Irish down the field, and Kelly called a gutsy QB option that Book took to the end zone, faking an inside handoff before jetting to the outside hash and blowing by a Northwestern defense with no coverage outside. The Irish prevented any further threats to their lead and left Ryan Field with a 31-21 victory.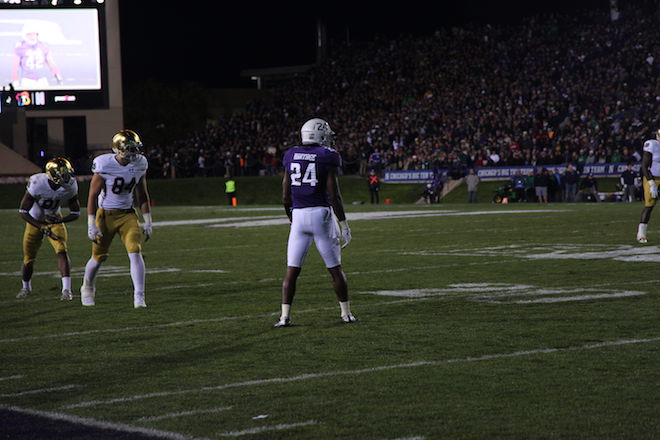 Even though the game won't count in the Big Ten West, the 'Cats will have to be disappointed in their chance to upstage a playoff contender on a national stage. Northwestern was simply outclassed in all facets of the game, except for special teams. Interestingly enough, Northwestern followed the upset playbook to a T: no penalties, no turnovers, a big special teams play, and a somewhat effective ground game.
Unfortunately, the Wildcats were undone by a gaping talent deficit and an inability to capitalize on Notre Dame's miscues. The 'Cats problems began and ended with the line of scrimmage; Notre Dame bullied the Northwestern offensive line and sent Thorson running from the pocket all game, while Book had all kinds of time to find his receivers due to Northwestern's abysmal pass rush. Defensively, the 'Cats allowed Book to throw for a season-high 343 yards with 3 total touchdowns, and Notre Dame racked up 25 first downs. The 'Cats had two interceptions slip through their hands, most notably Joe Gaziano's drop at the end of the first half, and couldn't turn Book's fumble on the first series of the game into points.
Coach Fitz and the coaching staff will need to fix their execution issues quick, as a daunting trip to Kinnick Stadium beckons. With a win over Iowa, Northwestern can clinch the Big Ten West for the first time since realignment.
Heck of a fight. Back to #B1G 🏈 next weekend. #B1GCatspic.twitter.com/tDWMvzdXhd

— Northwestern Football (@NUFBFamily) November 4, 2018