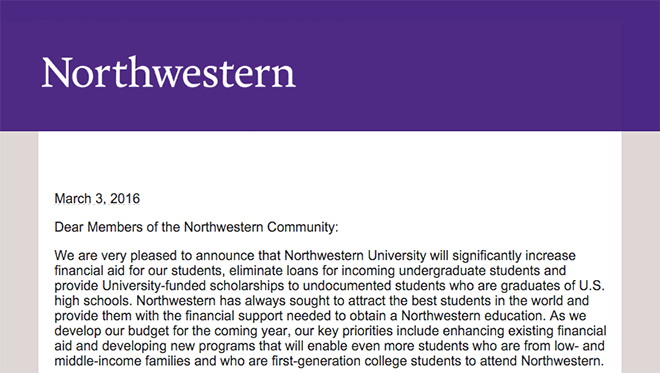 In an email Thursday morning, University President Morton Schaprio announced an overhaul of the University's financial aid program designed to open the school to low-income groups traditionally alienated from elite universities, including low-income international and undocument students who graduated from U.S. high schools. The culmination of six years of student organizing and dozens of meetings with administrators, the announcement won praise from student leaders and University officials alike.
"I am so happy, almost over the moon," said Communication senior Amanda Walsh, president of Northwestern Quest Scholars Network, who led the fight for these measures. "And while I would love for Northwestern to become a Stanford, where anyone who makes less than $125,000 doesn't have to pay tuition, we need to realize that things happen in slow and incremental steps."
In large part due to an injection of $147.2 million from the multi-billion dollar We Will fundraising campaign, the University will start 10 new initiatives to aid both undergrad and graduate students. Among those, student leaders and officials focused on three key programs:
Implementing a no-loan program in which grants cover 100 percent of student financial need starting with the 2016-17 incoming class.
Placing a cap on loans for current students at $20,000.
Supplying full University financial aid for undocumented students.
The end goal of these initiatives is an ambitious target for inclusivity first proposed by Walsh and other student leaders in both an ASG and faculty senate resolution last academic year: that 20 percent of the student body be eligible for federal Pell Grants by 2020. Right now, the number eligible, which is often used as a proxy for low-income students, is 13 percent, according to The New York Times' College Access Index.
To reach that number, the University has increased its total financial aid by $155 million, or 55 percent, over the last five years, the email said. Because Northwestern admissions are need-blind and do not consider an applicant's financial situation, Walsh said additional aid allows the University to remain need-blind while still becoming more inclusive.
"Because we can't hand-pick low income students, the only way possible for us to actually get to [20 percent] is to increase the amount of financial aid," Walsh said, "Then [prospective students] feel more comfortable applying, and they actually accept their offer."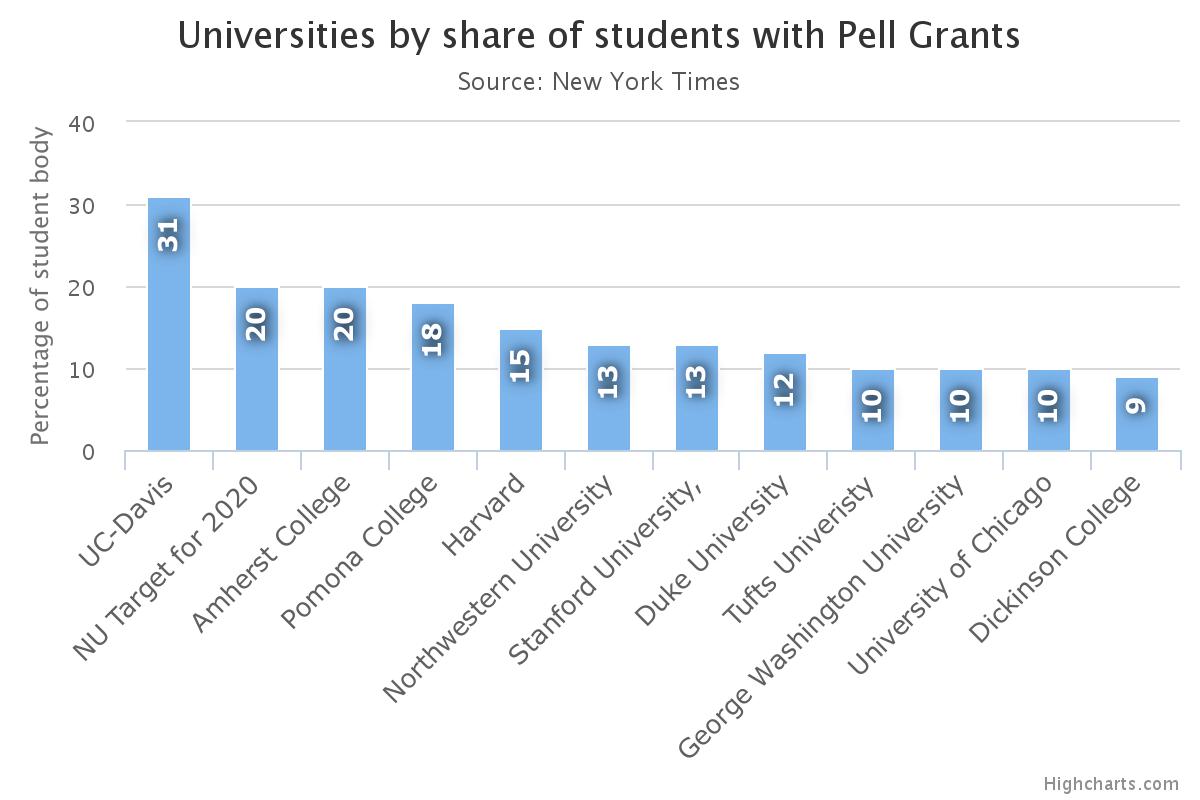 The all-grant program puts Northwestern in line with the growing number of institutions pushing back against rising student debt, including the Ivy League and the University of Chicago, which announced a similar program in October 2014. Once current NU students reach the $20,000 mark in loans, all additional aid will be covered with grants. Students who are already over that threshold won't have to take out any more, but they won't be getting anything back, either. "If you're at $30,000, we're not going to write you a check," said Alan Cubbage, Northwestern vice president of Media Relations.
Considering how 50 to 55 percent of the student body is on some form of financial aid, the grant and loan cap program will have a wide-reaching impact, Cubbage said, and that number should only grow as the University expands its support.
One growth area includes undocumented students, a group for which the University previously provided no financial resources. This fact drew broad criticism, particularly from Daniel Flores (Comm '14), the founder of Quest, who said NU's previous stance was hypocritical given the school's public support for the federal DREAM Act that proposed a path to citizenship for eligible undocumented immigrants. With NU's new program, these students will be eligible for the same University scholarships as their documented peers of similar socioeconomic status.
"Saying to incoming students that you will be treated the same in terms of university-funded financials as a US citizen is a really important message," Cubbage said.
International applicants will also see increased aid stemming from Roberta Buffett Elliott's historic $100 million gift to the Buffett Institute at Northwestern. As it stands, Cubbage said, international students receive no federal and limited university aid. Many, therefore, come from affluent backgrounds – something Thursday's announcement attempts to address.
In additon, Northwestern addresses the lapse in Illnois' Monetary Award Program (MAP), which subsidizes education for low and middle income Illinois residents. Now, the University will replace whatever deficit students face in the aftermath of Illinois' failure to fund the program.
NU will also increase graduate student stipends and expand scholarships for law school, medical school and business students.
More broadly, these new packages come as many universities across the country step up efforts to recruit a broader class of students. Last year Northwestern joined over 80 colleges in forming the Coalition for Access, Affordability and Success, which will launch in April with numerous online tools designed to make elite institutions attainable for everyone. This year, Northwestern also recruited heavily from Chicago Public Schools and reportedly welcomed the most diverse class of early decision students ever. Walsh said this sort of outreach is necessary.
"There are still students who don't know about Northwestern, and there are still students who don't know about the financial that Northwestern is going to offer," she said. "But I think that is slowly but surely being changed by the University, and part of that burden falls on high schools."
But Flores, who launched the fight for resources for low-income students when he founded Northwestern's chapter of Quest, cautioned against celebrating too much.
Although one of the key components of the new plan is grants for low-income students to study abroad, take unpaid internships and do undergraduate research, many of the measures proposed in last year's ASG resolution have not been accomplished, including making textbooks more affordable and giving event vouchers to cover the cost of shows and other events.
After years feeling marginalized at Northwestern and fighting for resources for low-income students, Flores cautioned against excessive enthusiasm.
"A lot of [my reaction] was just like 'finally, come on,'" he said. "Some people are jumping for joy, but you can't just take things at face value."