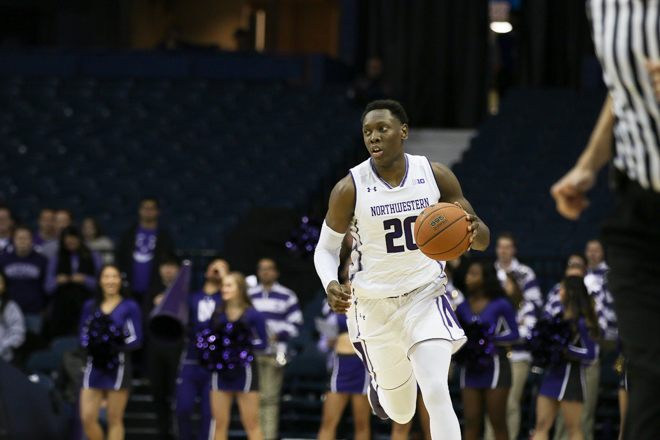 For most of the game, the outcome appeared to be decided. Less than five minutes into the first half, Scottie Lindsey drilled two free throws to start the 'Cats on a 16-1 run and give No. 19 Northwestern men's basketball a 22-9 lead over Loyola-Md in their first home game at Allstate Arena.
With the game (seemingly) out of reach for most of the first half, Chris Collins played his young bench generously. But the Greyhounds came roaring back in the middle of the second half, and Northwestern (1-0) had to turn back to their starting five to eek out a 79-75 win against Loyola (0-1), ranked 234th in the country by KenPom, in the final minutes.
"We feel very fortunate to win this game," Collins said. "We had a lot of game pressure on us."
Lindsey was the key all night, hitting two threes and a dunk during Northwestern's first half run and landing a pivotal shot from behind the arc to give Northwestern back a 71-68 lead with three minutes to play. He finished with 26 points, while Dererk Pardon finished with 16 points and seven rebounds (five offensive).
After their run, Northwestern lead by at least eight for the rest of the half. As the lead grew, the 'Cats starting five fell into foul trouble. With Aaron Falzon – who missed all of last year – out with what Collins described as a hip flexor injury, the 'Cats turned to reserve sophomore Isiah Brown and true freshman Anthony Gaines, who played furiously, diving for a rebound to force a jump ball at the end of the first half, but largely struggled on offense with just two points.
"Anthony, he's young, he's got a lot to learn, but you could see his ability to get the the basket," Bryant McIntosh said. "He's got a bright future; he just needs some better leadership and that falls on me and some of the other guys."
Down thirteen at halftime, Loyola eventually started to get going in the second half. Behind a bevy of threes and nine points from Andrew Kostecka, who finished with 22, the Greyhounds went on a 21-7 run and tied it at 55-55 with 10:18 left.
Vic Law answered immediately with a three-pointer, and Loyola and Northwestern went back and forth for the rest of the game. The Greyhounds took their first lead since the early minutes of the first half when Isaiah Hart hit a jumper to put Loyola up 64-63 with 4:44 to play.
Northwestern missed a few key opportunities to put the game away. Pardon failed to convert his first four free throw attempts and seconds before Loyola took their first second half lead, McIntosh air-balled an open three.
"There were two separate occasions where we got up to a good lead and we weren't able to put our foot on the throat," Lindsey said. "That's something we have to work on, putting our foot on the gas pedal and finishing the games off."
Neither team, though, could control the ball. Northwestern turned it over seven times in the second half and Loyola turned it over nine times setting up 11 points.
Down 75-73 with less than a minute left, the Greyhounds had two opportunities and in both instances, turned the ball over. So it's safe to say NU dodged a pretty big bullet.
A win is a win, though the result may still cause concern among some fans, especially after NU's first-ever preseason top-25 ranking. After all, the 'Cats were out-rebounded on Friday night. Northwestern will seek an easier non-conference win Monday against St. Peter's, ranked 191st by KenPom.