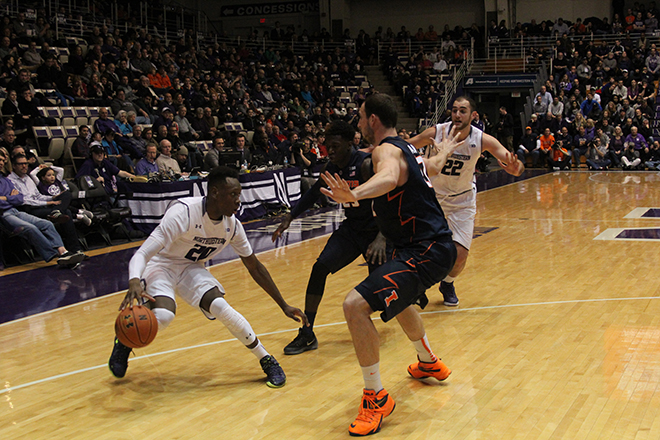 Three minutes, four Tre Demps threes, and all of a sudden the pain of Tuesday's loss to Ohio State was over.
After a first-half slog that seemed to portend a ninth conference loss in a season of injuries and injured expectations, with eight minutes to play and Northwestern down 46-42, senior guard Demps dropped 12 points (all on three-pointers) in under three minutes, propelling the Wildcats to a much needed victory.
Northwestern (17-9, 5-8 B1G) defeated Illinois (11-14, 3-9) 58-56 to avoid sinking to 10th in the Big Ten standings.
"Both teams were battling like crazy," coach Chris Collins said. "It wasn't necessarily the prettiest game, but I thought my guys left everything on the floor."
Northwestern played a sloppy first half from the tip, only managing to keep the game close thanks to poor shooting from Illinois. After Bryant McIntosh opened the game with a jumper, the 'Cats missed their next seven shots before McIntosh scored again. Alex Olah even air-balled a layup. And in total, NU turned the ball over seven times in the first 13 minutes.
But Illinois failed to take advantage. The Illini missed their first five shots, including two easy looks from behind the arc. For a team so dependent on shooting – ranking sixth in the Big Ten in three pointers – this was a critical failure. What could have been an early Illinois blowout was just a 9-6 Illini lead after eight minutes.
Northwestern entered halftime shooting 18.2 percent from three with more turnovers – 10 – than they've had in any half all season, but Illinois shot 28.6 percent from the field and only held a 23-21 lead.
Both teams came out of intermission with a burst of energy absent from the first 20 minutes of the game. They traded threes, scoring more points in those first three and a half minutes than they did in the first eight minutes of the game.
"If we come out of the gates and don't see the ball go in initially, our guys go into this panic mode," Collins said. "I think we finally just relaxed offensively in the second half."
After coming off the bench to score eight points in the first period, Scottie Lindsey became electric in the second half. With the Wildcats down down 33-30 with 15:09 on the clock, the 6'5" guard single-handedly sparked an 8-2 run, dunking and then swishing two consecutive three-pointers to give NU a 38-35 lead. Lindsey finished with 18 points, a career high in Big Ten play. He pointed to his benching against Michigan State in January as a turning point in his season.
"I just knew that I had to bring more things to the table," Lindsey said. "During that stretch of games I wasn't bringing everything. I just had to come out and play with a lot more energy."
From there, Lindsey passed the torch to Demps. After Illinois answered back to take a 46-42 lead, Demps launched his 12-point streak, handing Northwestern a 54-49 lead they wouldn't relinquish.
After shooting 1-for-8 in the first half, Demps finished with 18 points. The two leading scorers capped off their performances with a dynamic play to give Northwestern the final advantage. With under a minute left and Northwestern up 56-53, Lindsey sprinted to block Illinois center Morgan Maverick from behind, deflecting it to Demps, who delivered a fast break lay-up with one minute left. It proved the pivotal play in Northwestern's narrow victory.
After Illinois' Kendrick Nunn scored a three to make it 58-56, Demps missed on the other end to give Illinois an opportunity to tie or win with the shot clock turned off. Malcolm Hill appeared to tie it with a mid-range jumper, but a foul on the floor from McIntosh forced Illinois to inbound with 2.3 seconds on the clock. Hill received the inbounds pass but, under tight pressure from Sanjay Lumpkin, lost his footing and inadvertently tossed the ball away as the horn sounded.
The Wildcats will hit the road in search of a signature win on Tuesday when they face the No. 18 Purdue Boilermakers in West Lafayette, Indiana.