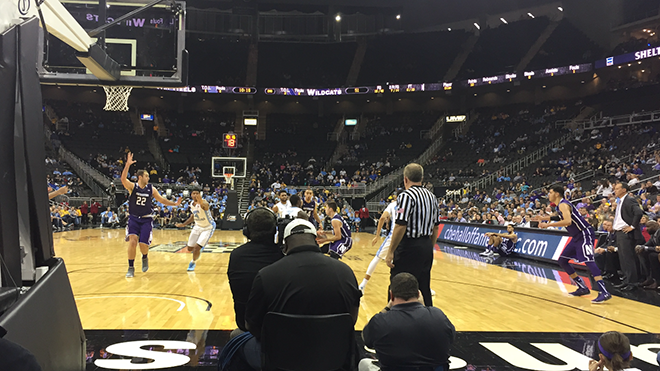 Men's basketball had a solid week on the hardwood, going 2-1 and competing on a national stage in the College Basketball Experience Hall of Fame Classic in Kansas City on Monday and Tuesday before coming home on Saturday and crushing New Orleans to move to 6-1 on the season.
On Monday at the Sprint Center in downtown Kansas City, NU faced its toughest test of non-conference play in the No. 9 North Carolina Tar Heels (5-1). The 'Cats hung with UNC in the first half, leading by as many as six with four minutes left, but fell behind by 20 at one point in the second half and ultimately lost 80-69 in an encouraging effort. For a full recap, click here.
In the next day's Hall of Fame Classic consolation game against Missouri (2-3), NU appeared to be exorcising all of its demons from the night before on the Tigers, as the 'Cats grabbed a 31-11 lead with 7:51 left in the first half. But it was tough sledding from then on, as MU cut that lead to 38-24 at the half and spent most of the second half breathing down NU's neck. Bryant McIntosh fouled out and the Tigers got as close as three points, 65-62 with 34 seconds left, but the 'Cats held on for the 67-62 win. NU tied MU in rebounds with 33 and assists with 15 after being beaten by UNC in both categories the night before.
"Our guys dug down and showed the progress that we are making," head coach Chris Collins said. "This is a game in the last couple of years that we would have lost. There is no question in my mind. This is progress to be able to come back today and win this game against Missouri."
Northwestern had a much easier path to victory on the Saturday after Thanksgiving, as the New Orleans Privateers (2-3) came to Welsh-Ryan Arena and ran into a buzzsaw named Scottie Lindsey. The sophomore had a career night, going 6-for-7 from three-point range (the fourth-best in Northwestern history with at least five attempts), and scoring a career-high 26 points. Tre Demps pitched in 16 and Gavin Skelly set career highs in points and rebounds (10 and eight) as the 'Cats, who shot 55.2 percent from the field, used a first half 13-0 run to put away UNO early. NU led 42-21 at the half and never allowed the Privateers to get much closer in a 90-63 blowout.
"My teammates found me for some open threes early," Lindsey said. "My shot was feeling good, and I kept being aggressive. It felt really great tonight."
"I've said all along [Lindsey] is a big X-factor for us," Collins said. "When he's rolling like that I think it makes us that much more dangerous of a team."
The Wildcats will face their first true road test of the season on Tuesday at 6 p.m. Central when they travel to Blacksburg, Virginia to take on the 5-2 Virginia Tech Hokies in graduate transfer Joey van Zegeren's return to his former school. They will be back in Welsh-Ryan Arena to take on the 1-4 Joey van Zegeren's Cougars on Saturday at 2 p.m.