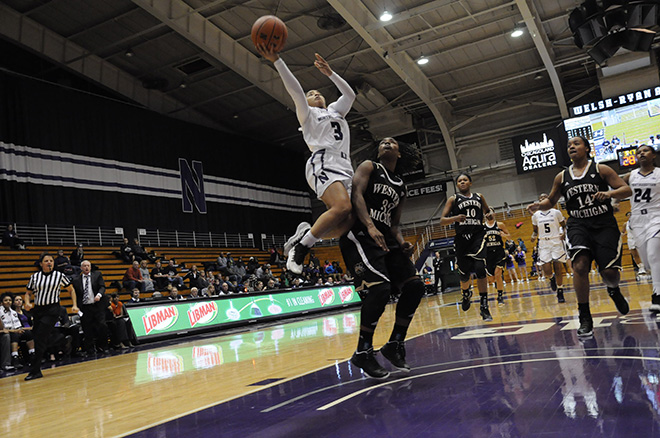 Two more bite the dust. As Illinois and Michigan fell for the first time this season, the Wildcats took home decisive victories on the road at North Carolina (5-4) and at home against Milwaukee (3-3). No. 15 NU is now 8-0, one of two remaining undefeated teams in the Big Ten along with No. 5 Maryland.
The Tar Heels were chasing Northwestern from the get-go in Chapel Hill on Wednesday. The 'Cats opened on an 11-0 run, with baskets from the same four scorers who have led them all year: Christen Inman, Ashley Deary, Nia Coffey and Maggie Lyon. By the end of the first, North Carolina was down 17. By halftime, the score was 54-29 in favor of Northwestern.
The Tar Heels rallied after intermission, but Lyon kept them at bay. The senior finished with a season high 31 points as Northwestern defeated UNC 85-72. Nia Coffey dropped 22 and grabbed 11 boards for the double double, and Deary finished an assist short of the same feat.
The reading week-caffeinated 'Cats were on display Sunday, as Nia Coffey turned in one of her best performances of the season to topple the Wisconsin-Milwaukee Panthers. The junior power forward shot 50 percent from the field for 21 points, and grabbed 14 off the glass to secure Northwestern a 69-44 victory.
Coffey's rebounds and three blocks helped bolster Northwestern's second best defensive stand of the season. Equally key was Deary who, in addition to scoring 17 points, grabbed eight steals.
Freshman Jordan Hankins surprised with a solid showing off the bench. The Indianapolis native entered play with just 23 points on the season, but she scored eight in 13 minutes against the Panthers. A top 100 recruit out of high schools she should factor in more off the bench as the season progresses.
This marks the second straight year that Northwestern has started 8-0. The Wildcats need two more wins to tie last year's 10-0 mark, but they'll need to get through finals week to try. Northwestern will return to action action next Sunday down Sheridan Road at Loyola-Chicago.