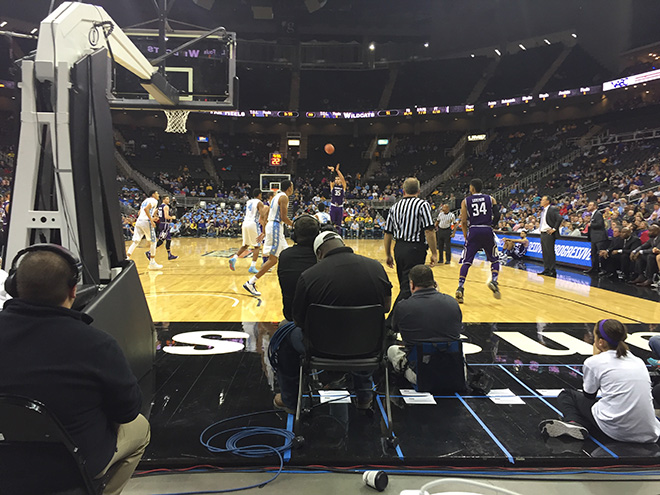 Beating No. 9 North Carolina (4-1) was never going to be easy, but Northwestern (3-1) flirted with the idea for most of the first half before eventually succumbing to UNC's superior physicality in the second half and losing for the first time this year, 80-69, in the semifinals of the College Basketball Experience Hall of Fame Classic in Kansas City.
Even in a back-and-forth first half, there were several instances that the seams of the game looked primed to burst, but the 'Cats seemed to always claw their way back into it, going on extended runs and keeping themselves in it. But a 39-26 UNC rebounding edge eventually wore NU down, and 21 points from Justin Jackson (no, not that Justin Jackson) led the Tar Heels to a relatively stress-free win.
"For us, this was like a Big Ten game in November, so it's a great game to play if you learn from it, and you get better from it," coach Chris Collins said. "They did what they did, they mashed us on the boards. I thought we did a really good job with the initial defense, we wanted them to shoot jumpers, they were 7-for-24 (from three-point range), we did a good job of that. I thought Jackson's activity along the baseline, his cutting, his offensive rebounds, was the difference in the game."
Northwestern's hot shooting early kept them in the game with the Tar Heels, but their inability to take an advantage on the glass made their ability to compete seem precarious. The Tar Heels reeled off an easy 7-0 run to give UNC an 18-8 lead that seemed destined to get bigger in a hurry.
But NU responded with a 9-0 run of its own with back-to-back threes from Tre Demps and Aaron Falzon to cut the lead to just 18-17. The 'Cats caught the Heels at 27 with 6:52 left on the back end of an "and one" from Alex Olah and went on an 8-2 run from there to take a 35-29 lead with 4:02 left in the half.
After a media timeout, UNC immediately punched back, finishing the half on a 14-1 run to lead 43-36 at the break. The 'Cats shot 46.4 percent in the first half (including 5-for-11 from three-point range), but were outrebounded 21-13, a disparity that came back to haunt them.
UNC continued its hot streak out of the locker room, grabbing a 48-38 lead early. But Tre Demps scored NU's first 10 points of the second half, and brought the 'Cats within two with a three, 48-46, with 17 minutes left. He finished with 21, filling an offensive gap left by Bryant McIntosh, who scored 14 and dished out nine assists but shot just 3-for-15 from the field.
"A lot of times really good teams with really good defenders try to take away the primary offensive guy, and I think that opens up stuff for everybody else," Demps said. "Guys were hitting shots and making plays, and I think that just kind of opened up things for me in the second half."
But then the seams, which had been threatening to burst, did. UNC went on a 23-5 extended run to take a commanding 71-51 lead with 8:42 left in the game. NU's shooting percentage regressed to the mean in the second half, as the 'Cats shot just 37.5 percent and continued to struggle on the boards, allowing the Tar Heels to pull away.
From that point on, it was just a matter of covering the 11.5-point spread for the 'Cats, who fought back and cut their deficit to as close as nine with under three minutes left. But any brief hope of a comeback was quickly eliminated by a three from Joel Berry and a dunk by Jackson (the ball-dunker?) that gave the Tar Heels a double-digit lead with a little over a minute to play. Jackson finished with a double-double, grabbing 13 boards.
Despite the outcome, Collins said he was happy with the way his team responded to adversity throughout the night.
"You play in these neutral environments against great teams and you find out what you've got," Collins said. "And I found out a lot of good things about my team. I've got fighters, I've got guys that are determined to win and I though there were a lot of positive signs. Give North Carolina credit. I don't think we lost the game, they beat us."
NU will try to bounce back tomorrow in a consolation game at the Sprint Center against the Missouri Tigers, who lost to Kansas State by 24 today in the other semifinal and are 2-2 on the season.