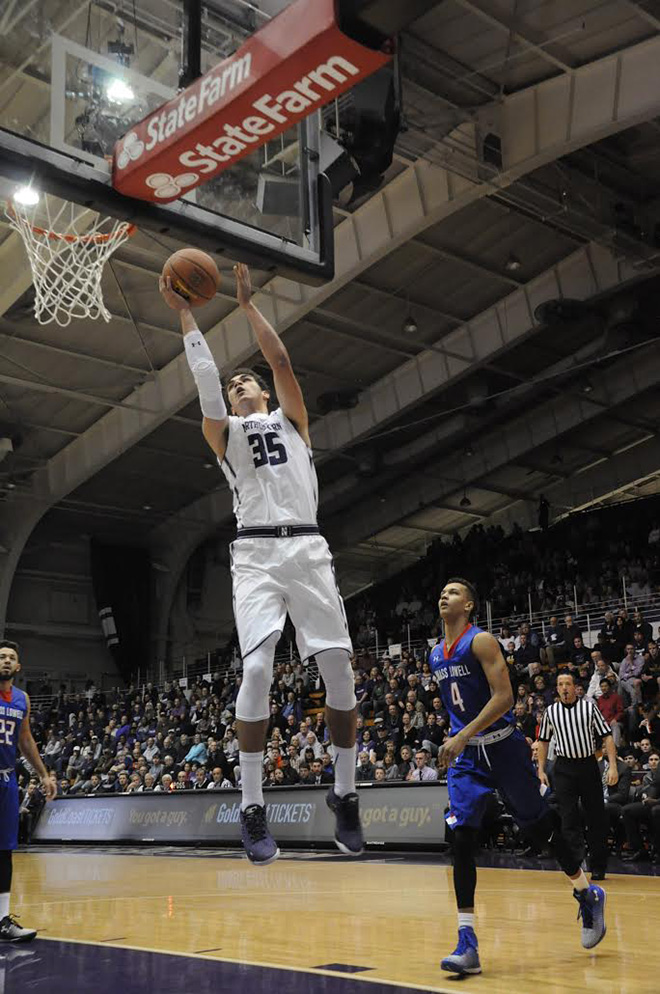 It took a bit longer for the Wildcats to shake off the cobwebs than they were comfortable with, but despite UMass-Lowell's best efforts to pull off a stunning upset, Northwestern men's basketball (1-0) opened up its season with a 79-57 win over the River Hawks (0-1) at Welsh-Ryan Arena on Friday night.
Despite trailing UML, ranked 329th in Ken Pomeroy's official Division 1 rankings, by two at intermisson, the 'Cats found their form in the second half, outscoring the River Hawks 47-23 and showing flashes of what coach Chris Collins' young core can accomplish when it's firing on all cylinders.
As it did last year in its opener against Houston Baptist, Northwestern, almost predictably, started off slow against a seemingly overmatched opponent. The 'Cats racked up five fouls in the first five minutes, scoring just six points, which was permissible since the River Hawks went the first 7:40 without a field goal. But UML tied NU at 13 midway through the first half, and as part of a 22-9 extended run, grabbed a 25-16 lead with five minutes left in the first half, subduing an impressive non-conference Welsh-Ryan crowd.
NU clawed its way back to trail by just two points at the half, but the damage was done. The 'Cats shot just 34.3 percent in the first half, including a 1/13 dry spell from behind the arc and a 7/16 mark at the free throw line after missing eight of their first ten.
Collins chalked up the first half's sloppy showing to typical first game jitters, and said he was happy with the looks his shooters were getting in spite of the disappointing outcomes.
"Everybody was groaning a little bit, and they feel it, the guys feel that stuff," Collins said. "I really don't think we could've shot any worse than we shot in the first half. We regrouped, we talked about just continuing to play."
But just like last year's Houston Baptist game, this contest was composed of two entirely different halves, and Northwestern's Big Ten depth and athleticism won out. The 'Cats grabbed a six-point lead in two separate instances early in the second half, but the River Hawks refused to die, responding each time the 'Cats appeared to grab momentum. That trend ended on the back of freshman forward Aaron Falzon, whose three from the top of the key gave NU its largest second half lead to that point, 53-46, with 11:03 left in the game.
UML battled back to cut NU's lead to five at 55-50, but a 13-0 NU run punctuated by three-pointers from Bryant McIntosh, Nathan Taphorn and Falzon effectively squashed any further River Hawk threats, and the 'Cats cruised to victory, grabbing a 27-point lead at one point. NU was 8/16 from three-point land in the second half.
"Outside shooting is one of the best things this team does, it really is," Collins said. "We're going to have halves, we're going to have stretches where we don't shoot it well, but we can't get away from that, because it's a strength of ours. When we have our shots we have to take them."
Falzon, benched early due to foul trouble, was the main reason the 'Cats were able to tack on as many style points as they did. The freshman forward shot 6/6 in the second half, including 3/3 from deep. He finished with 20 points and three rebounds in his first collegiate game.
"It's hard to describe the experience, it's something that you only get to experience once, and when I hit my first shot it was like 'it's time to play,'" Falzon said. "So it was great experience, but I'm glad that it's over with now."
"I'd match him up against everybody in the country, he's that good of a shooter," Collins said of what appears to be his latest instantly impactful recruit in Falzon. "He's still not as good of a shooter as me, but he's as good as anybody."
Alex Olah also impressed, albeit against a vastly undersized team, putting up a double-double with 21 points and 12 rebounds.
"I have to punish people when I have such a big mismatch," he said, assessing his performance.
Collins said tonight's game proves that the 'Cats have plenty of room to improve, but that he is happy with the way his team finished the game.
"At the end of the day, we're 1-0, we have a long way to go," Collins said. "Not going to apologize for it, we played a scrappy team. They played really well in the first half and put a lot of game pressure on us, and our guys responded with a really good second half."
The 'Cats will look to build on their encouraging second half when they take on the Fairfield Stags on Wednesday night at 7 p.m. at Welsh-Ryan Arena.
This post was updated at 10:40 p.m. to include a photo and notes from the postgame press conference.