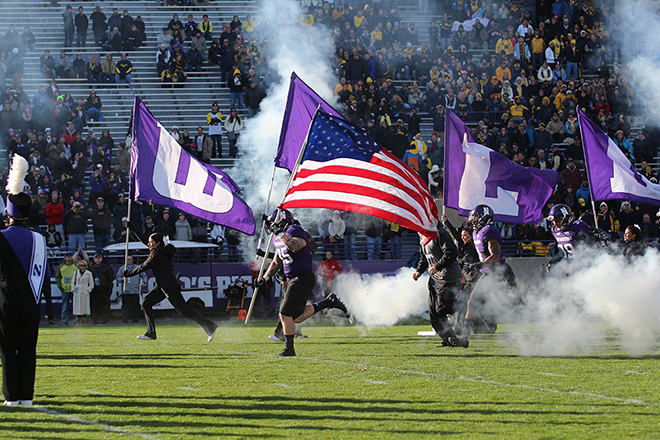 Some legends are told
Some turn to dust or to gold
But you will remember me
Remember me for centuries ...
The setting is a partially purple, but mostly maize and blue-clad Ryan Field in Evanston. The date is Nov. 8, 2014. At 2:35 p.m., Michigan's Matt Wile kicks a football into a dark blue late afternoon sky. What follows are roughly three hours of an unsightly 10-9 Michigan win over Northwestern that, like it or not, will be seared in the memories of all fans in attendance for the rest of their lives.
Between the two teams, there were six turnovers, less than 600 yards of total offense and quarterback ratings of 6.0 and 36.6, for Michigan's Devin Gardner and Northwestern's Trevor Siemian, respectively. It was, objectively, a very, very poorly played football game, and due to the scoreless first half, was henceforth known as "The M00N Game."
In commemoration of the two-year anniversary of the debacle, NBN was able to round up nine from a crowd of 42,429 witnesses of these crimes against football who were willing to give their accounts of that fateful Saturday. Their stories of hope, frustration, love and loss, intertwined with video clips, our live tweets and photos of the "action," are a work of abstract art as difficult to interpret as M00N itself. Let's travel two years back, to a date which will live in infamy.
(Note: all sources quoted in this story are identified by their title at the time that M00N was played).
Pregame expectations
Jason Ferry, Weinberg freshman: "I thought we might be overmatched. I didn't expect a lot, but didn't expect [what I saw]. I did not think it would be the worst game I've ever witnessed."
Antonio James, defensive graduate assistant, Michigan: "We knew that [the team] knew what Northwestern was capable of … They were gonna play you to the wire, they're tough. Our players knew that, so though they were confident, they were also very aware of the challenge at hand."
Cameron Songer, Medill senior, WNUR play-by-play broadcaster: "You never expect such a low scoring game. At that late point in the season, you don't expect a sloppy one either, but as I prepared to broadcast the game, I tried to prepare for anything."
Kevin Koger, offensive graduate assistant, Michigan: "Near Chicago there's a big Michigan contingent, so we knew we'd have a lot of fans at the game, so that always helps. We said all week it was going to feel like a home game for us, and it kind of did. We had a lot of fans in there, like we expected."
Soto Dedes, College of Engineering freshman, Michigan: "I thought the game was going to be a struggle given the fact that our team had struggled with every single team except for Appalachian State, but I felt somewhat confident that we would win simply because we had better athletes and depth at each position compared to Northwestern."
Koger: "Selfishly, as an offensive guy, you go into a game saying 'we're going to score all these points!' so we were fairly confident that we could put points on the board. Northwestern didn't do a ton on defense, but what they did, they did very well."
Yeah, we'll take the rock to start! RT @NU_SportsLIVE: Michigan wins the calling of the toss. Defers to the second half. #B1GCats

— #B1GCats Football (@NUFBFamily) November 8, 2014
1st Quarter (0-0): 140 yards of offense, three punts, one turnover on downs and one interception (both by Northwestern).
The first quarter ends with Michigan driving on the Northwestern 19. Scoreless game though. 24 point swing from last week #goodjobD

— NBN Sports (@nbn_sports) November 8, 2014
After the previous week's 48-7 blowout loss at Iowa, Northwestern's defense was showing encouraging signs. But there was still no real indication that this game would devolve the way it would ... yet.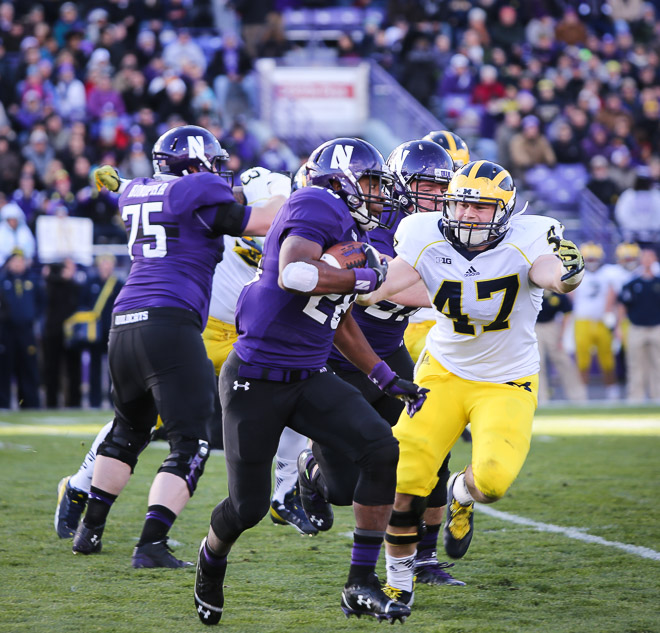 2nd Quarter (0-0): 85 yards of offense, five punts, one turnover on downs by Michigan, two interceptions (one by each team) and a blocked Michigan field goal.
two passes by Siemian pick up first downs for NU, passing game continues to "impress"

— NBN Sports (@nbn_sports) November 8, 2014
Alviti in on 3rd and 20 and Michigan takes the old "timeout out of pure fear of the unknown"

— NBN Sports (@nbn_sports) November 8, 2014
Trevor Siemian mercifully ends the half with a kneel down.

Alll goose eggs here! #explosiveplays

— NBN Sports (@nbn_sports) November 8, 2014
It had become abundantly clear that point-scoring of any fashion was just not going to be on the table, but the descent into madness had yet to truly begin.
Halftime: Michigan 0, 0 Northwestern.
... We've been here forever
And here's the frozen proof
I could scream forever
We are the poisoned youth ...
m00n pic.twitter.com/Ybd7dZ5yCh

— SB Nation GIF (@SBNationGIF) November 8, 2014
Halftime in Evanston:
Michigan- 0
Northwestern - 0 pic.twitter.com/r65q12QkXB

— College GameDay (@CollegeGameDay) November 8, 2014
— NBN Sports (@nbn_sports) November 8, 2014
Dedes: "It was frustrating for the first half, then I started seeing the comedic value in the game. At this point in the season I was starting to halfway root against Michigan just so [coach Brady] Hoke would be fired so that really allowed me to step back from the game and laugh at the fact that both teams sucked."
Bailey Pleva, Weinberg freshman: "Nothing was happening, I was bored. It was a really boring game, so I just left [at halftime]. There weren't any big plays. It was turnover after turnover. I was just bored, and we were all like 'yeah let's get out of here. There weren't a lot of fun chants. Nobody sang the fight song, there was no reason to. There were no first down celebrations because there were no first downs. You couldn't even clap along with the 'oh we tried' song ["Push On Song"]. It was mostly just holding up the claw and yelling, and that got boring after five minutes."
Songer: "It probably wasn't until halftime that I realized something special was happening. I remember sending it to the halftime show by saying 'stay tuned for the second half. Someone will eventually score in this game.' I was pretty proud of that at the time."
Koger: "I've gone to the locker room and we've been getting beaten by a bunch of points, and there's been times when we went to the locker room and we've been beating teams by a bunch of points. But both teams being scoreless headed into halftime, that was kind of a new phenomenon for me. It wasn't something you see a lot in this day and age."
Ferry: "Over the course of the game, I was like "this is comical, I can't believe my parents came for this." [It was Parents' Weekend at Northwestern].
*cue descent into madness*
3rd Quarter (7-0 Michigan): 73 yards of offense, four punts, one turnover on downs by Northwestern, two fumbles by Michigan (one recovered, one lost), one missed Northwestern field goal, one muffed punt by Northwestern, one interception by Michigan.
Jack Mitchell's 39 yard attempt is NO GOOD. #WeWont, the campaign for Northwestern's attempts to score

— NBN Sports (@nbn_sports) November 8, 2014
Devin Gardner's pass is off the mark, looked deflected.
DO YOU KNOW WHAT'S NEXT?

— NBN Sports (@nbn_sports) November 8, 2014
A punt. The answer to "what's next?" was "a punt."
Stephanie Todd, Weinberg freshman: "I just remember thinking 'oh my god, it is the 3rd quarter and there has not been a single point scored.'"
Michigan did finally find the scoreboard midway through the third quarter with a De'Veon Smith touchdown run after a muffed punt by Northwestern's Tony Jones set Michigan up with prime field position. The lead felt nearly insurmountable.
Songer: "I remember Northwestern fumbled a Michigan punt and the Wolverines recovered. On the air, I called it 'the best offensive play Michigan has had all day,' which was true."
when 7-0 feels like 98-0...

— NBN Sports (@nbn_sports) November 8, 2014
Northwestern's Ibraheim Campbell picked off Devin Gardner in Michigan's next possession, running back the interception 79 yards to Michigan's 15-yard-line. But Northwestern proceeded to lose 28 yards on its next three plays (aided by an intentional grounding penalty), and the 'Cats punted from the Michigan 43. It was that type of ugly.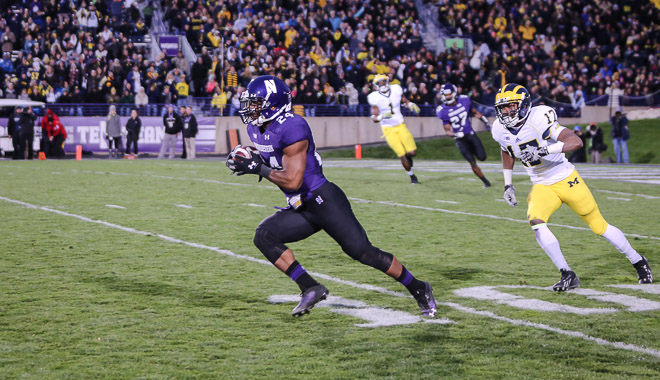 NU needs to score twice (probably) to win this game. Call that oversimplification but really, that's the biggest obstacle

— NBN Sports (@nbn_sports) November 8, 2014
I believe it was Lennon who said "here comes the punt"

— NBN Sports (@nbn_sports) November 8, 2014
Koger: "[On the sideline, there was talk of] 'we're better than what we're showing.' It was stuff that could easily be prevented, like a guy going the wrong way and causing a fumble, or a quarterback making an incorrect read, or a wideout not running deep enough on their route. But we stayed pretty positive because of how much better the defense was playing than us."
Songer: "I had never called a game like it, or really seen a game like it. It made things more difficult but also better. I think anyone who watches a lot of sports has a tendency to label or typecast a game a certain way to compare it with others we've seen. When you get such an oddball like that game, you are more raw and natural."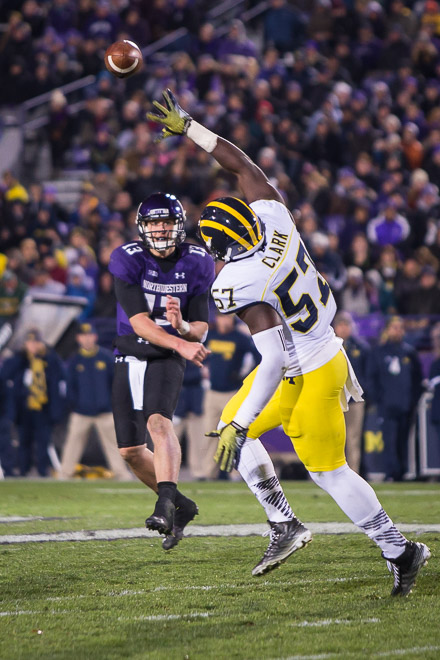 Mike Ferry, Jason's father: "It was a battle of ineptitude. Turnovers, penalties and nobody could move the ball."
Koger: "Northwestern's defense should've had about three more interceptions than they had … By the second one, I'm like 'this is going to be a long night for the old Wolverines.' Around halftime and the beginning of the third quarter, I realized it was going to be a game that we would have to grind out."
Michigan held onto a slim, (yet seemingly stout) lead as the game crawled to its final act. Then, suddenly, both offenses came alive ... kind of.
4th Quarter: (10-9 Michigan): 267 yards of offense, one punt.
Clock not on the 'Cats' side. Neither is coaching, offense etc

— NBN Sports (@nbn_sports) November 8, 2014
Luckily for Northwestern, Trevor Siemian was determined to flip that narrative. He led a 95-yard drive that ended in a field goal to make it 7-3 Michigan, and after the Wolverines responded with a field goal of their own, he was up to the task once again. As the clock wound down to the waning seconds, Siemian led a heroic 74-yard march to the end zone, punctuated by a muffed-punt-redeeming touchdown by Jones to make it 10-9.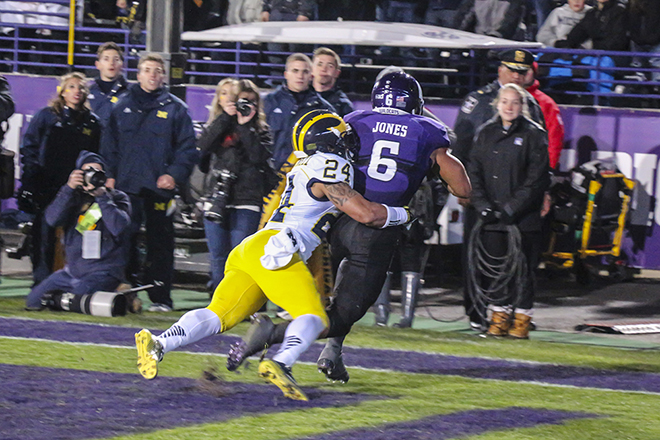 Given the choice to play for the win or play for overtime, Northwestern coach Pat Fitzgerald had a tough decision to make.
3 seconds left. Dost Fitz haveth the stones? 10-9 UM

— NBN Sports (@nbn_sports) November 8, 2014
He doth.
Going for 2. My god

— NBN Sports (@nbn_sports) November 8, 2014
James: "… I didn't anticipate it – I was getting ready for overtime myself – but when they came out and went for two, in my eyes, I thought 'Pat's going for the jugular here, he's going for the win.' To go overtime with this would make him go into his depth chart, and he felt like he had the momentum, they'd just had a great drive."
Dedes: "I think that was the right decision ... I doubt that Northwestern would have been able to keep their momentum going for longer than a couple of plays at most, so going for the win instead of overtime made sense. Plus it ended the torture early."
Mike Ferry: "Conventional wisdom would be you'd want to do that on the road, but they'd had enough trouble moving the ball, and they'd had so many errors, and they'd had trouble with their kicking game. Might as well give it a shot, but as I remember, Siemian got sacked."
Kim Ferry, Jason's mother: "No he straight up slipped, he fell."
... And just one mistake
Is all it will take
We'll go down in history ...
Siemian, naturally, sacks himself

— NBN Sports (@nbn_sports) November 8, 2014
Songer: "... The Siemian play happened in slow motion for me. I remember saying 'that's the most Northwestern thing that could have happened' on the broadcast. I regret that now, but in the context of the previous season and the season the Wildcats had been having, it felt right at the time as a young, biased broadcaster."
Jason Ferry: "When Siemian slipped, I curled into a ball with my head in my hands, and I came up laughing for like 15 seconds straight."
Pleva: "I saw the play later on Twitter, and I was like 'nice.' But I was also kind of embarrassed. It validated my leaving – like 'yes, I made the correct decision.'"
Koger: "[When Trevor Siemian slipped], I just smiled and took my headset off. It was just a sense of relief that we played so poorly but still won the game. We came out with a hard fought win even though we didn't play very well."
James: "Really I can't say it was more than luck that Siemian didn't get the two-point conversion – when you watch the replay, he had his options. Frank Clark got off the ball phenomenally, and that quarterback slipping really helped us."
The Aftermath
Jason Ferry: "It was just a mess. And the fact that we had a chance to win at the end was hilarious … I don't think I'll ever forget that game. I always heard about being a Northwestern fan, but that summed up what I expected it to be. It was like a hyperbole."
Todd: "It was like a cartoon version of [Northwestern fanhood]."
Mike Ferry: "It was frustrating. I was born and raised in Columbus, Ohio, so I hate all things Michigan."
Todd: "My dad, [a Michigan law school grad who is from Michigan], said afterwards, 'no team deserved to win that game.'"
Dedes: "I was not satisfied with that win. Whenever I look back at the season I count that game as a loss. Sometimes I actually have to be reminded that we won that game because I assume we lost."
Pleva: "It was a waste of time. That game was a waste of time. I didn't even feel emotions because of the team, I was like 'what the hell is this?'"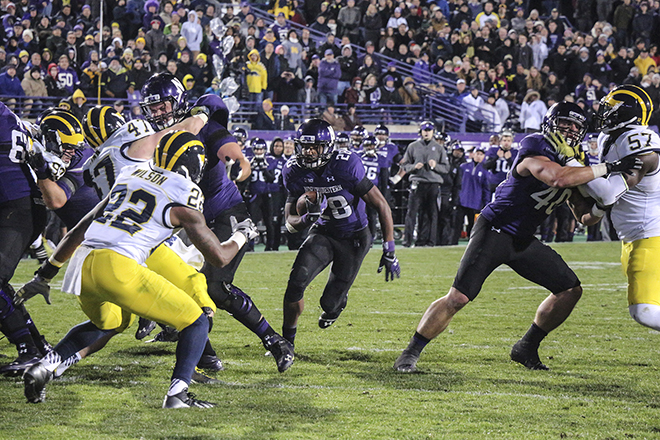 James: "It was a tough win, and a big defensive win. Their defense came to play, our defense came to play, and you don't forget those types of games and situations. That was also my wife's first game to be able to come and see me as a Michigan coach, so that was a special moment, as well."
Koger: "… you're not satisfied with the way the offense played or the team played, but you have to keep it in perspective that you did win a Big Ten football game. And you never want to diminish the fact that you won the football game, but were we satisfied? Absolutely not. It was kind of bittersweet."
Songer: "I had tickets [to the Notre Dame game] and considered selling them out of frustration with Northwestern, but eventually decided that anything could happen, and, at the least, it would be entertaining in a morbid way. That obviously ended up being the better game to broadcast."
Dedes: "I remember seeing a guy dressed in Michigan and Northwestern gear with a sign that said 'I want both teams to win' and thinking to myself how disappointed he must be that both teams lost. That was the worst game of football I have ever seen and I hope I never see anything like it again."
Fittingly enough, our send-off tweet for the night had a typo in it. This tweet, like football, sports and, eventually, all of human civilization, will eventually fade into the minutia of history. From gold to dust, if you will. But much like The M00N Game, we can never go back and fix it. And even if we could fix it, why would we want to destroy something so perfect, just to make it beautiful?
Thank for watching, this has been the worst football game in the history of the sport.

— NBN Sports (@nbn_sports) November 8, 2014
... Remember me for centuries
(Hey yeah, oh hey, hey yeah)
We'll go down in history (hey yeah)
Remember me for centuries