Big comebacks and late-game heroics, or a lack thereof, often define a sports team's season. However, on Thursday Northwestern Lacrosse (3-0) demonstrated that sometimes, the early bird gets the worm. The #9 Wildcats roared out to an 8-1 halftime lead over the #19 Colorado Buffaloes (1-2) en route to a 15-8 win. In their first game against a ranked opponent this season, Northwestern proved they are truly a formidable squad on the national stage, and Selena Lasota proved that she is a force to be reckoned with.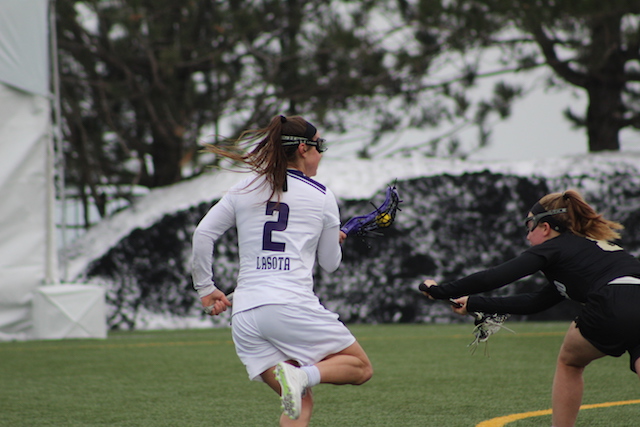 Lasota (3 goals, 3 assists) was involved in 3 of Northwestern's first 4 goals, all of which occured in the first 15 minutes of the game. She assisted Lindsey McKone (2 goals, 2 ground balls) and Danita Stroup (2 goals, 2 ground balls), respectively, before racing by a Buffalo defender and firing a rocket into the bottom left corner of the net to notch her 7th goal of the season. The Wildcats' next 4 goals would then come over the remainder of the half, all unassisted and each from a different player. NU headed into the break up 8-1, and the stats indicated that they were well on their way to another blowout.
The #B1GCats have outshot Colorado, 16-5, leading to the big halftime advantage. pic.twitter.com/WP30c5mvr4

— Northwestern Lax (@NULax) February 15, 2018
The first 5 minutes of the second half were much the same. Jill Girardi recorded her 1st goal of the game and her 3rd of the season less than a minute into the half, followed by a Lasota-to-Stroup score seemingly immediately after, and yet another Lasota goal less than 3 minutes later to give the 'Cats an 11-1 advantage.
However, the Buffaloes showed why they are not Canisius or Detroit Mercy (sidenote: rest in peace Tommy Titan), rattling off 6 consecutive goals in an 8-minute span to cut Northwestern's lead to an unsafe 11-7. Darby Kiernan was active for the Buffaloes in this stretch, accumulating 4 points. However, head coach Kelly Amonte Hiller and the Wildcat defense was successful in significantly slowing down the pace after this point, and the offense tacked on 4 insurance goals (with 2 from Leighton Yenor) to secure the big home win.
Northwestern resumes its competitive non-conference schedule with a tilt at #18 Duke in Durham, NC on Sunday.
Protected our turf. #B1GCatspic.twitter.com/6ruQ6dKs6n

— Northwestern Lax (@NULax) February 15, 2018