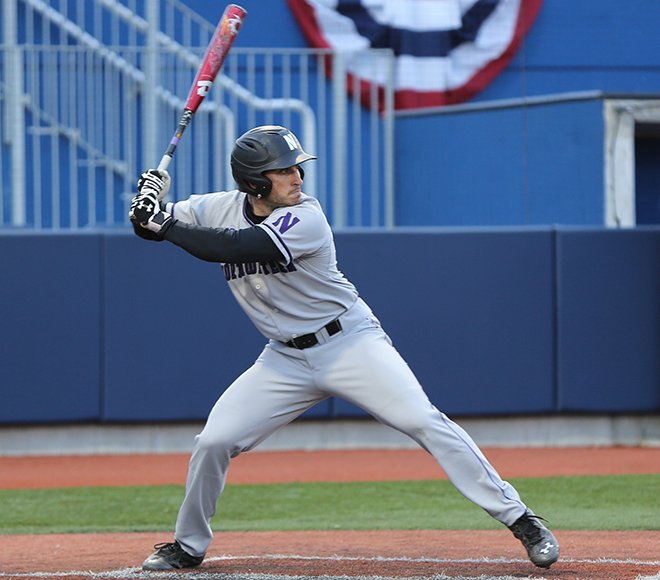 Kyle Ruchim shouldn't have been standing in centerfield. He shouldn't have even been on a college baseball field.
But there he was at Curtis Granderson Stadium in Chicago on April 15, 2015, ten months after being drafted, "Wildcats" emblazoned on his chest, UIC's Mickie McDonald up with two outs in the bottom of the ninth, runners on first and second and Northwestern clinging to a 4-3 lead. McDonald lined a hit up the middle, and Ruchim came up firing, delivering a pinpoint throw to the catcher's glove for the final out of the game. The Wildcats took home their second win of the month.
It was Ruchim's fourth assist of the year, a lofty total for a player who has spent almost the entirety of his amateur career on the infield. He also collected two hits, scored a run and stole a base on the evening, adding to a gaudy stat line on a season that just ten months ago looked like it wouldn't happen.
On June 7, 2014, Kyle checked his phone and saw a tweet with the potential to change his life:
39 (1185): @Cardinals select Northwestern 2B Kyle Ruchim. http://t.co/dxIfKsFlZj#MLBDraft

— MLB Draft Tracker (@MLBDraftTracker) June 7, 2014
He had just been drafted. For most players, that's where their college career ends.
"You know the dream, you know what it will kinda be like, but until it actually happens you don't really know the feeling. It was overwhelming," Ruchim said. "I got text messages, I think I had every single person that I know well, past and present, send me a text."
But what began as elation quickly turned to anxiety. As calls and congratulations streamed in, Ruchim grew increasingly uncertain that he would actually sign with the club. Although he was a senior, he had missed all but two games of the 2014 season with an arm injury, and NCAA rules rules gave him another season of eligibility.
The deadline for draft picks to sign was July 18. That left 42 days of uncertainty and agonizing contemplation. He asked everyone: his mom, dad, teammates, coaches, former teammates who had also been drafted, an Arizona Diamondbacks scout and even a lawyer for the Chicago Bears.
"The more advice I got, the less confident I got in my decision making," Ruchim said. "I was just hoping someone would reinforce me, I wanted to hear what I wanted to hear, not what they had to say"
Ruchim was still recovering from arm surgery. Even after talking to the Cardinals doctors and the team's head of scouting, the Illinois native felt more comfortable with Northwestern's treatment plan. At the same time, he had already turned down the opportunity to be drafted as a junior, electing to postpone his eligibility until the conclusion of his senior season, and the Cardinals are known for developing late round draft picks.
But the more Ruchim thought about his decision, the less it became about doctors and rehab. Ruchim wasn't satisfied as a 39th round pick in a 40 round draft.

"The day I got drafted, it was so late in the draft, and I just thought, 'This isn't where I belong.'" Ruchim said, "I need to get right because I deserve to be a higher priority within an organization."
And so Ruchim found himself back in purple, patrolling centerfield for the Wildcats. A career second baseman, Coach Paul Stevens put him in the outfield just hours before his first game of the season. It's a spot Ruchim wasn't familiar with, but Stevens had confidence in the 22-year old's athleticism. He has yet to make an error.
"I'm not going to say he's a [Mike] Trout, but I will tell you that's who he reminds me of with the combination of his physical size and speed and ability to accurately throw people out," Stevens said.
That's high praise, and not one you'll hear the humble Ruchim echo. He has his own role model: the Cardinals' Matt Carpenter, whose versatility and selflessness stand out even to an Illinois-raised Cubs fan.
"I think I'll end up in the infield, but I hope I can do what I'm doing now and be a guy who can move around the field where needed, do all the little things," Ruchim said.
2015 has brought more than just a move to the outfield. Arm surgery forced Ruchim off the mound, where he made 45 appearances over three years as one of the Wildcats' elite relievers.
Now Ruchim can focus squarely on hitting. The fifth-year senior owns a veritable monopoly on the team leaderboard, pacing the Wildcats in average, long balls, slugging, on base percentage, walks and runs scored. His .362 average ranks third in the Big Ten. His prowess at the plate has become so routine, coaches and teammates don't even bother mentioning it any more.
But Stevens said it's his love of the game and his humility that will lead him to the majors. He said Ruchim has a willingness to drown out the noise, admit mistakes and work tirelessly to fix them.
"That's the best quality about him." Stevens said. "He's real, he's always in the present."