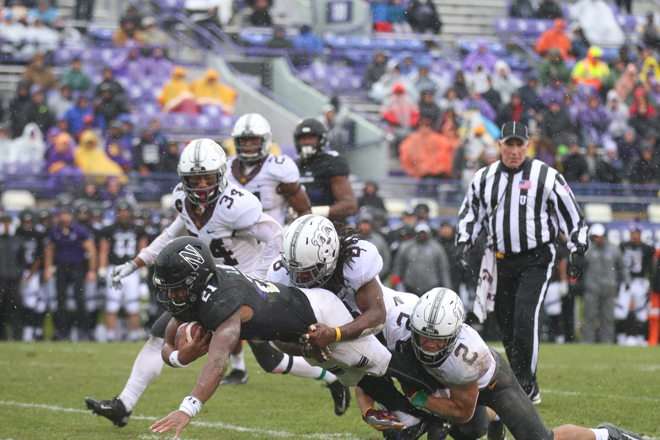 As both rain and snow fell in Evanston, Northwestern (6-3, 6-2 B1G) had one of their best games of the year, blowing Minnesota (5-6, 2-6 B1G) out 39-0 at Ryan Field. Justin Jackson was the star on Senior Day, posting 166 rushing yards (including 136 in the first half) in his last home game.
"We knew today was going to be a tough guy day," head coach Pat Fitzgerald said. "We knew it was going to be a Chicago blue collar day where you just had to show up and impose your will and I thought we dominated. It was a dominant performance on the line of scrimmage."
The offensive line dominated from start to finish, opening up great running lanes for Jackson and the supporting running backs. Northwestern rushed for 277 yards on 55 attempts as a team, and Jackson's 166 made him the second ever Big Ten player to rush for 1,000 yards in all four seasons.
Justin Jackson is having a career! He is now the second player in B1G history to rush for 1,000 yards in all four seasons. #B1Gcatspic.twitter.com/TkuZqK7TzJ

— #B1GCats (@NU_Sports) November 18, 2017
"He's a once in a coaching lifetime type of young man," Fitzgerald said. "He's a terrific leader. He's got an amazing work ethic, and what you see on Saturday is a byproduct of his preparation."
The passing game was also efficient for Northwestern even if it was limited in its use. While the 'Cats threw far fewer passes than they have in most games, NU quarterback Clayton Thorson was very efficient. Thorson (9-of-13, 86 yards) had three touchdown throws on the day, impressive especially when considering the weather conditions. Two of the throws came on crossing routes to superback Garrett Dickerson and the third was a back shoulder throw to receiver Bennett Skowronek.
Defensively, the Wildcats set the tone at the line of scrimmage. They limited Minnesota to just 3.7 yards per carry and recorded six sacks on the day, with 2.5 coming from Nate Hall. The unit also forced five turnovers which helped to shutout the Gophers. Minnesota drove into the red zone late in the game, but Nate Hall picked off Gopher's quarterback Demry Croft on the goalline to keep Minnesota off the board.
Croft struggled all game, going 2-of-11 for 43 yards and faced constant pressure and excellent coverage. Northwestern safety Godwin Igwebuike had multiple pass breakups while Kyle Queiro and Montre Hartage each picked off a Croft throw.
Stunt on 'em, @Kyles_Style. 🙌@NUFBFamily is controlling this one as the snow starts to come down. pic.twitter.com/Q76cD7uWfP

— Northwestern On BTN (@NUOnBTN) November 18, 2017
With such a huge lead, Fitzgerald and the coaching staff were able to rotate in many players – including seniors on their senior day – who wouldn't typically see the field much.
"For a lot of the guys who walk on and sacrifice greatly to be a part of our program, the least we can do is try to get them into the game in a situation like today," Fitzgerald said.
Senior running back Corey Acker took his first carry of the year all the way to the end zone on a 24-yard fourth quarter run. Acker typically contributes only on special teams, but the large lead game him a chance to play one last time at Ryan Field.
The Wildcats are red hot right now riding a six game win streak. They look to take the streak to seven next Saturday when they travel to Champaign for a rivalry week matchup against Illinois (2-8, 0-8 B1G).
🎶 Cause every time we touch, I get this feeling! 🎶 pic.twitter.com/dihGGg09Si

— Northwestern On BTN (@NUOnBTN) November 18, 2017