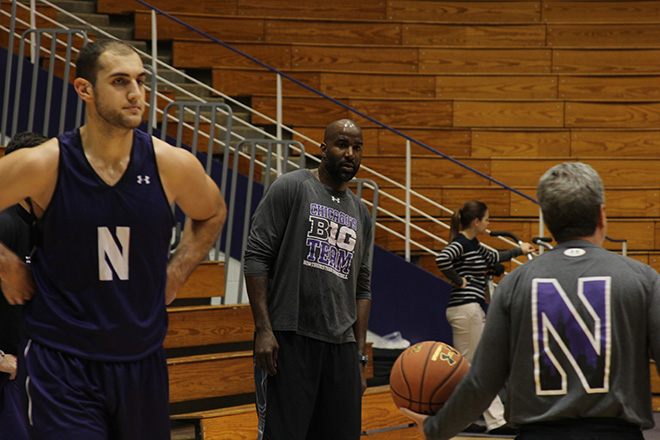 Ryan Humphrey never lost his hunger. Even after every NBA team closed its doors to the former first round pick, he followed basketball across the world, from Oklahoma to Europe to the southernmost capital in South America. Now, after a decade of globetrotting basketball, Northwestern's director of player development is bringing Evanston's team a global outlook.
Standing next to Collins, who has long since traded his jersey for a coach's suit and tie, 36-year-old Humphrey strikes an imposing presence. It's not just that he looks like he could still play with the Wildcats. At 6'8", wearing an extra-extra large Nike t-shirt and a gregarious grin, he looks like he could probably still take Alex Olah one-on-one.
But that's precisely why Collins tabbed him as the player development coordinator. Close enough to his court days to think like a player, yet experienced as a coach, Humphrey will serve as an interpreter across a generational and occupational gap.
"I'm more like a mentor or a big brother to the guys," Humphrey said. "There are different ways that I can articulate what the coach is trying to say because I'm not too far removed from being a player."
The position is steadily becoming more common across college basketball. In October, Indiana hired Derek Elston just two years after he graduated from the university. What makes Humphrey different is the experience he's accumulated, as measured by the sheer number of places he's been and the turns his career has taken.
"I've been in each one of [those] shoes at some point in time, whether it's a freshman, whether its a sophomore, whether it's a guy that's been demoted," Humphrey said.
That's not an exaggeration. After standing out as a player at Booker T. Washington High School in Tulsa, Humphrey enrolled at University of Oklahoma, staying close to home. After his sophomore year, he transferred to Notre Dame, the first in a series of moves that would take him to 18 different cities, across eight countries and three continents over a 10-year professional career.
"I can't remember every team," Humphrey said. "But I can name off the countries."
That would be the United States (including a stint in Puerto Rico), Italy, Spain, Cyprus, The Dominican Republic, Venezuela, Uruguay and Argentina – with a wife and kid in tow for most of it.
His teams ranged from the Orlando Magic to the Blancos de Rueda Valladolid (literally, 'White Wines of the Rueda region of Spain').
After Humphrey earned all-Big East honors for the Irish, the Utah Jazz took him No. 19 overall in 2002 and immediately flipped him to the Magic. But the college star struggled and Orlando traded him to the Memphis Grizzlies, where he spotted a young Pau Gasol off the bench while battling injuries. When free agency struck in 2005, Italy called and the world tour began. The result is an interpreter who speaks American basketball, but with European and Latin American dialects.
"[Playing abroad] opened my eyes to different ways to play the game," Humphrey said. "In layman's terms: there's more than one way to cook a chicken."
Humphrey said European teams place a greater emphasis on skill work and fundamentals, practicing two or three times as often as American teams. Kobe Bryant made a similar assertion in August, and several commentators credited the Spurs' recent success to their players from across the pond and below the equator. Passing on wisdom from foreign coaches, Humphrey can give the players a leg up in a rapidly evolving sport.
"The game is becoming global," Humphrey said. "Every team has some type of international flavor to it."
When the Wildcats played in Spain over the summer, that global insight won him the ears of fellow players. Freshman power forward Derek Pardon said he gave insight into how opposing players operated. Joey van Zegeren, a transfer from Virginia Tech who grew up in the Nerthelands, said he's more comforotable talking to Humphrey than other coaches.
"He understands the enviornment I'm from and the country I'm from," van Zegeren said. "[We're] bonding."
Unsurprisingly, given his size, Humphrey works particularly close with the big men – van Zegeren, Pardon and Olah. On a team composed almost entirely of freshmen and sophomores, but with European players and transfer student taking critical roles, he offers not only immediate guidance but also a long-term path.
"It was a blessing, for me to be all over the world and have my family see the world playing basketball," Humphrey said. "Now I'm trying to pour it to the younger guys that if I can do it, you can do it as well."