What if it took a nuclear explosion, leaving you and a few single women as the last people alive, to come out of the closet?
That's the situation in Lipstick Theatre's winter production, Five Lesbians Eating a Quiche, where five "widows" in a 1956 women's club come out to each other after surviving a Soviet attack. Cold war taboos about sexuality may not come as a surprise, but the fact that it takes more than half the show and a nuclear apocalypse for the characters in a show about lesbians to come out reveals a sharper point: even in 2016, to "come out" as anything - gay, lesbian, Black, poor - on the stage is a leap, and many directors, both at Northwestern and nationally, aren't willing to take it.
Lipstick Theatre was created in 2013 to make space for women-centered theater, but as the deaths of young Black men and the ensuing Black Lives Matter movement spark protests in cities and campuses across the country, a national conversation around race has been reopened. Theater both at Northwestern and in the world has become an unsuspecting center for conversation around inclusion.
The Oscars are so white, but so is the theater program at Northwestern, activists and actors say. With Five Lesbians and a November performance that reportedly broke Northwestern firecodes for attendance, Lipstick is trying to give it some color.
After two years putting on traditional white feminist works such as the Heidi Chronicles and Alice in Wonderland, Lipstick decided it was time to tell a broader array of stories. They chose two BLM activists: Joy Holden, a Black woman, and Hale McSharry, a queer white man, to direct the Fall and Winter productions.
Holden immediately began working on For Colored Girls, a drama whose full title is For Colored Girls who have considered suicide/when the rainbow is enuf. Written as a series of 20 poems, the play consists of eight Black women telling their unique struggles with racism and sexism. They discuss rape, abortion, domestic violence, HIV, divorce. They discuss in metaphorical and visceral terms epithets, abuse, sexism. They contemplate if life would be better if they were white. They contemplate suicide. They find redemption in themselves and each other.
"I had seen a lot of excellent, really great theater on campus," Holden said. "But I hadn't seen a lot of theater - in fact I hadn't seen any theater - that had told my story."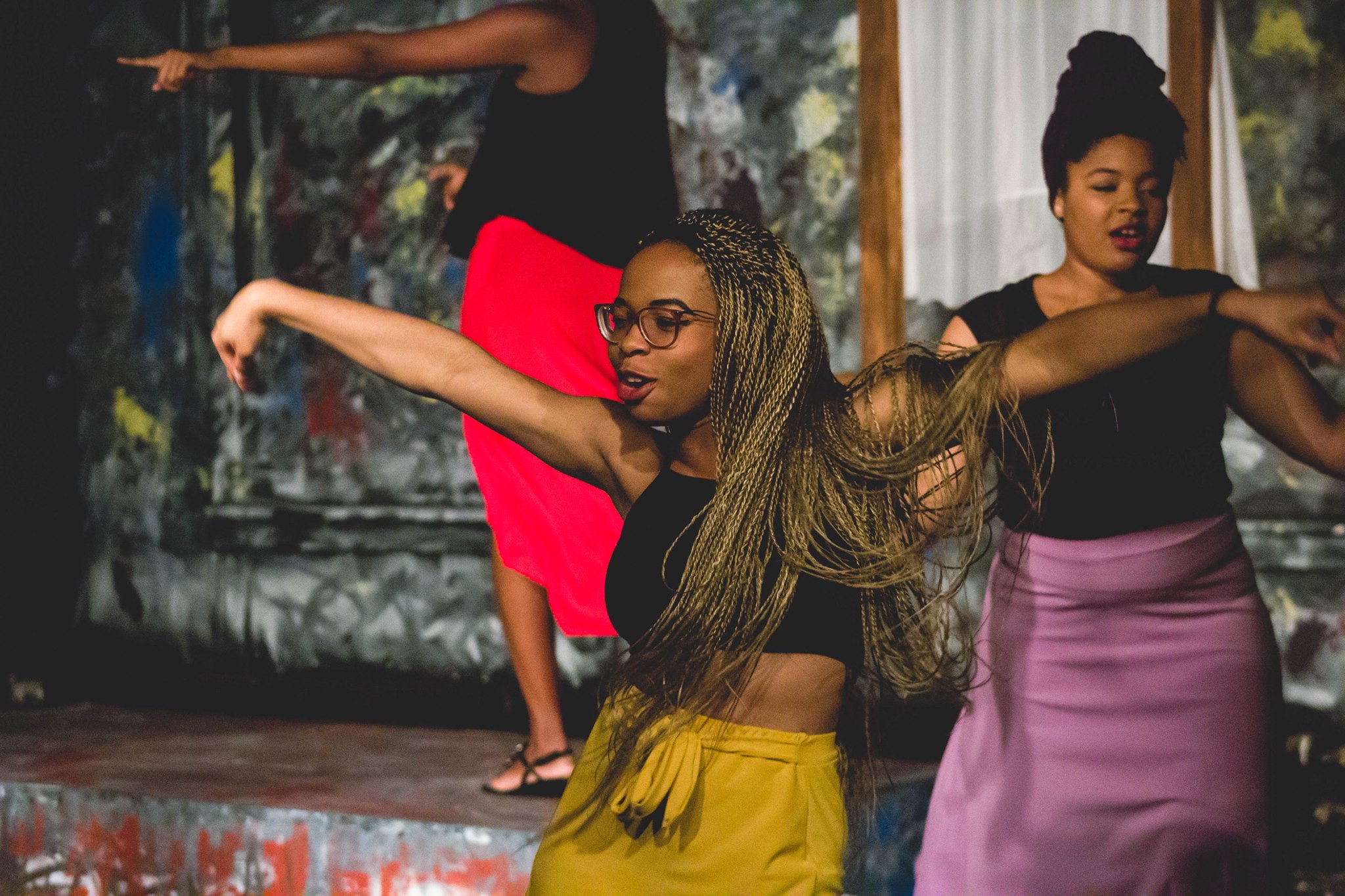 The show was slated to play from November 12 through November 14. Nine days earlier, Jonathan Butler started his hunger strike at Mizzou, and On Friday, November 13, seven hours before the second showing, BLM held a protest at the Black House. Marching to Tech and then interrupting President Schapiro's groundbreaking at SPAC, they demanded that the University respect the needs of its Black and Brown students. Among the protests' 15 demands: "that the university acknowledges and actively helps students in response to unfair treatment of minorities in the STEM and theater programs."
Although the dearth of marginalized groups in STEM fields, and then in SiliconValley has been well documented, barriers to entry in theater programs have drawn less national attention. While Northwestern does not publish statistics on specific majors, an analysis from Young Invincibles found that 6 percent of visual and performing arts majors were Black and 10 percent were Latino. About 15 percent of college students nationally are Black, and about 15 percent are Hispanic.
For Colored Girls was influential for more than just the spotlight it put on theater. Holden described it as a comforting moment for marginalized students who felt isolated on this campus and ignored in wider media. She said people came out saying, "Thank you, this was something I needed."
"The show was something to give audience members some sort of hope, to continue the self care they were working on,"Holden said. "It was almost a therapy session - not only for people in audience but for us putting up the show."
The centrality of diversity in media can seem arcane amid larger issues of police violence and discrimination in education and employment, or even the dark issues For Colored Girls tackles. Chris Rock alluded to this in his opening monologue at the Oscars, saying Black people previously hadn't protested Hollywood racism because "We had real things to protest; you know, we were too busy being raped and lynched to care about who won best cinematographer."
But to Dr. Harvey Young, a Northwestern theater professor who has written on race and representation for The Wall Street Journal and The New Yorker, performance plays an integral role in American race relations. Well told, a story in film or on stage can provide comfort by reflecting someone's experiences back at them, Young said. It inspires a sense of community. And at a time of "Sustained Dialogue" and growing attempts to foster uncomfortable conversations on campus, the arts can stage a unique kind of cultural exchange.
Diverse plays should serve two functions, according to Young: comforting some and opening the eyes of others.
"No matter who you are you can walk into a theater and have a person's story revealed to you for the first time," said Young, who consulted on For Colored Girls.
Young thinks some of the criticisms of theater are misfounded. No play can tell everyone's story, he said. The issue comes when a particular student theater company or many theater companies over a season routinely don't put up shows about marginalized communities, a problem reflected in the fact that Holden and McSharry only pitched their productions to Lipstick.
Anomalies at Northwestern, For Colored Girls ran with an all-black cast and Five Lesbians with an almost exclusively queer crew. Meanwhile, at Northwestern theater and Hollywood more broadly, directors routinely say they can't find enough students of color for shows with racially diverse casts. Yet Young says theater companies need to demonstrate that diversity of shows and stories is a greater priority. Only then will actors of color, both in and outside of the theater department, come out of the woodwork.
"When you make it clear that it's a sustained commitment and it's important, people come out." Young said. "People don't come out when they think it's a feigned commitment or a token gesture for diversity,"
That commitment involves breaking out of familiar plays like Shakespeare and consistently grappling with stories that relate to the lived experiences of marginalized communities - be it by race, class, gender or sexuality, Young said. Often no one takes the leap, because they fear "Black" or "Latino" shows won't sell, but Young and Holden said For Colored Girls, with its sold-out shows, proved that wrong. "We have to remind ourselves that if you stage the work, new and diverse audiences will come in," Young said.
Holden pointed specifically to the Broadway show Hamilton, which is currently selling out every night with a cast of ten actors of color.
"This narrative that Black stories don't sell and Latino stories don't sell is ridiculous," Holden said.
The success of Five Lesbians, with its boisterous, over-the top, slapstick comedy of puns and double entendre, would offer its own test of Young's hypothesis. The play, McSharry explains, "is everything For Colored Girls is not, because there's hardly a serious bone in its body."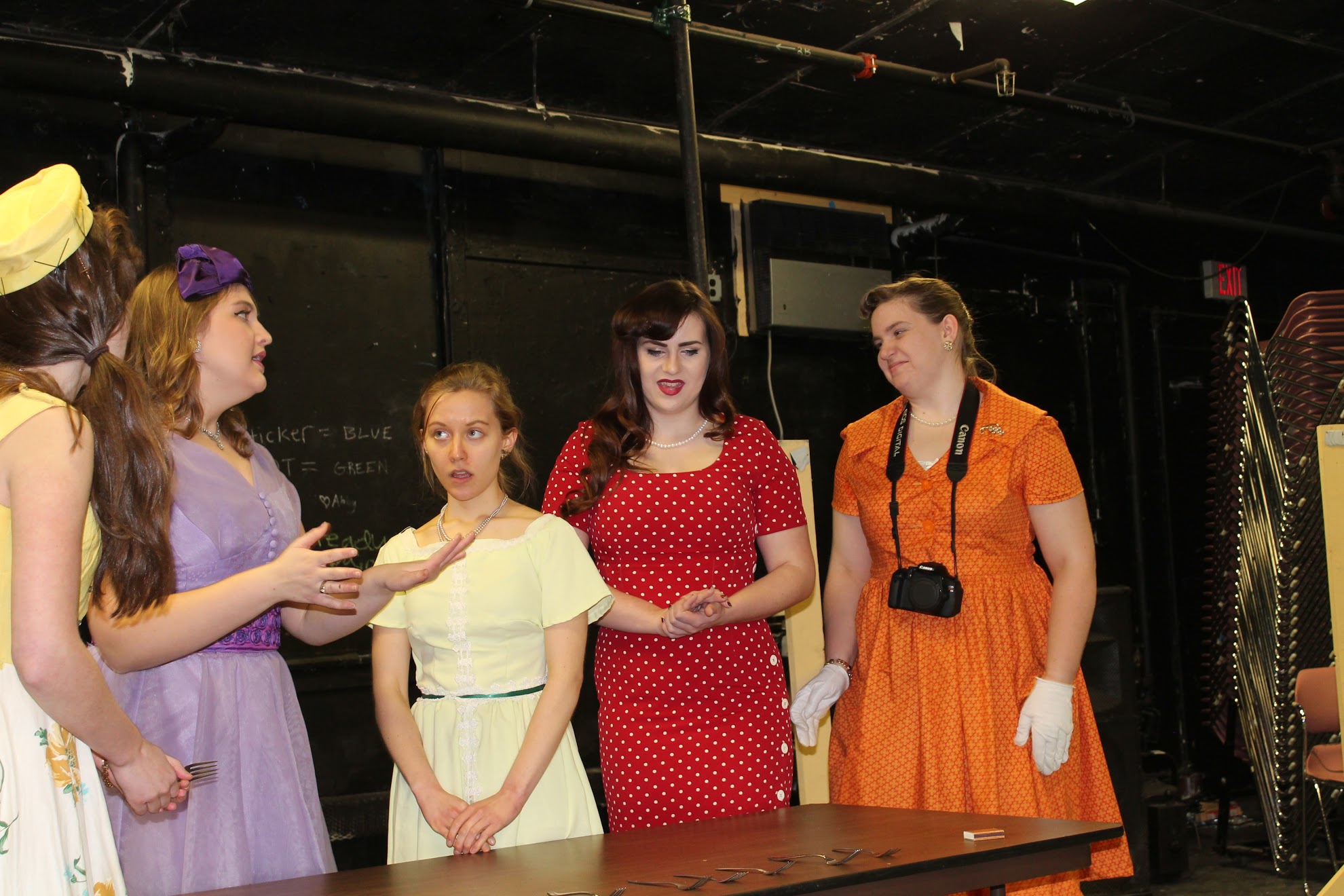 References to the "The Egg!" repeat numerous times, a satire of the stereotypical women's sphere of baking and reproduction. At one point, a character ravenously eats a quiche face-first. Another runs out into the radiation to save quiches after the nuclear explosion. They break the fourth wall, and after coming out as gay, ask individual audience members "are you a lesbian?" If anyone mentions their fictitious women's club, "The Susan B. Anthony Society for the Sisters of Gertrude," they drop everything and break into a synchronized chant.
Taking place at a time when "lesbian" was still an epitaph reserved for the lower class, Five Lesbians grapples with the conformity demanded of upper class women, and the tensions that it caused.
"The show has a lot do with what women are expected to do and how they are supposed to act in the 1950s," Mcsharry said. "How that goes out the window when people are pushed to the extreme."
The relevance of Five Lesbians is therefore less obvious than that of For Colored Girls. The gay liberation movement is at a unique juncture in its history, at once celebrating the legalization of same-sex marriage, and trying to confront ongoing discrimination, particularly against queer people of color, that some say has actually worsened with the landmark Supreme Court ruling.
As long as that discrimination and stigma persists, however, McSharry says the piece will be important.
"It's no mistake that women in the show don't reveal their identities until they truly believe they're the only people who will ever find out," McSharry said. "It's all based around secrecy and trying to find pride and cover shame with it."
Three months later, in a cooler campus climate and a less contentious issue, Five Lesbians put Young's theory to a test. For the first couple shows, it looked like he might have be wrong, as a modest audience of 50 people appeared. But on the final Saturday night production, 120 people filed in, standing along the wall when chairs in the crowded theater filled.
For all of Lipstick's success, Holden cautioned against declaring progress. She said she looked forward to the day that she could direct a play without the pressure of putting on the one diverse show of the year.
"When we have a Black show that has a lot of success, do we have progress? Maybe." Holden said. "But does that mean that institutional oppression is over? No."