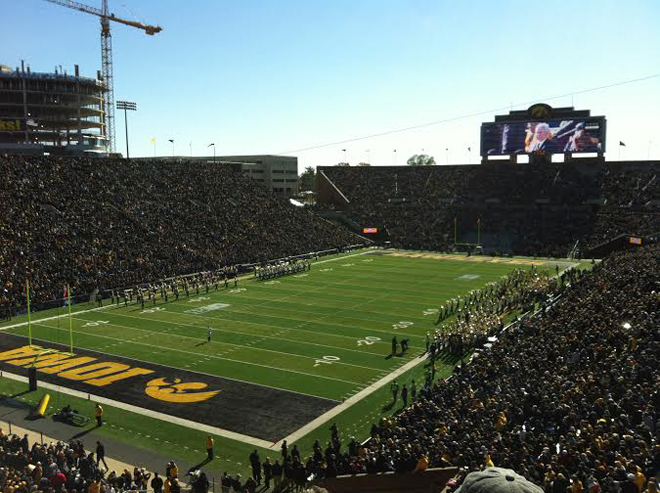 On a sunny, yet chilly late morning at Kinnick Stadium in Iowa City, IA, Northwestern and Iowa's football teams faced off in what was billed to be a low scoring and evenly contested game. Recent series history and the similarities between the two seemed to suggest as much anyway. Several sportswriters had all but played this game out on paper: both teams would struggle offensively against stout defenses, and one or two big plays late would decide the outcome.
Seemingly contrary to preordination, the Hawkeyes beat the Wildcats 48-7 yesterday. Apparently something (or a lot of somethings) just didn't translate from on paper to on the field, but unlike the 'Cats' last game against Nebraska which actually did live up to its billing as a close game for three quarters, this one went off-book very quickly. As in, 1:45 into the first quarter quickly.
Iowa's freshman kick returner Jonathan Parker returned the opening kickoff 54 yards to Northwestern's 46-yard line, and was then spotted an extra 15 by way of a personal foul committed by Northwestern senior linebacker Jimmy Hall on the return. It only took the Hawkeyes four plays to cash in, with senior runningback Marc Weisman punching it in from eight yards out to give Iowa an early 7-0 lead.
The Hawkeyes continued to pour it on after two consecutive three-and-out drives by the Wildcats, which netted five total yards; first with a field goal from junior kicker Marshall Koehn, and with another touchdown on the ground from Weisman from 14 yards out to make it 17-0 with 5:28 to go in the first quarter.
Things quickly went from bad to worse for the 'Cats. After a third consecutive three-and-out, Hawkeyes freshman linebacker Ben Niemann stuffed a punt attempt from junior punter Chris Gradone right in front of the Wildcats' end zone. The ball rolled to the edge of the end zone, where Niemann quickly retrieved it and strolled in to give Iowa a 24-0 lead with 3:39 to go in the opening quarter.
Northwestern saw a brief ray of hope following a mishandled snap by Iowa junior punter Connor Kornbrath, which he fell on, that set the offense up at the Hawkeyes' 18-yard line with less than a minute left in the first quarter. The 'Cats only took four plays to get on the board, with a drive capped off by freshman runningback Justin Jackson's one yard run. That trimmed the Iowa lead to 24-7 with 14:21 left in the second quarter. But the 'Cats' defense couldn't hold off the Hawkeyes on their ensuing possession. Junior quarterback Jake Rudock led them 75 yards down the field on 12 plays to the 8:11 mark of the second quarter, finishing the scoring drive with a 31-yard pass to junior wide receiver Tevaun Smith behind the secondary to get the seven points right back and make the score 31-7. The teams then traded punts before NU senior wide receiver Kyle Prater fumbled a pass over the middle from senior quarterback Trevor Siemian that would have likely resulted in a gain of greater than 20 yards. This gave Iowa favorable field position at the 'Cats' 34-yard line. Again, the Hawkeyes wasted little time capitalizing. Weisman scored his third touchdown of the half from eight yards out to give Iowa a commanding 38-7 lead with less than a minute left before halftime.
Iowa scored 10 points in the fourth quarter during what was, for all intents and purposes, 'garbage time.' The outcome was a foregone conclusion by the end of the second quarter, cementing in history another tragic example of why games are not played on paper.
Stud (singular)
Justin Jackson – Even though games often don't play out as we might expect, Jackson being listed as a "stud" in the vast majority of them is all but set in stone. The freshman continues to not so quietly put up solid numbers, finishing with 96 yards on 24 carries (4.0 ypc) and the 'Cats' lone touchdown. As usual, the most impressive aspect of his game is missing from the box score: his uncanny ability to make something out of absolutely nothing, shedding tacklers and creating his own holes. At the moment, he's the lone bright spot on the offensive side of the ball. Yeesh.
Extremely honorable mention: sophomore Mike McHugh's incredible one-handed catch in the third quarter – If that's not #SCTopTen I will shred my WildCARD.
Duds
Offense players not named Justin Jackson – Where do I start? Northwestern had 180 yards of total offense today. Trevor Siemian was also only 8 for 18 passing with 68 yards total, posting a 3.3 QB rating. (Ouch). He stood in the pocket for far too long several times when all his receivers failed to get open, and took five sacks for -47 yards. They weren't all coverage sacks though. The offensive line was porous, which makes it even more remarkable that Jackson was able to rack up the numbers that he did. There were several penalties on the O-line that wiped away big plays, as well. And wide receivers had difficulties coming down with some catches. Murphy's Law was in full effect for these guys today.
Offensive play calling – I am not, and could never be an offensive coordinator at the FBS level. But I think I might have a fighting chance as a defensive coordinator for one game if I got to face Northwestern. The way this offense runs is all too predictable. Even more frustrating is that it continued to be that way despite the massive hole the 'Cats found themselves in early on today. The issue is hidden slightly when Siemian and his receivers don't fail to connect as much, but the fact of the matter is, running a strictly traditional offense without making adjustments week to week in Power Five football is doomed to fail. Overall, it seemed like the struggles in the second half against Nebraska had been overlooked during the two weeks the coaching staff had to prepare for Iowa. To me, that's inexcusable.
Defense – I'll keep this brief: Rudock had all day in the pocket, and the secondary was consistently burned on obvious passing downs, which often negated what was actually a strong early showing against a tough Iowa running game. Some of that goes back to faulty bye week and game week preparation – the majority of those deep pass completions came on Iowa's patented bootlegs and play actions. The 'Cats forced one turnover that was essentially meaningless. Where has that ball-hawking defense we saw against Penn State and Wisconsin gone? Surely that wasn't a fluke.
Special Teams – Allowing a punt block inside your own red zone and a huge return right out of the gate is generally not desired.
The Wildcats will look to rebound next Saturday at home against the Michigan Wolverines at 2:30 p.m.