Close, but no cigar.
Battled until the very last whistle. #B1GCatspic.twitter.com/Bcbq8Qzid9

— Northwestern Lax (@NULax) February 18, 2018
#13 Northwestern Lacrosse (3-1) took their first loss of the season in a heartbreaker at #10 Duke (3-0), 9-8. After building up a sizeable deficit in the first half, the Wildcats were unable to come back despite a strong second-half performance.
Northwestern experienced their first period of sustained sloppy play in the first half. The Wildcats accrued 3 penalties to the Blue Devils' 1 and committed 9 turnovers, including multiple from Nicole Beardsley and Megan Gordon. After Sheila Nesselbush (2 goals, 2 ground balls) gave the Wildcats what would be their only lead of the game just over a minute into the game, Duke scored 4 goals in a matter of minutes to gain a 4-2 advantage. The Blue Devils then slowed down their rapid starting pace and shut down the Wildcat offense for the rest of the half, dominating the possession battle and tacking on 2 goals to go into halftime up 6-2. In a tough blow for Northwestern, Jill Girardi was disqualified after receiving her second yellow card with 3 minutes left in the first half, eliminating a key cog of the offense. Goalkeeper Julie Krupnick saved 5 shots to keep the 'Cats in the game.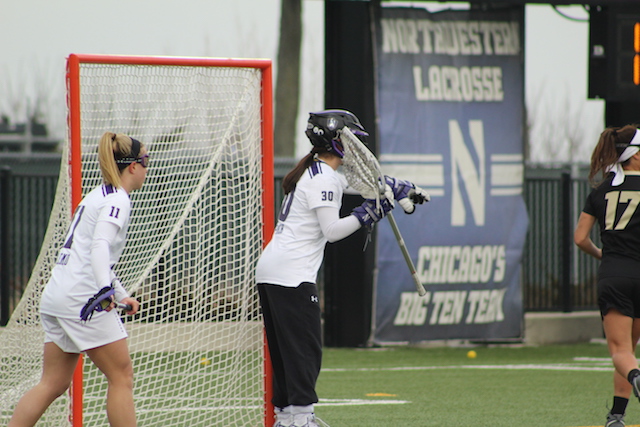 Northwestern came into the second half energized and aggressive. After multiple missed shots, turnovers and fouls on both sides, Selena Lasota (3 goals, 3 ground balls) found the back of the net with 24:47 to go to start off the scoring. Ally Palermo then promptly went coast-to-coast to score her first career goal, and shortly after, Nesselbush netted her second goal of the game, giving the 'Cats a one-goal deficit and strong momentum going into the final stretch.
Meanwhile, Krupnick was busy all half as an athletic Duke squad fired 9 shots on goal. Krupnick would finish with 11 saves, a season high.
With 4:37 left, Beardsley again brought the 'Cats within one with her only goal of the game. The final sequences kept the Blue Devil crowd at the edge of their seats as Northwestern held the ball in Duke territory. Lasota and Beardsley both had shots rejected by Duke goalkeeper Gabbe Cadoux, but consecutive ground balls from Danita Stroup gave the Wildcats one last chance. However, Cadoux won the battle, saving a shot from Lindsey McKone to end Northwestern's comeback attempt and give Duke a 9-8 win.
In their first down-to-the-wire contest of the season, the Wildcats were unable to pull through. However, they put themselves in strong position to tie the game and showed resilience against a top 10 opponent. They will look to regain momentum at home against USC (1-1) on Sunday.