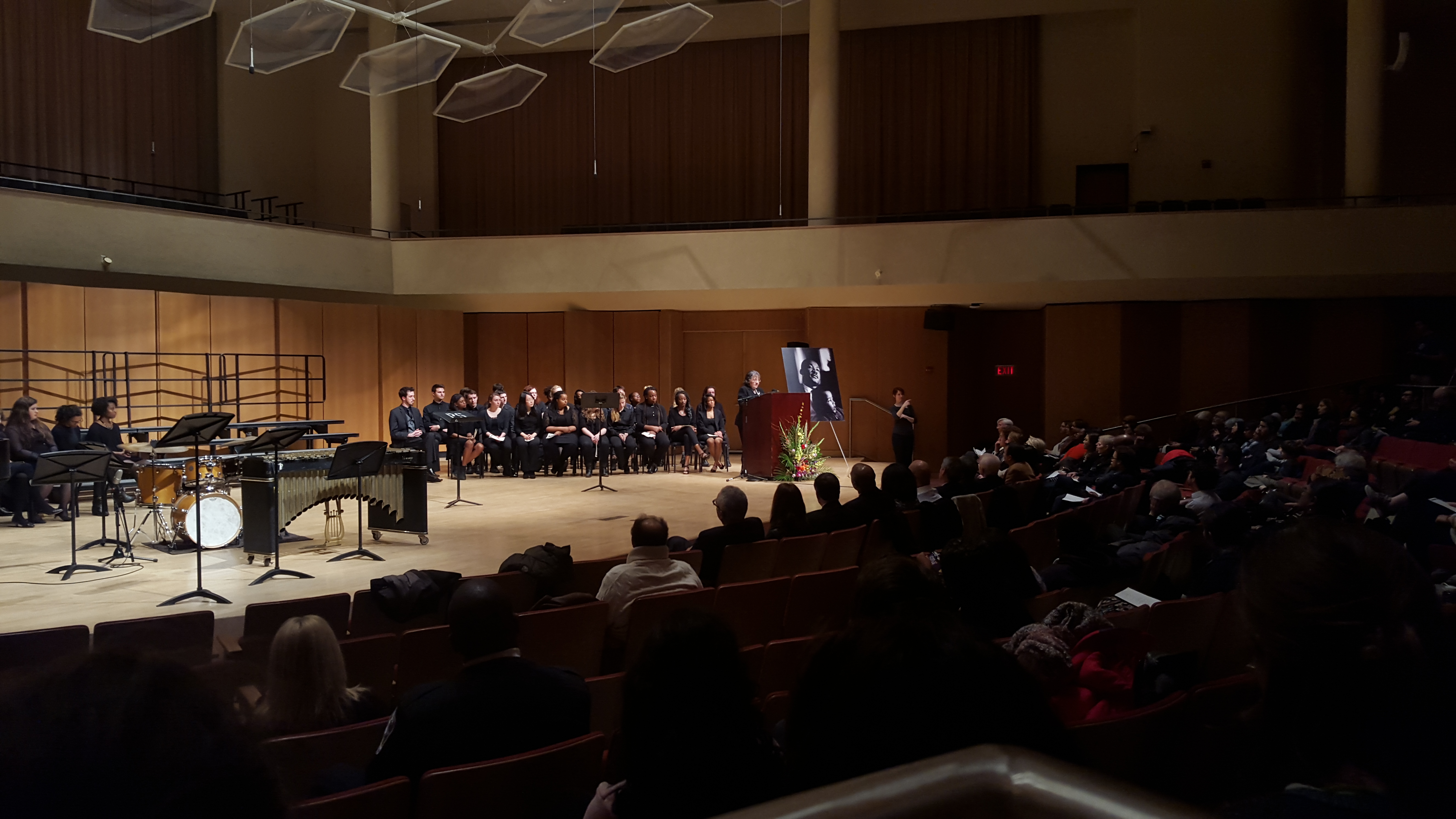 On a night of hymn and gospel music that evoked not only Dr. Martin Luther King Jr.'s marches but centuries of Black struggle, civil rights icon Diane Nash recalled the protests of the 1960s and gave a full-throated endorsement to modern campus activism and Unshackle NU Monday night in her keynote speech for Northwestern's week-long Martin Luther King, Jr. celebration.
"Too often we honor and pay homage to MLK," Nash said. "But we need to develop non-violence in bringing about social change … today."
Community members, students, activists and administrators packed the lower section of Pick-Staiger Concert Hall in commemoration of last week's Martin Luther King, Jr. Day. Choirs and student bands accompanied speeches from noted students and professors.
The night began with music and then moved into discussion of modern struggles. The Alice Millar Chapel Choir opened with "Deep River," a 150-year-old African American spiritual. Medill Professor Charles Whitaker made clear that the night had to be more than about memory. He took aim at the rise of Donald Trump and shootings of unarmed Black youth as issues needed to be combatted today.
"This is not a celebration if you have been paying any attention to contemporary events. This is not a celebratory time," Whitaker said. "This is a time when our political discourse has been debased by unctuous, racist and xenophobic rhetoric. When men, women and children of color are being mowed down in the streets by gangs, yes, but more appallingly by badge-wearing thugs who think themselves above the law."
Snaps from choir and audience members greeted Whitaker's words. Whitaker, a former Ebony magazine editor, went on to note income inequality, its disparate impact on inner-cities and the ongoing protests on college campus "about the very composition of the academy and its obligation to do more than credential smart minds."
What Whitaker discussed in the abstract, Medill senior Timothyna Duncan made it vivid. As an immigrant from Ghana, she was shocked by the American racial landscape. She talked about watching her father and brother trailed by the police and seeing on TV Black and Latino youth shot for shoplifting.
"Although I didn't arrive in the United States in physical chains like my ancestors did," Duncan said. "I suffered some systemic and social political chains that shackle people who look like me."
To Duncan and to any student activist in the room, Nash provided a blueprint for enacting change. Born in Chicago, Nash joined the civil rights movement after experiencing the effects of the Jim Crow laws as a student at Fisk University in Tennessee. She coordinated the famous freedom rides through the Deep South and helped integrate the lunch counters in Nashville, embarking an activist career that would include, she joked, double dating with Martin Luther King Jr. in the Caribbean.
While their strategies are generally referred to as "non-violence," Nash prefers the term agapic love to describe their movement. It comes from the Greek word meaning "loving humanity." She said it focused on loving people, while trying to change their attitudes. Often, she said it made allies of those once opposed to the movement.
"Unjust economic systems, attitudes racism, sexism, ignorance of emotional and mental illness, all those are enemies," Nash said. "If you recognize that people are not the enemy, you can love and respect the person at the same time you attack the attitude."
Transitioning to today, Nash was unequivocal in her condemnation of police brutality and support of the recent rise in activism.
"I strongly support the actions of our young people in Ferguson, in Chicago, in New York and across country who are marching in these streets to protest the unjust and violent killings of young Black men," Nash said.
The most salient lesson for many students, though, came from one of the most iconic moments of the civil rights era. Nash said that the Montgomery, Alabama bus segregation could only last long as Blacks continued to sit in the back of the bus. They faced grave consequences if they didn't, Nash argued, but, when they resisted, segregation ended.
"Oppression always requires the cooperation of the oppressed..." Nash said. "Our position was shoot us, if that's what you're going to do, but you cannot segregate us."
Weinberg sophomore Nneka Onyeka, an activist who marched in the Black House protest last November, said those words will encourage her to continue protesting.
"If you don't do, who else will?" Onyeka said. "Because it's an issue of life and death, a little harsh but it's true"
In an interview after the speech, Nash gave her full support to Unshackle NU and university protests across across the country.
"I'm really encouraged that there is action on the campus," Nash said. "It's like people went to sleep for a couple generations and now they've awakened."