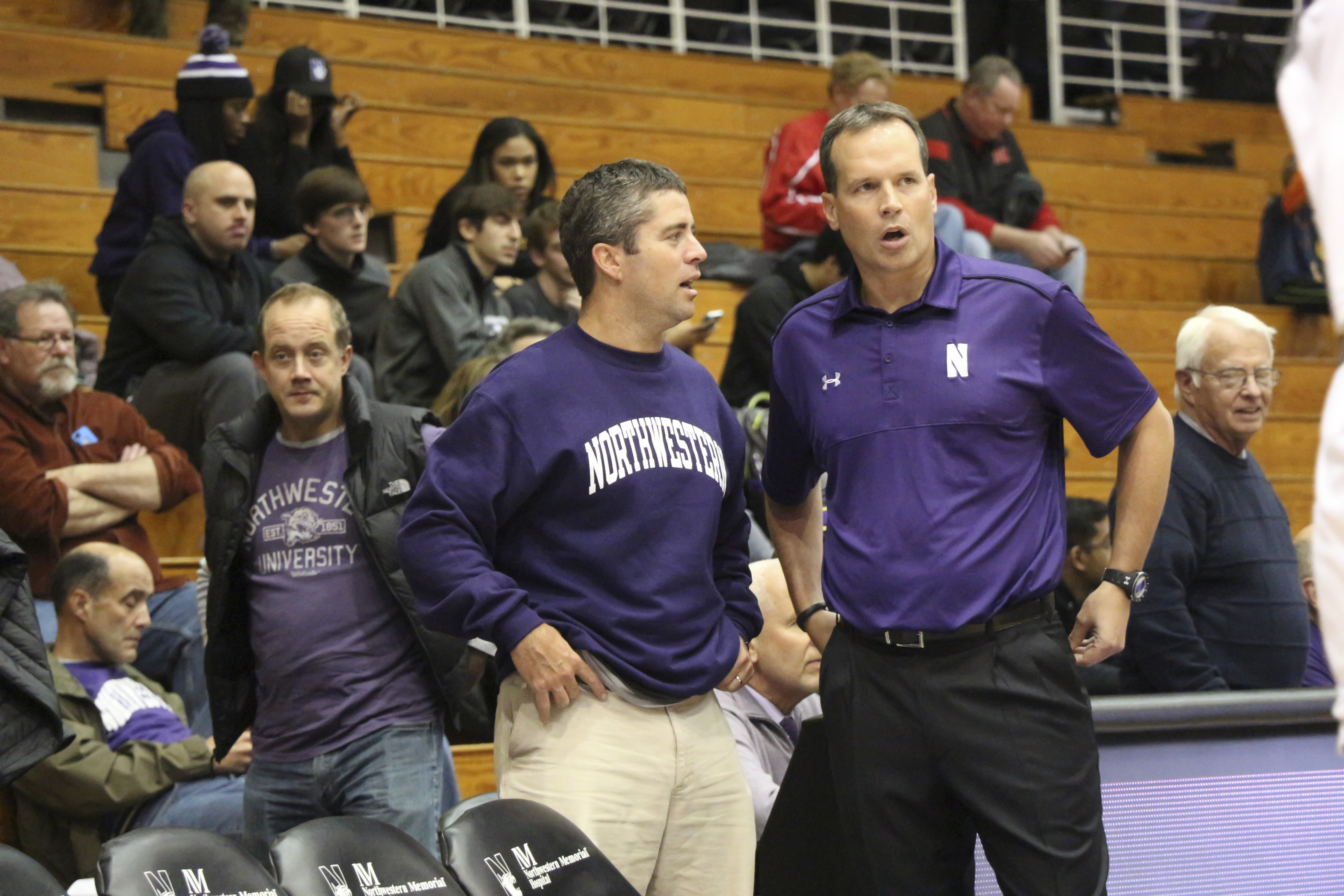 Despite the 'Cats' 14-19 finish last season, there's a palpable air of confidence in Welsh-Ryan Arena, and it all stems from the captain of the ship. Chris Collins enters his second year as head coach with a head of steam, having reeled in Northwestern's best recruiting class in school history and seemingly breathing life into a long-dormant basketball program in search of that ever-elusive first NCAA Tournament bid. Here are Collins' thoughts on his team and his expectations for the upcoming season:
Collins on...
Changes to Welsh-Ryan:
"The thing we need more than anything is that energy in the building from people. We have everything we need now [in here]. I love the size of our building. I played in here in high school when it was jam-packed, and it was as loud as any place I played in. We can have a really good home court advantage. And now with the video and sound capabilities and the new floor and baskets, I don't see any reason why we can't make this one of the top home court advantages in the league. Last year, we were not a very good home team, and that's a real point of emphasis. We have to take care of our home court and be able to win at home."
Cohesion between returners and new players:
"[The freshmen] need to learn to consistently bring the effort every day. They've all been great, and they've all worked hard. But none of them have ever practiced with this intensity for this amount of days in a row, so that's when they really have to lean on the older guys to pull them through some of this. I've been pleased with the leadership of the veteran guys to bring the younger guys along.
"There's a good energy and a good spirit on our team, and the guys have really started to mesh well. It's exciting now to become one team, as opposed to practice where we're always divvying it up, and putting together different lineups. To have the opportunity to get together and go against somebody as one team, it'll be fun to see how that progresses."
Plans to push the tempo more on offense this season in comparison to last season:
"We have more players at our disposal [than we did last year]. Part of the reason it was hard to push last year was that we had a lot of guys playing 35-40 minutes, and it's just impossible to play at that tempo. We had to pace ourselves throughout the game, especially since last year in order for us to win, we had to spend so much energy on the defensive end. So we have to get easier baskets this year.
"The two ways we do that are: easy baskets in transition and getting on the offensive boards a little bit more. We sacrificed a bit of that to get back and set up our defense last year. I think we have some guys who can do that [more this year]. We want to be able to give ourselves second chance opportunities."
How graduate student transfer center Jeremiah Kreisberg is fitting in:
"He's so comfortable. He knows he's going to back [junior center] Alex [Olah] up, but he competes against him every day. As good as it's been for him, it's been even better for Alex, because the quality of competition he goes against every day is helping to get him ready for the season. With [freshman forward Gavin] Skelly, we feel like we have three guys who can give us those physical minutes on the front line, which is important especially in the Big Ten.
"Jeremiah knows Alex is the guy inside, but he's just got to be ready. If Alex has got it rolling, there are games where he might play up to 32 minutes. There are games where he might be in foul trouble and Jeremiah has to play 20-25 minutes. So that's when having a veteran is such a luxury for us."
How freshman guard Bryant McIntosh is fitting in:
"He was the kind of guard we thought would fit really well in our system. He's great with the ball, he's crafty and he's really smart. I think he's mature beyond his years, and he makes really good decisions. At times he's a little bit too unselfish, so I'd like him to be a little bit more aggressive and look for his own shot because he's got such a feel with his passing."
His outlook this year, having one full season under his belt:
"I just think I'm more confident. You come into your first year and everything's so new: trying to feel out the own team and get to know the players, managing the whole year, going through a season for the first time, preparing the guys for the grind of the Big Ten schedule, all those things. I just feel more confident having gone through it for a season. We were low on numbers last year, so having more guys has helped our practices and our preparation, and it gives us more confidence going in that we have more options to use with this year's team."