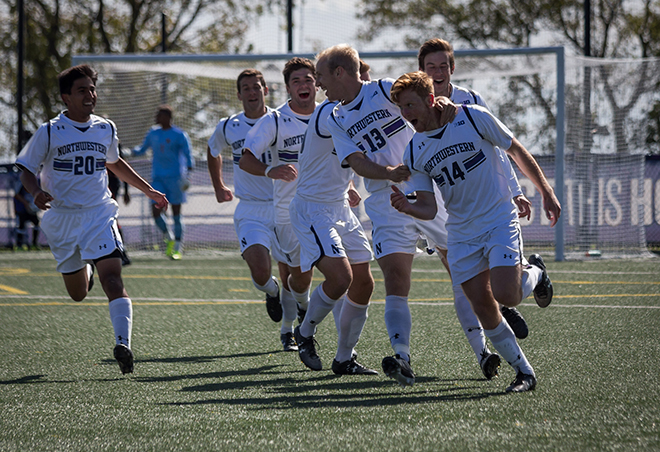 Headed into a matchup with new Big Ten member and perennial national soccer powerhouse Maryland, the Wildcats were 4-1-4, with all wins or losses coming in regulation. It seemed like the 'Cats had devised a "formula" (as the Big Ten Network broadcasters suggested today that Northwestern student athletes are wont to do) to come out neutral in every overtime game.
But 1:03 into the first sudden death overtime period, junior midfielder Cole Missimo found a loophole in the Overtime Limbo Theorem, planting one in the back of the net and giving his team its first victory, 3-2, beyond the comfort of two 45-minute halves. More importantly however, the goal gave the 'Cats their first conference win of the season.
"It's been a while since we'd won a Big Ten game, so getting a win in overtime is huge," Missimo said. "It's a season changing win for us, and it's something that we're going to remember forever."
Missimo's game-winner was set up by an extremely athletic yet controversial maneuver to keep the ball in bounds by junior forward Joey Calistri. Maryland coach Sasha Cirovski was visibly upset at the call during the 'Cats' postgame celebration, yelling at the referees as they walked off the field.
"I got five texts, two said it was in bounds, two said it was out, one said they couldn't tell," head coach Tim Lenahan said. "If this was the NFL and they reviewed it, it'd probably be inconclusive. So the play stands as called. That said, [Calistri] worked to earn that."
Calistri also scored about 12 minutes into the game from crisp downfield assists from Missimo and sophomore midfielder Brandon Medina, giving the 'Cats a 2-0 lead. Just nine minutes earlier, at 2:48, Missimo had crossed to Medina, who tapped it to junior defender Henry Herrill. Herrill didn't get a great kick off in the box, but Maryland goalkeeper Zack Steffen tipped it backwards into the net to open scoring early.
"I'm more nervous when we get off to a start like that, because you know that once you score, when you're playing a team like this, they're going to have the ball and be on you a lot," Lenahan said.
Per Lenahan's premonition, the Terrapins were in attack mode for essentially the rest of regulation. Following a handball call on senior defender Grant Wilson, Maryland's junior midfielder Mael Corboz bested the 'Cats' senior goalkeeper Tyler Wilson on a penalty kick to cut the lead to 2-1.
The second half was a perfect picture of conservative offense and "bend don't break" defense from the Wildcats until the 85th minute, when sophomore midfielder Michael Sauers found freshman forward Jeroen Meefout across the box, who scored the equalizer.
"We had this conversation [at halftime] about playing until there were about 15 minutes left, then closing up shop, and just hoping for something," Lenahan said. "We thought we'd be able to stand it. They got the goal which was a little bit disappointing, but they weren't disappointed in the huddle. The only thing I said when the players came off the field after the draw was, 'It'll just make the win more exciting.' And it did."
The 'Cats won the overtime coin flip and chose to use their home-field advantage by playing with the fierce northern wind at their backs, which Lenahan said played a role in NU scoring so quickly in overtime.
"We adopt a different mindset when we play a team like this," Lenahan said. "They've got ten guys over there who can be pros. We've got ten guys going to medical school, maybe a couple pros, but overall, they've got a bigger soccer culture, so we have to adapt to a different model."
Although Missimo played a significant individual role in the outcome, he cited the team's togetherness as a major factor, as well.
"It's a team effort," Missimo said. "There's no way I'm getting anywhere close to those goals if it's not for the team working together. And it does feel good to take on the goal scoring responsibility with [Calistri], so it's great."
All in all, it was a meaningful win for the men's soccer program, and undoubtedly a motivator for the 'Cats, who will look to build upon the momentum from this game on Wednesday at Northern Illinois.