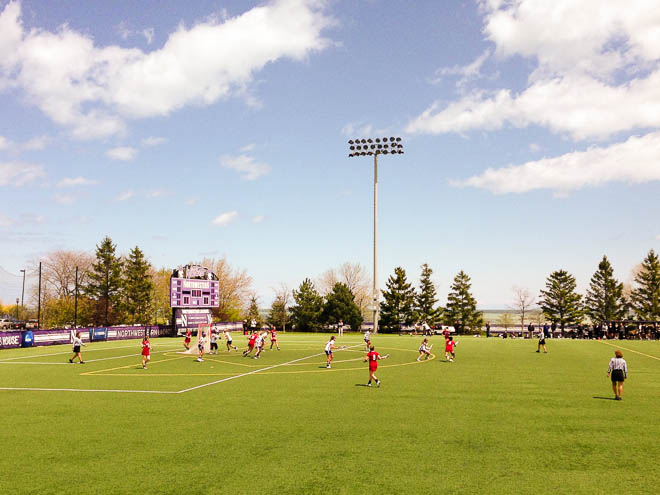 Northwestern lacrosse kicked off its national title defense with a bang Sunday, handily beating Stanford 15-8 at Lakeside Field behind hat tricks from junior midfielder/attacker Alyssa Leonard and senior midfielders Taylor Thornton and Ali Cassera. First-half turnovers and draw controls were key factors throughout the game, as Northwestern defeated Stanford on the draw winning 18 total, with Leonard alone taking seven balls.
Both teams played a strong defensive first half, trading goals and keeping the score close. Freshman midfielder Kaleigh Craig scored the Wildcats' first goal of the day. The lead wouldn't last for long, though; after 17 minutes of play, the score was still tied 2-2.
For the first nine minutes of the game, Northwestern was able to hold the Cardinal to no goals, largely thanks to sophomore goalie Bridget Bianco's back-to-back saves off free possessions from juniors Rachel Ozer and Anna Kim.
Northwestern junior defender Kate Macdonald led Northwestern in ground balls with four, most of which succeeded in stopping Stanford's offense. Macdonald wasn't afraid to run the ball over to Northwestern's offensive side of the field, either, scoring two goals later in the second half.
"I think that our defense came out strong today, playing good, solid team defense and we were able to make some stops towards the beginning of the game, which was great," head coach Kelly Amonte Hiller said.
Still, despite Northwestern's tough defense, just a few sloppy mistakes allowed the Cardinals to get back into the game. Bianco botched a clear that was then picked off by Ozer, who found sophomore attacker Kyle Fraser in front of the net.
Later, senior midfielder Gabriella Flibotte picked up a ground ball while on defense and then promptly threw it away, allowing Stanford to control the ball long enough for Ozer to capitalize.
But the 'Cats' struggle with turnovers was overcome by their dominance in draw controls. Leonard paced the Wildcat offense in the first half with six of those draw controls and two back-to-back goals.
"We've been really putting an emphasis on the draws the whole season," Leonard said. "But I think really when it comes to crunch time, we're looking for possessions."
The first of her goals came off a miffed pass from Stanford's junior goalie Lyndsey Munoz. Munoz was out of the goalie circle and Leonard shuffled the ground ball into a partially open net for Northwestern's fourth goal, marking a turning point in the evenly matched game.
Thornton also had two goals in the first half, both powerful shots that zipped past Munoz.
"Being a senior, I just have the mindset that next week, I only have 60 minutes guaranteed for me to ever play lacrosse again," Thornton said. "So every ground ball, draw control, possession could be my last, so that's literally what's running through my mind every time."
Behind Leonard and Thornton, Northwestern headed into halftime with a 6-4 lead. Amonte Hiller praised Leonard and Thornton for their efforts and credited the rest of the team for providing a good foundation for them.
In the second half, Northwestern pulled away, scoring five unanswered goals in the middle of the half. A slew of Wildcats scored in that span, including previous scorers Thornton and Leonard. Cassera, Macdonald and freshman midfielder Nancy Dunbar all had two goals in the second half as well.
Many of these goals were impressively tough shots, even though the 'Cats didn't need the points, proving that the team is starting to play together and for each other.
"I just think that our team, our offense is really starting to play for one another and I think it's showing. People are passing the ball, getting through and we're really opening up opportunities and we're being patient," Leonard said.
Northwestern maintained a slow, controlled pace throughout the game, only taking shots when they were open. Senior attacker/midfielder and captain Erin Fitzgerald was missing again from the scorers' column, despite taking five shots on goal. Still, she showed patience around the goal, a place where she normally fires shots around defenders.
"If she doesn't have goals on the board and we're winning, that's the most important thing," Amonte Hiller said. "She's taking out their best defender for us. She attracts a lot of attention defensively so she's helping us out no matter what happens."
Leonard sustained an injury late in the second half, when she took a stick to her back shoulder after a draw. She came out of the game shortly after but said she feels good and will be ready for the team's next practice.
Northwestern will have almost a full week of practice before hosting Penn State Saturday. This will be the third matchup between these two teams, playing once during the regular season and once in the ALC Tournament.