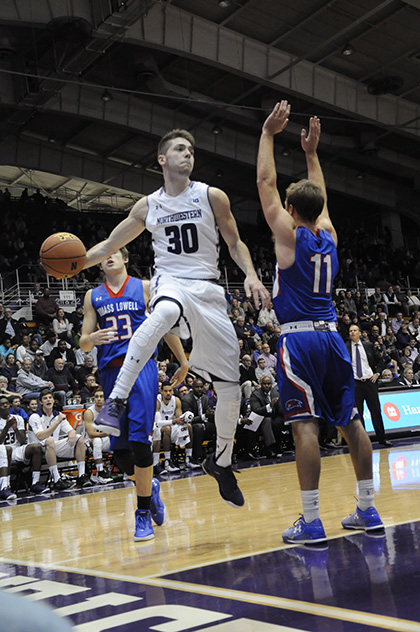 If they can walk, athletes will basically never admit that they're not physically able to compete.
So if you turned the clock back to this past February and asked then-freshman point guard Bryant McIntosh if he was physically able to compete in the Big Ten at that time, he would probably give you the classic affirmative response. But nine months later, as he prepares for his sophomore season, his hindsight is 20-20.
"I didn't feel like [I was physically ready]," McIntosh said. "There were times when I would lay down and rest, and I felt like I was just run down. I hit the wall and I couldn't get back up."
If head coach Chris Collins is the face of what he hopes is Northwestern's budding basketball odyssey, Bryant McIntosh is the poster child. A three-star recruit who strode boldly into the program with a swagger befitting an Indiana high school state champion, McIntosh was handed the reins to his new team most likely before he had even registered for a class on campus.
"I think he understands the point guard is the face [of the program]," Collins said. "It's the face of your offense, the face of your defense and the face of your team. He's never going to be a boisterous guy but he wants to be a leader – that's why he came here, he wanted the ball from day one."
Nobody was more emblematic of the 2014-15 team's youthful "us against the world" identity than McIntosh. But state champion or not, assuming that role as a freshman took its toll on the confident point guard. After starting last season weighing in at 185 pounds, McIntosh says the grueling Big Ten schedule had whittled that number down to around 172 by the Wildcats' final game against Indiana in the conference tournament.
Contracting an unspecified illness in the middle of the conference slate didn't help matters much, either, and McIntosh's performance, which was so strong out of the gate, took a significant dive as the season winded down.
But while McIntosh chalks up his struggles to the deterioration of his physical ability, senior shooting guard Tre Demps says the challenges of college basketball catch up with everybody at some point.
"I think every freshman, no matter how good they are, goes through a slump," Demps said. "I think you go through it at different times. His happened to be towards the tail end of the season, but that doesn't discredit the kind of season he had."
Nor should it. McIntosh finished fifth in the conference in assists with 150 over 32 games, trailing only a group that included a host of stars: former Ohio State (and current Los Angeles Lakers) guard D'Angelo Russell and Indiana guard Yogi Ferrell. He also joined Russell and Maryland guard Melo Trimble on the Big Ten All-Freshman team. It suffices to say that's not bad company.
But McIntosh has his eye on bigger things than just being mentioned in the same sentence as those NBA hopefuls. He said he put in a lot of work this offseason, and, well, it shows: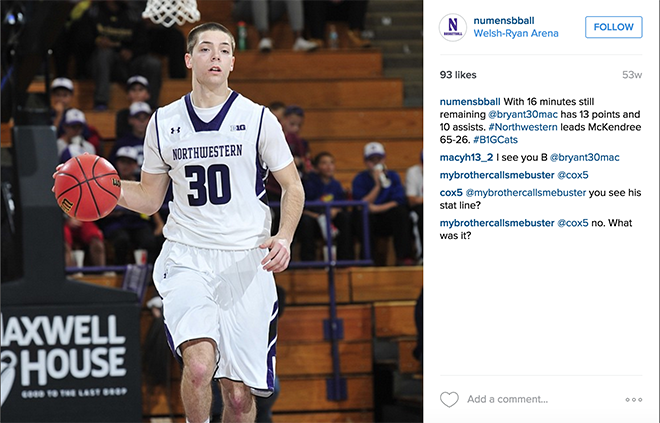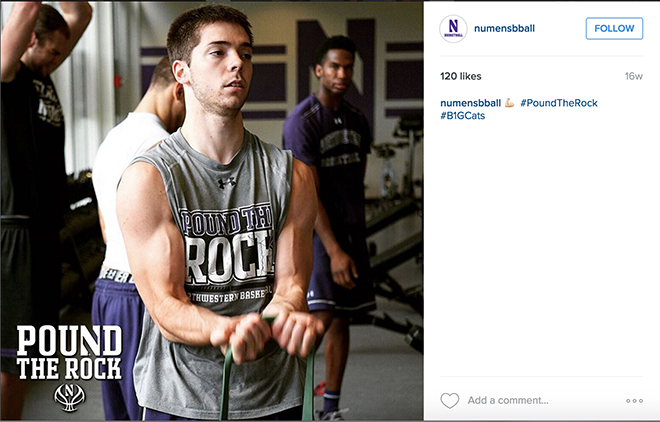 The key, he said, is staving off the inevitable weight loss that comes with a 31-game regular season as much as possible.
"I gained 15-17 pounds," McIntosh said. "I float around 185, and the last time I weighed in I was 187. I think it'll allow me to take contact more when I go to the basket, and give contact more on defense. And also, if I keep that weight up, it should keep me fresh."
Demps said McIntosh's improved physicality has given his game a different dimension, but that his backcourt partner has shown development in other areas, too.
"It's not as easy to drive on him," Demps said. "He has a stronger chest, so guys aren't going to be able to go through him, like some good players were last year. The main thing I think is that he's just been an incredible leader, a lot more vocal. Everybody kind of buys in to what he's saying as our floor general, and it's just fun to play with him."
One year removed from the toughest physical test in his basketball career, McIntosh speaks with the humility of someone who knows full well what lies ahead. But after all the work he's put in to build himself up for the grind of a second season, there's little reason to doubt that he'll be ready this time around. And if there is any lingering doubt, his coach said he'll feed off of it.
"He's driven by the fact, just like I was, that people say maybe you can't do it here or you're not going to have the success that you think you can," Collins said. "He wants to show that you can. There's no question he relishes that and that's a big part of why he's here."