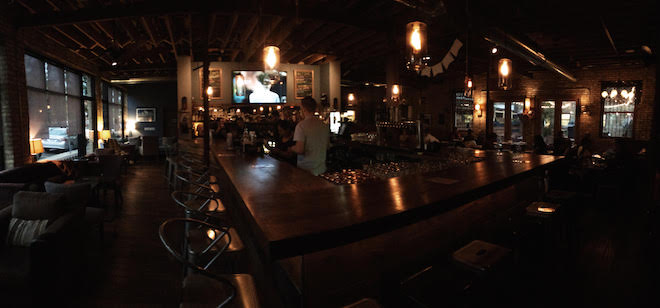 Easy to Get to: Peckish Pig, Howard Red Line, or a nice 45-minute stroll from the Davis stop
A lonely brewpub, across the street from a Popeyes on the Evanston side of Howard, the Peckish Pig has all the trappings of a modern, trendy restaurant: dark-stained wood tables with grey or red metal chairs, clusters of couches near the windows and a three-syllable, non-descriptive name. Show up for Friday happy hour and you'll discover its true nature (hint: old people, old people everywhere).
You can't fault Peckish Pig for their delicious food. Their bar nuts are covered in a spice mix that keeps you begging for more (seriously, I had to ask the bartender four times), and their mussels cooked with beer and bacon are top notch for being 800 miles from an ocean.
But the "brew" side of their brewpub seemed somewhat lacking. The brown ale was indeed brown, but tasted almost watered down. Their "Bigger Baby" tripel (usually golden clear, sharp and sweet) was essentially a 10.7 percent ABV Hoegaarden, kind of like if you ordered soda but you get iced tea with 20 sugar packets added. And while most breweries hide their brewing equipment behind smell-proof walls (think any regular old wall), you can smell the yeasty gas from Peckish Pig's small brewing area in the dining room.
This place comes down to a matter of personal preference. The food is great, the beer not so much, but still light-years ahead of anything with "light" in the name. The beer is also super cheap (three bucks for a six dollar beer) during happy hour. Since you can smell yeast all around, that also means you can smell when they cook their grains (think oatmeal-pancake in the pan smell). You can sit in couches, but their cushions are really soft and you sink into them. It's really up to you to rate this joint.
Halfway to the Loop: DryHop Brewers, Belmont Red
Near Broadway and Diversey, DryHop is easy to miss on any day that's not the weekend - they only have one small iron sign jutting out from their white washed brick storefront. But on Friday, Saturday or Sunday, you can hear the crowd a block away and can see the people pour in and out like, well, people looking for beer. The place is Hoppin'. Now is it crowded because the beer is really good, or because the service space is pretty small and there are only ten tables? Probably a little of both.
Either way, DryHop rotates six of their beers on tap, all with weird, vaguely descriptive names like "Starry Night in Sleepy Hollow" (a pumpkin stout, whatever that is). Although you can orders flights (a variety of beers served in 4-oz. glasses) for $12, if you just ask to taste a beer (and then repeat for the other five), the barkeeps tend to be very liberal on how much they pour for your "taste". It's not like a trade secret, they're just nice dudes.
The kitchen offers a normal hodge-podge of bar snacks with some more expensive sounding words in their names: "Belgian frites" instead of french fries for five dollars, "savory brittle" instead of bar nuts. The rest of the menu has the same pomp, but the chefs give bite to the menu's bark with options like Wild Boar Porchetta or a spiced lamb pastrami.
Don't feel like beer while you're there? That's okay, they serve 99 types of whiskey (45 bourbon, 22 rye, six Irish, 10 single malt Scotch and 13 speciality) for you to obliterate your liver with (as someone on staff probably did tasting them all). Alternatively, DryHop fills both growlers and these awesome, super-dope, really cool-looking 32-oz cans (and you get to watch them get topped off with this amazing canning machine).
For an Afternoon Trip: Piece Brewery and Pizzeria, Damen Blue Line, Damen stop on North Ave. bus line, or 30 minute walk from Fullerton Red
When it opened near Damen and Milwaukee in 2001, Piece was a beacon to Chicago pizza lovers who tired of deep dish or bland New York style. The New Haven style neapolitan pizza place only became more popular when their in-house beer started racking up medals from the Great American Beer Festival. Back then, the place was stuffed to the brim with young, attractive Wicker Park guys and gals: a real place to be seen.
Now, you're more likely to get squeezed into a booth between 30-somethings Chad and Jessica (and their 3 year-old son Stephen, clad in pastel and tattersall, already a member of the Vineyard Vines and Southern Tide cult) and Stefani's monthly "girls-night-out-for-45-plus-moms", as well as all the empty beer glasses the two groups have polished off.
But that's totally fine. The pizza, known for chewy thin crust and a minimal amount of cheese, is still one of Chicago's best, and the in-house beers haven't suddenly lost their medals - in fact, they've gotten better, as Piece has raked in three more medals in the past five years for their new brews.
Unless you're a fan of the four in the afternoon dinnerlunch, just accept that Piece will be packed, especially when any Chicago team is playing. Go for a walk during your hour long wait or order a couple beers from the bar. Once you're plopped into your seat, focus on the multitude of TVs to ignore your way-too-close neighbors until your pizza gets there. From then on, don't worry about trying to keep a conversation going over all the noise - the only sounds you'll be making are "mmmmmm"s after pizza bites and slurps of tasty beer.