Campus has a certain gravitational pull. Meetings, midterms, frat parties, football games and papers all do their best to keep you chained to the The Rock. Time in college is precious, and you're spending too much of that time in Evanston and not enough in Chicago.
"Why would I skip the football game to go hang out off of Brown line stops I've never heard of?" you ask. Because beer.
There are 47 breweries in Chicago and Evanston, with another 23 on the way. The majority of these have tap rooms and serve their beer right out of the fermentation tanks, whether it's a grand hall devoted to drinking or a table next to a single kegerator. Some are good for quietly reading a book, while others better for bringing 30 of your best friends to watch the Cubs.
Fully embracing a college student idea of civic duty, this is a senior's quest to visit and chronicle every brewery in the city as a guide for fellow students.
Easy to Get to: Sketchbook Brewing Company, Main Purple Line Stop
The current small fry of the Evanston beer scene, Sketchbook has been slowly but surely carving out fans and business in Chicagoland. While cranking out quality concoctions, this brewery is still in their "humble origins" phase, having just recently releasing their very first batches of bottles while also securing a deal to supply Evanston's newest Whole Foods with a special organic pale ale.
Sketchbook's brewery and tap room are one and the same, with the only thing separating you from the fermentation tanks and smiling brewers being the bar counter. Seven different beers are always on tap, and due to the small capacity of the brewery, the seven shift around quite frequently, your favorite beer popping up either weekly or at least monthly.
If tasting isn't enough, Sketchbook has custom howlers (32 oz) and growlers (64 oz) for purchase and filling. Due to the technicalities of Evanston's prohibition reminiscent alcohol laws, Sketchbook can only serve beer if they serve food, legally satisfied by a small box full of Snyder's pretzels that sits near the door.
The end result of a group of local home brewers gone pro, Sketchbook is a Community Supported Brewery, or CSB. This means that on top of normal customers, Sketchbook allows a certain number of "investors" to join a monthly growler club, whereby different advanced payments allow members to fill up either 64 or 128 ounces of beer per month for either six or 12 months.
Try: Back Alley Abbey Dubbel Ale or Orange Door IPA
Halfway to the Loop: Half Acre Beer Company, Irving Park or Montrose Brown Line Stops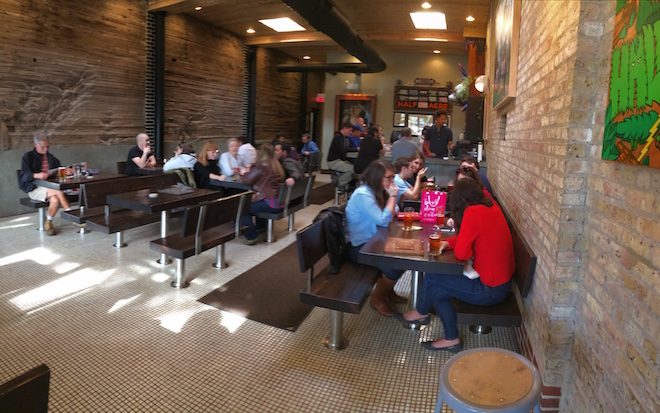 Comfortably placed in one of North Center's finer examples of bland industrial red brick architecture, Half Acre neither claims nor appears to be anything special, and instead lets their beer do the all the talking.
Stepping inside the small taste-while-you-browse-gifts shop, a northern wall is devoted to t-shirts, mugs and cool stickers, and is conveniently located right next to the tiny bar where you get free beer samples, most of which you can only get at Half Acre. You'll also probably notice how Half Acre seems to have, like, eight different logos. For example: this really awesome Owl-Squid thing or any of these t-shirts.
Ten feet away is the brewery's tap room, with about 10 stained oak tables, each room enough to hold you and a couple friends. On a Friday afternoon at four o'clock, you would expect some boisterous groups of four, but instead it's quiet enough that somebody will be reading in the corner. Half Acre doesn't offer any food, instead allowing customers to have food delivered there, and even has a collection of menus from nearby restaurants.
Friday also hosts a Half Acre tradition: Firkin Friday, where the company opens a special gravity powered 10-gallon keg (as opposed to the common CO2 powered), containing one of their beers with a special ingredient added. The result is a smoother, fresher beer, akin to comparing frozen custard to a jar of ice cream that's been a deep freeze for a couple months. Come early though – ten gallons of alcohol doesn't last long at a bar.
Try: Lagertown Oktoberfest or Power Steering Imperial Stout
Pretty Damn Far Away: Lagunitas Chicago TapRoom and Beer Sanctuary, California Pink Line Stop

Big. Enormous. Huge. All appropriate ways to describe Lagunitas' Chicago brewery, located near the western edge of Pilsen in Chicago's Lower West Side. As they tell you on a tour, the building itself is an ex-steel mill with enough space under its roof to fit four Soldier Field stadiums inside. While most of the space is filled with giant fermenting tanks, bottling lines or storage areas, Lagunitas saw fit to build a three story office building in the heart of the facility to host business staff and visitors.
The taproom is more beer hall than tasting area. Located on the third floor of the office building within a building, the room is full of German-style 20 foot long tables and benches – get ready to touch elbows with drunken strangers – complimented by a full 30 seat bar, stage for music nights and grand views of the production facility below. The end result is a space built to hold parties and hundreds of patrons, not quiet reading time with mom and dad (when you inevitably bring them to show off how cooler you've gotten since you turned 21).
Open Wednesday to Sunday, Lagunitas also offers a standard bar menu of munchies, salads and sandwiches. The bar always offers more than 10 beers, including all the year-round favorites, seasonals like Cappucino Stout as well as specials small tap experimental batches.
Try: Day Time Session IPA or the classic Lagunitas IPA