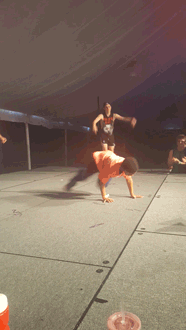 One Blessings in a Backpack recipient scheduled to speak got a rambunctious introduction when her grade-school son came out on stage break-dancing.
With a combination of handstands, cartwheels and leg spinning, Laron Carter won the immediate love of the crowd and the emcees encouraged him to step up on the stage and dance more. After his mother, Ashley Carter, spoke, Laron ran around slapping hands like in a rock star at a concert.
But once the dust from Laron's fast-moving feet settled, his mother stepped forward and gave emotional testimony on how Blessings in a Backpack has helped her and Laron. As a single mother and businesswoman, Carter said Blessings in a Backpack allows her to not worry that Laron will be well-fed and nourished, so that he can perform well in school and life. She said Laron loves the program and comes home joyful after he gets a backpack.
"It's more than just filling a belly," Carter said. "To some it's joy, to some it's peace, to some I'm sure it's caring for their families and communities and the world... for me Blessings in a Backpack is all of the above."
The first message from a recipient of Blessings in a Backpack, Carter's message resonated. Still, it was Laron who left the greatest impression.
"[His moves] were very good," McCormick junior and dancer Nnenna Nwagbo said. "They can be polished a little, but they were great for his age."